Ben & Holly's Little Kingdom is a show that is on Nick Jr. I will be honest I hadn't heard of it but when I mentioned it to my granddaughter Emma, and grandson Zak, they had both seen the show.
Now your kids can enjoy spending time playing with Ben & Holly's Little Kingdom, now only available at Target. First up we have their Little Castle with Holly, Daisy & Poppy.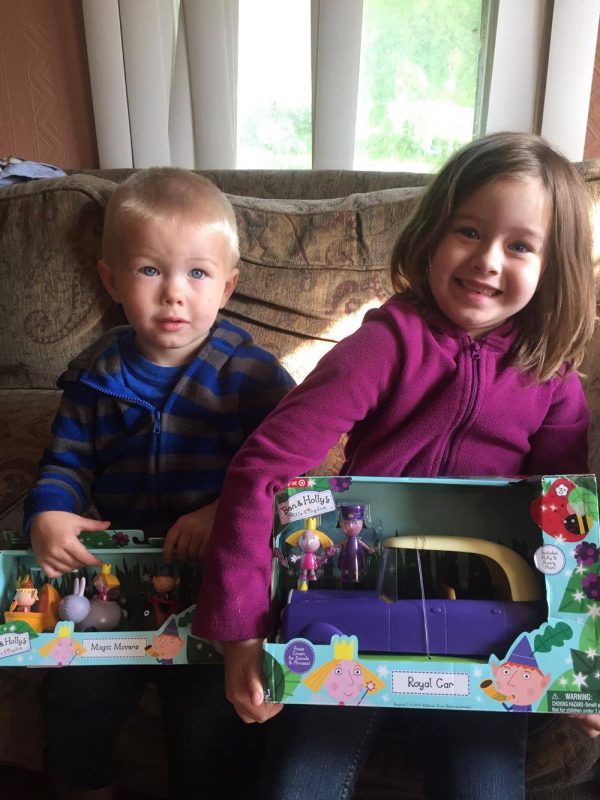 Little Castle with Holly, Daisy & Poppy:
This castle is a deluxe 12″ two story play set with four rooms! They are filled with neat details, plus Holly, Daisy, and Poppy figures, and ten fun accessories. Your child can keep all of the parts nicely inside of the castle for easy pickup and storage. The castle also has a handle for taking your castle to other kingdoms in the house or to a friend's house.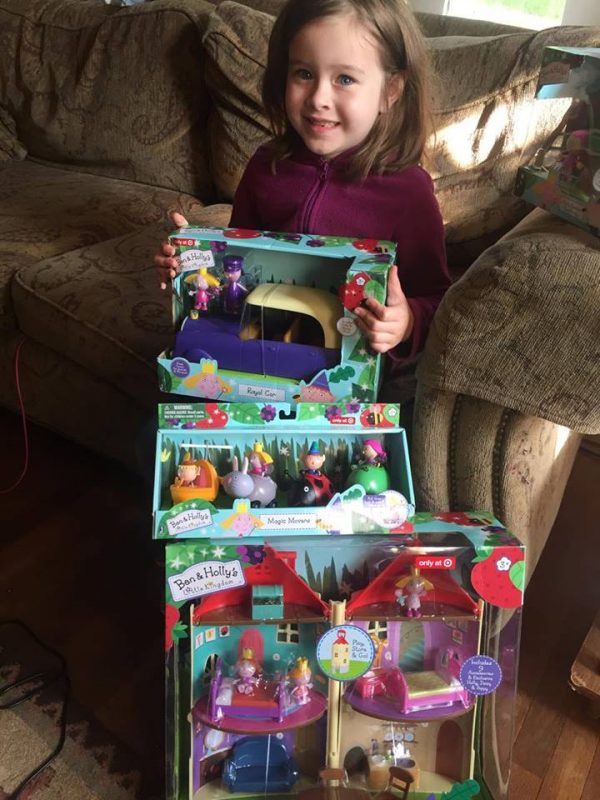 The Royal Car with Holly and Nanny Plum:
Then there is the Royal Car! This car includes Holly and Nanny Plum. This is an 8″ purple car that comes with Holly and Nanny Plum figures that fit just right into the seats. The doors open and close, and when the crown on the front is pressed, the series' theme song plays. The kids got a kick out of it as the roof of the car doesn't always stay attached so they said, "Grandma our car has a flip top".
Magic Movers 4-Pack:
This four pack comes with four 4″ buggies and each has their own non-removable character. This did upset Zak a little bit as he is 2 and wanted to take them "outtt" of there. The figures are Holly, Ben, Barnaby, and Violet. The characters do move up and down as you push the buggy along. They are easy to grip and hold.
Last but not least we have the Fairy Tea Party.
Fairy Tea Party:
This 5″ playset comes with two figures, Holly and Violet, and two unique accessories for spellbinding fun!
You can find Ben & Holly's Little Kingdom here. It is the grown up area which will help you navigate to all of their fun stuff! This is a brand new site for you and your child to Enjoy!!
To purchase these great Ben & Holly's Little Kingdom items you can go here and if all of the items are not there yet, they will be available VERY soon!
The collage below were pictures taken by Emma of the different rooms.