With fireplace season just around the corner, it's time to start thinking about getting your fireplace ready. Maybe it's time for your old, decrepit brass fireplace doors that have been hanging around since the 1980's to be replaced with doors that are a little more modern and chic. But if you're like most people, you don't even know where to begin to find the right doors to fit your fireplace. So read on and we'll go through the steps you need to take to find the perfect set of fireplace glass doors and answer your question, "What kind of doors will work with my fireplace?"
Step 1 – Determine What Type Fireplace You Have: Masonry or Factory Built.
Look at the area of your fireplace where the fire burns which is referred to as the "firebox". Fireboxes in some fireplaces are made of a masonry material such as bricks. These are called masonry fireplaces. Others are made of metal, often referred to as factory built or zero-clearance fireplaces.
Sometimes a quick glance can easily determine if your firebox is made of masonry. But be careful. Some refractory panels are made to resemble brick. An easy way to tell if your firebox is metal is to gently knock on the side wall (when the fire isn't burning of course!) and see if it makes a hollow sound. You'll be able to tell if it's metal.
Another way to tell if you have a factory built firebox is by looking on the front of the firebox opening and see if you can locate a metal tag that says the manufacturer and model number of your fireplace. Some common fireplace manufacturers are Superior, Majestic, and Lennox.
You might be wondering, "What's the big deal about what kind of fireplace I have?" The reason it's important is because factory built fireplaces need a certain amount of air flow to make sure the firebox doesn't overheat and create a safety hazard. Therefore, the doors need to fit precisely, just inside the firebox opening.
Step 2 – Use a Tape Measure to Determine the Width and Height of Your Firebox Opening.
Whether your fireplace is masonry or factory built, you'll need to measure to determine the size of your firebox opening. Measure the width first. Hold the tape measure at one end of the opening and pull it across to the opposite side. If you can snap a photo of the entire length of the tape measure it will come in handy when you're ready to place an order for your fireplace doors. Next, measure the firebox height top to bottom and snap a photo showing the entire length of the tape measure.
Step 3 – Locate the Manufacturer and Model Number of your Factory Built Fireplace.
If you have a factory built/zero clearance fireplace, look for a tag on the front that gives a manufacturer name and model number. If you can't find a tag, no worries, you can order based solely on measurements.
Step 4 – Find a Reputable Fireplace Store.
Ordering online is the best way to purchase fireplace doors. Ordering from a local brick and mortar store may sound convenient, but be prepared to pay around $500 extra for them to come to your home, measure, and come back to install the doors. Measuring and installing yourself isn't too difficult even for the newest DIY'er.
Look for an online store that has an excellent customer service rating, has free shipping, and accepts returns even on custom orders in case there's a mistake. A satisfaction guarantee policy is key to be sure you aren't stuck with a set of fireplace doors you decide you don't want. Lastly, look for a company that has "quick ship" stock door options so you won't have to wait several weeks for your doors to be shipped.
You may be wondering why you can't purchase doors for a factory built fireplace at large hardware stores such as Home Depot. Remember, factory built fireplace doors need to be custom built to fit perfectly inside your firebox opening with a ⅛" space around the perimeter to allow for proper air flow. Large hardware store, such as Home Depot, only stock outside fit fireplace doors for masonry fireplaces. Masonry fireplaces do not have air flow regulations and do not require a precise fit. Therefore, masonry doors at Home Depot come in standard sizes that aren't custom fits.
Step 5 – Decide on a Budget.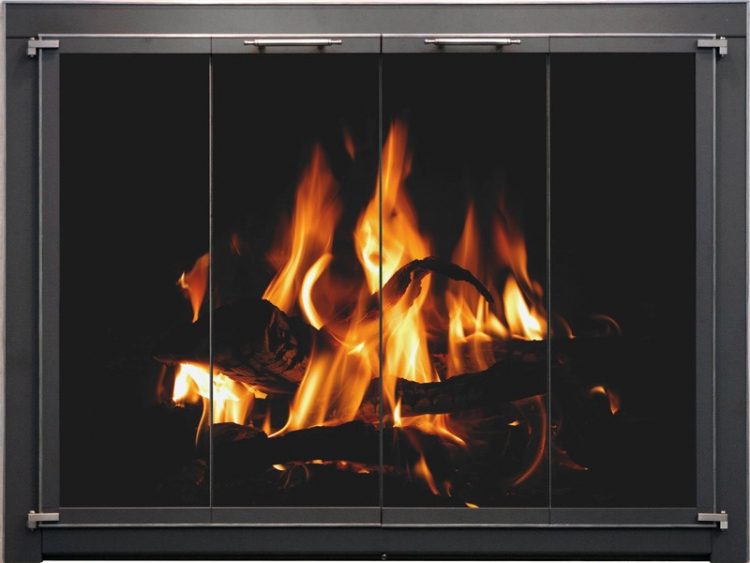 (Note: Always leave doors open when fire is burning.)
When you're looking at the wide variety of fireplace doors available, consider how much money you want to spend. Economy doors tend to have a basic black frame and clear glass. More expensive fireplace doors have custom frame colors, tinted glass options, screen panel add- ons, and choices such as cabinet style doors as opposed to the typical bi-fold type. Have a few doors in mind that catch your interest and jot down any questions you might have.
Step 6 – Order Your Fireplace Doors.
When you're ready to call and place your order, have your fireplace information handy. You'll need to know what type of fireplace you have – masonry or factory built and your firebox photos and measurements. Let the customer representative know what style door you're looking for and your budget. The rep will walk you through the ordering process and answer any questions you have. Some custom door orders can take up to 4 weeks to ship.
Step 7 – Install Your Fireplace Doors.
When your fireplace doors arrive, they should be in good condition. If there's a problem, contact the company you ordered from immediately. Follow the enclosed instructions to install the doors. You'll need a drill but all the brackets and other assembly tools should be included in the box. If you need help, call the customer service number on the order.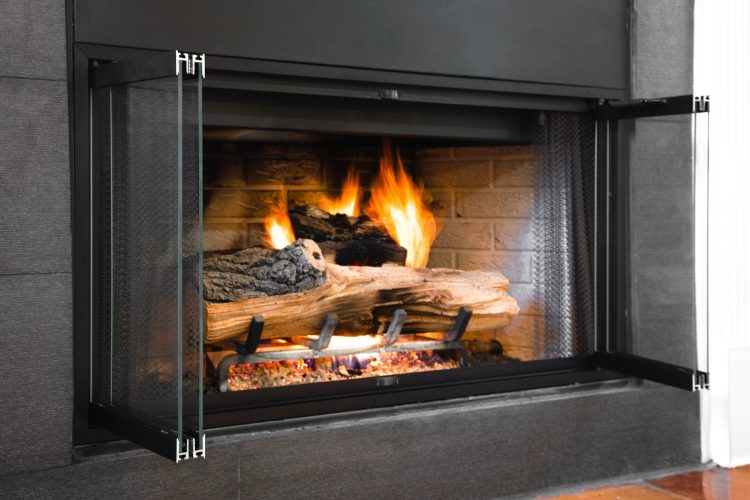 So now you're an expert on how to order yourself a brand new, good-looking set of fireplace doors. Be sure to place your order early to allow plenty of time for the doors to arrive just in time for the chilly weather!
Looking for more? Check out this great site for more information and advice on finding the perfect prefab fireplace doors.