Whether your traveling with family, moving into a dorm room or apartment, or just heading to an amusement park, you're more than likely carrying at least a few valuables with you along the way.
In this day and age who doesn't own a cellphone, watch, MP3 player or car? You at least have one of those, right? Of course you do and you don't go anywhere without them, right? So, why not try to protect those items when they're not in use? Putting your cellphone or keys in your pocket really doesn't ensure their safety— they can always slide out without your knowledge and then leave you on a scavenger hunt to find their new location. How annoying!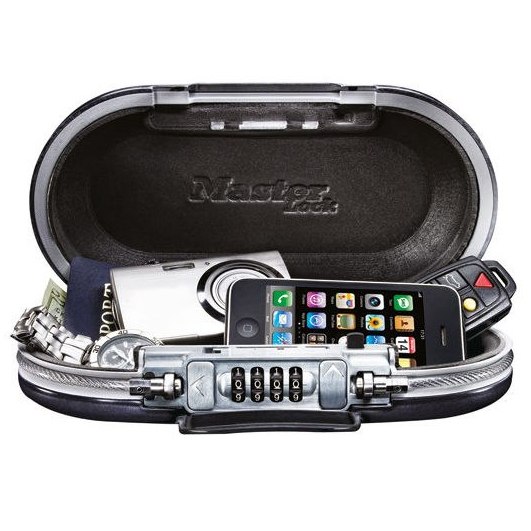 With the Master Lock Safe Space lock you no longer have to worry about those items because they can be locked up safe and sound until you need them again. Take for instance the Master Lock Safe Space 5900D— it's a lightweight and portable "safe" for small yet valuable items that can be locked up and locked down for safe keeping while you head to the park, dine in a restaurant, workout at the gym or do other activities where your valuables might get in the way.
This baby is made of a durable, water resistant material with a shock absorbent foam lined interior that wraps your objects in pure safety for peace of mind. It also includes a cable that can be secured to a fixed object such as a concrete table so your safe can not be stolen when it's out in plain view.
Another valuable personal possession— your home, is one that someone can't necessarily pick up and take away but it contains the majority of your valuables that you want to protect with your life. Yet, when you go on vacation it's almost like your home is up for grabs to would-be thieves. Ugh, who wants to worry about that when they should be relaxing on the beach or sight seeing in Europe? Not me!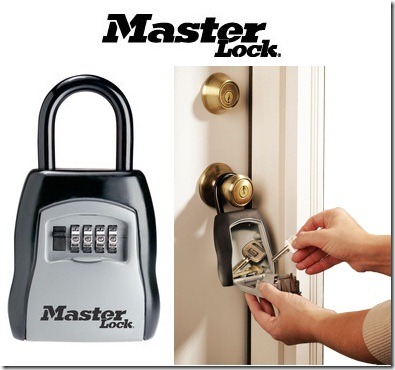 That is where the Master Lock Safe Space 5422D lock comes in handy. If you've ever sold a home you already know what those realtor supplied locks look like, but have you ever owned one? More than likely not. But thanks to Master Lock, you can. The 5422D keeps your front door key safe and sound while you're away and offers keyless entry for convenience and added security.
The protective weather cover prevents freezing and jamming, and the molded bumper and vinyl coated shackle prevents scratching of your door and knob. I love the concept of this lock because even if someone were to have a copy of your home key, they would still need the combination of your Master Lock 5422D in order to get in. If the lock is not removed, the door can not be opened.
This lock is perfect for those who have maids that come and clean on a regular basis or someone who is keeping an eye on your home while you're out of town! We plan on using ours when we leave for vacation in a few months. I will definitely be feeling much more at ease thanks to Master Lock.
The Limited Lifetime Warranty provides peace of mind from a brand you can trust.
Connect with Master Lock: Shop | Facebook | Twitter
Disclaimer: This product was received from the Company for review purposes only. All thoughts and words in this post are my own and I was not paid to endorse it. I am only voiding my opinion of this product.