At Maine, there are a lot of sleepaway camps perfect for every kid. With the comfortable and temperate climate of Maine, where there are not too many warm days and cold nights, kids can enjoy exciting camp activities and traditions, while also appreciating the beauty of nature in these sleepaway camps.
More importantly, however, there are many different skills your child can learn by attending sleepaway camps, such as:
Leadership
Early leadership development can come from participating in Maine sleepaway camps for kids. Not only will they enjoy playing or doing fun activities, but they will experience how to lead themselves and their groups during such activities, enabling them to learn about the following leadership skills:
Problem Solving – Because they need to think of ways to win or get through the obstacles attached to any camp activity, they will learn to find solutions to these problems. Moreover, if the activity is done by a team, they'll learn to solve problems with the help of their teammates.
Positive Feedback – Becoming a leader doesn't only involve solving problems, but also motivating your subordinates or colleagues. In camp, your child will learn to give positive feedback through the campsite coaches or trainers' appreciation of your child's accomplishments. In return, your child can adopt such practices and motivate their peers to do more and better because they know how good it feels when someone praises their work.
Conflict Resolution – One of the most critical leadership skills is the ability to resolve conflicts. One of the highlights of some camps is to teach children to positively resolve disputes by being responsible and respectful of the differences between each individual.
Communication
Sleepaway camps are not only made for letting your child enjoy a safe summer vacation, but it also develops their communication or social skills.
In sleepaway camps, children can learn to communicate with peers or counselors without their parents' intervention. Because counselors or peers are not the same with parents who know what they want or need, the child must then initiate contact with a counselor so their needs or wants will be met. At first, your child may find it hard to express their needs, but their desires will prompt them to do it.
When it comes to communicating with their peers, your child will learn to talk to them about their shared needs. This will become a necessity since they are camped in the same room. To maintain peace among them, your child will be able to adjust to becoming a speaker and a listener as well.
During team activities or social gatherings, they will also learn to communicate so that they can achieve their goals as a team.
Moreover, your child will also learn how to properly communicate with different people since diverse personalities surround them.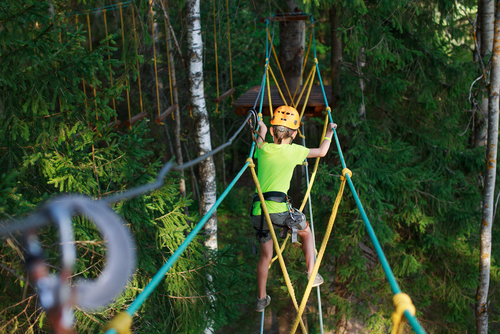 Resilience
Camp allows your child to become resilient. Without your aid as a parent in times of challenges, your child will be able to practice overcoming their problems by themselves.
Here are ways how camp helps in the development of your child's coping strategies:
Since camps offer challenges like a high ropes course, hiking, or building a fire, your child can bolster his courage to stand on his own feet.
Building a relationship with adults other than their parents, such as their counselors, can help them develop negotiation skills.
Children attending camps may have different personalities or experiences at home and at school, but camps allow them to simply be kids. Since fields do not tolerate bullying, your child can express themselves without the fear of being judged.
Camps also promote a sense of belongingness through their team songs and chants. When your child feels that they belong, then they'll be more likely to cope with the challenges that they will later on face.
Moreover, camps help your child find the things they can be best at. Because of the various activities that camps offer, your kid will be able to find something that they can be proud of.
Decision-making
Although your child will be guided and looked-after, they will still learn to become independent, especially when making decisions. When faced with challenges, they will learn to choose the best solution all by themselves.
Camp provides their campers with the freedom to become independent thinkers. Being a camper means you will have to decide daily. Here are instances where your child needs to determine their own choices:
Clothes to wear. It may sound simple, but your child will learn what socks to wear, or whether to wear a jacket or not without you telling them.
Clubs to sign up for. Your child will also decide whether or not to join a club, and what clubs will suit them. For instance, they will join clubs that are in line with their hobbies and interests.
Conclusion
With a sleepaway camp, your child will learn valuable skills at an early age, though this may be pricey. These skills are necessary so they can cope with life's challenges in the future. Since youngsters can adopt skills easier, let them learn it at an early age. Moreover, since camps can offer fun activities, they are more likely to learn these skills without being pressured to acquire them.