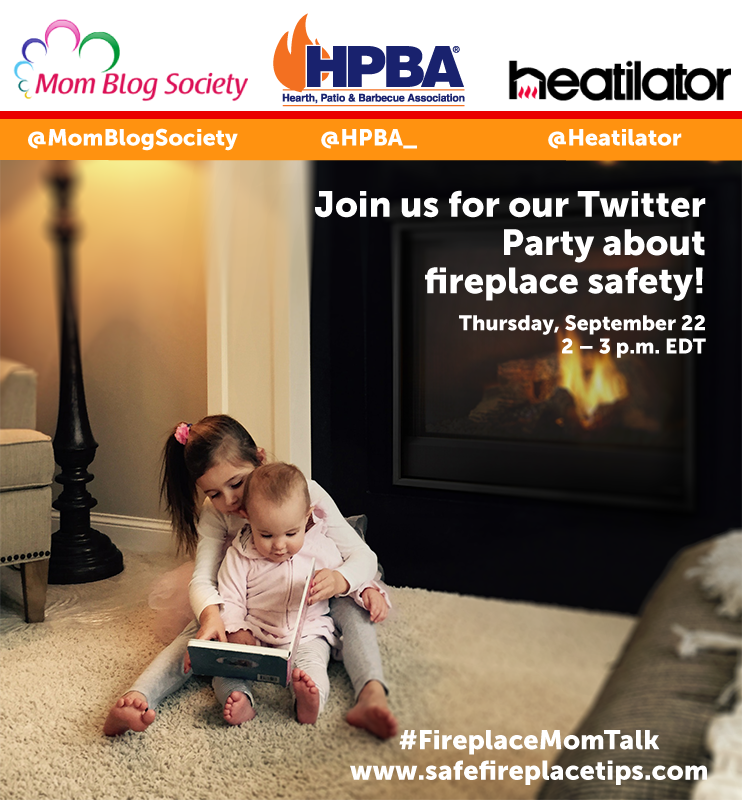 RSVP details:
Join us for a Twitter Party about fireplace safety!
Thursday, September 22 from 2-3 p.m. EDT
Sponsored by Heatilator and the Hearth, Patio & Barbecue Association
Twitter party details:
When: Thursday, September 22
Time: 2-3 p.m. EDT
Topic: Join us for a mom chat about fireplace safety!
Hashtag: #FireplaceMomTalk
Our Sponsors:
Follow @Heatilator
Follow @HPBA_
Prizes:
5 $25 Amazon gift cards to be used for fall home prep;
Winners will be drawn during the #TwitterParty
All winners will be tweeted and tagged!
How To Enter, RSVP, Participate in this Twitter Party:
Share about this Twitter party on Twitter and Facebook or any other social media where you are active
The winners will be randomly selected via use of Hashtag #FireplaceMomTalk & the RSVPs. Make sure you use the party's hashtag #FireplaceMomTalk in every tweet of yours!
Join in the party on September 22 by following the hashtag #FireplaceMomTalk
Enter your Twitter Handle in the Link below, so we do know who is coming & would love to be drawn for prizes! The more, the merrier! RSVP & be entered to win prizes!
BE SURE TO ENTER YOUR TWITTER AND NOT YOUR WEBSITE IN THE FIELD!