With all the chemicals in today's cleaners its any wonder they have strong smells. Sure they get things clean but at what cost? Because of this many families are going green. There are so many options to choose from. The more we learn about chemical cleaners the more companies are going green. Grab Green has a whole line of green products safe for everyday use.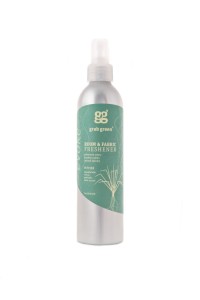 From laundry to dishes Grab Green has something for everyone. There were a couple of things that really stood out to me that I want to feature and focus on. The first thing is the air/clothes freshener. It truly smells amazing! It is perfect for anything, at the same time it isn't over powering. I used it for a couple of things. If you have teens you know how their rooms can start to get a "scent" that nothing really seems to take care of. I used the freshener in their room and they smelled great for a few days before I had to use it again. I love using it on m comforter in my room. It makes my whole room smell clean and fresh. I also sprayed it on my sun screen. I know this sounds odd but every time the sun shines into the screen it makes my living room smell so nice and warm. Its such a soft smell that you get it on the breeze when the wind blows into the window. Its perfect.
Eliminate odors, freshen rooms and refresh fabrics with our formula of essential oils that smells so good, it's hard to put the bottle down. Breathe easy knowing our 7 signature scents are made of naturally-derived ingredients and free of phosphates and dyes.
The other product that I wanted to feature and was really impressed with was the all purpose cleaner. It had a nice citrus smell. It really isn't very strong at all. The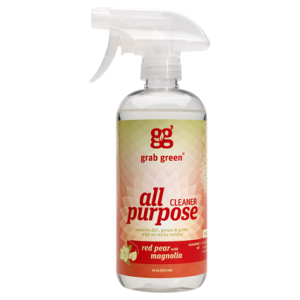 reason I wanted t feature this product was because of everything it can do. It truly is all purpose. One of the complaints I have about green cleaners is that they are never strong enough for my crazy home. I have 4 children who are little monsters and seem to create their own dirt and messed from nowhere. I choose to try this cleaner on several different areas in my home. The first being the walls. Yes the walls. My kids are still pretty young and will draw on the walls from time to time. The only thing that I have found that really cleans the wall is a magic eraser. Problem with that is they tend to take the paint too. I used this cleaner and it did an amazing job on the walls. Took the marker right off. I did have to scrub a bit to get the crayons. But it worked and it worked well. I also took the cleaner into the kitchen. I wiped down my stove and the counters. The cleaner cut right though all the grease and crud on the counters. I like that it's green and natural. There was no sticky residue like you can get from normal cleaners. It wiped clean.
Removes dirt, grease and grime with no sticky residue. Our All Purpose Cleaner is the best choice for all-around clean and packs the punch to get rid of dirt without harsh chemicals. Made from naturally-derived ingredients, now you can feel good spraying around your kitchen, bathroom, on floors, countertops, tile, grout, appliances, wood furnishing, even your car interior with a formula that's tough on grime, gentle on the planet. All Purpose Cleaner is phosphate, ammonia and formaldehyde free. Nobody likes grease! Especially elbow grease! We have invested years of scientific development to include the right balance of plant and mineral based ingredients to ensure SAFE and EFFECTIVE cleaning power.
You can buy all these cleaners in a bundle an get something for the whole house. Remember they also make laundry and and dish soap. I really like this product line.