Do you struggle to get your kids to eat healthy? Do you struggle to eat healthy yourself? Eating healthy isn't always easy, with all the tempting, unhealthy choices out there. According to the USDA, the daily recommended fruit intake for women up to age 30 is 2 cups per day, and after age 30 that number decreases to 1.5 cups per day. Halos can help! Kids love these miniature oranges and you will too! Wonderful Halos are sweet, delicious, 100% California grown Mandarin oranges. They're seedless, easy to peel and fit perfectly into any lunch box.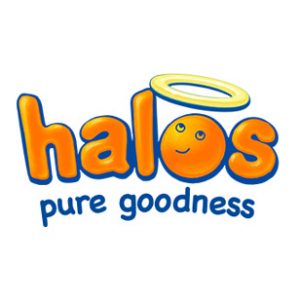 But don't stop with lunch. Is it your turn to bring the snack for the kid's soccer team? Grab some Halos! Need to bring something for the carry-in at work, but don't have time to make something? Grab a box on your way to work and save the day! Throw a bunch in a bowl for your next book club and watch themdisappear! The possibilities are endless!
Try some of these easy and fun ideas with your kids:
We all know how finicky kids can be, and my 8-year-old daughter is no exception. However, she loves these adorable Halo Mandarin animals! This combination of Wonderful Halo Mandarins, Wonderful almonds and chocolate is a sweet, yet healthy choice for the little ones.
One of my daughter's nicknames is squishy fishy, so she really loves this fish. She even named him Squishy Fishy before she ate him! She never liked blueberries before I made her this Halo fish. Now she loves them!
Turtles may be slow, but these Halo Mandarin definitely turtles won't get very far. My daughter had the same aversion to pistachios that she had to blueberries. "They're green and they look gross!" Now I have to share my Wonderful pistachios with her as well at my Mandarin oranges!
My daughter had so much fun making these animals she didn't even know or care that she was eating healthy!
For your adult taste buds, try this healthy yet flavorful shrimp salad at your next family dinner. If you don't like lemon, any vinaigrette dressing goes well with this salad . My favorite is raspberry vinaigrette.
Move over guacamole! This sweet and tangy salsa is perfect for any party!
The possibilities are endless with Halos. You can turn them into jam, bake them into cakes, or my personal favorite, blend them into orange mango smoothies! Halos also make a Wonderful gift for any holiday! Thanksgiving is right around the corner. Grab the kids and make these cute Mandarin Turkeys, and while you're at it, put out a bowl of Halos to help curb everyone's appetites until dinner is ready!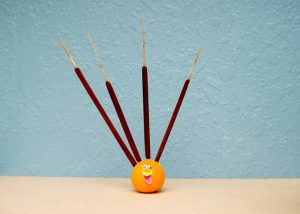 This Christmas, try pairing them with other fruits, cheeses and crackers to create a mouth-watering gift basket. Halos come in a 3-pound bag, a 5-pound bag, or a 5-pound box. Grab a box for the entire family! Visit the Halos blog for more fun, healthy and creative holiday ideas, crafts, and printables.
Connect with Halos: Shop | Facebook | Twitter