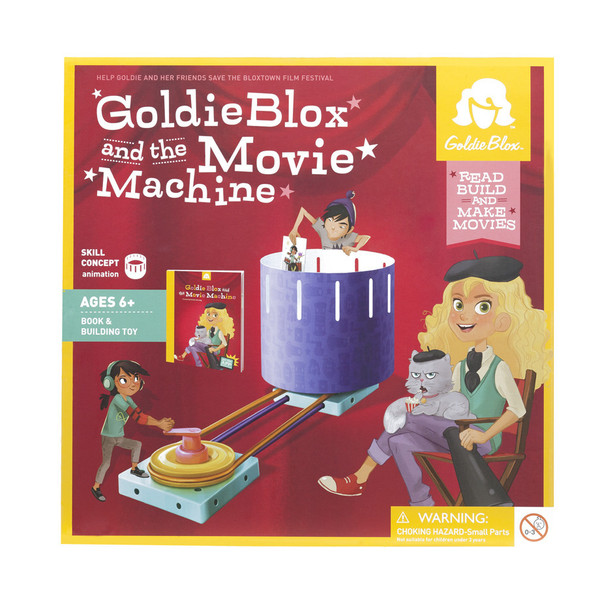 GoldieBlox is determined to change the equation!
Have you ever heard of GoldieBlox? It is an awesomely, cool company that I was recently introduced to that focuses on getting girls building! Their goal is to help level the playing field in a world where men largely outnumber women in the fields of science, technology, engineering, and math. Did you know that girls lose interest in these subjects as early as age 8? How incredibly sad! Strike that, how incredibly disappointing.
While tapping into a girls' strong verbal skills, the GoldieBlox construction sets bolster confidence in spatial skills while giving young inventors the tools that they need to build and create.
Enter GoldieBlox and the Movie Machine.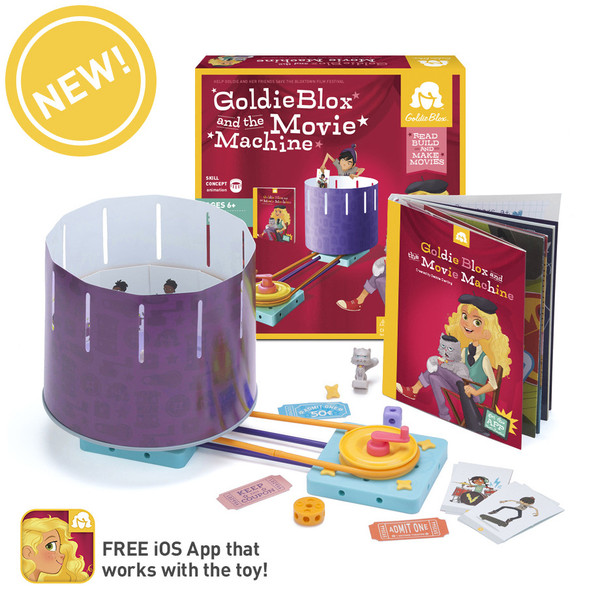 In this story and construction kit, kids will learn how to make their own movies. On this adventure, Goldie and her friends team up to create a solution and save the Bloxtown Film Festival from being cancelled. Your little one will learn to build a pre-cinema animation device known as a zoetrope while also learning about illustration and animation. This set also introduces Li Gravity, the first male GoldieBlox character and Valentina Voltz, the first Latina character. The Movie Machine comes with 4 movie packs and instructions on how to create endless original animations. Your little one will build spatial skills, engineering principles (drawing, animation, zoetrope), reading skills, and confidence in problem solving.
GoldieBlox and the Movie Machine is suitable for children ages 6+.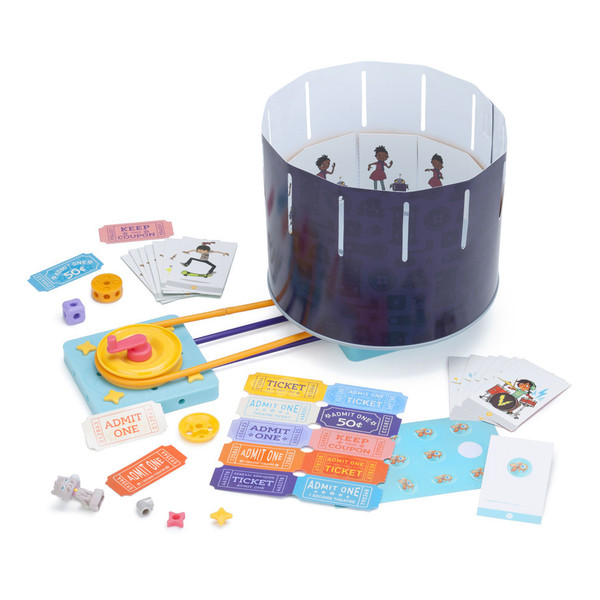 What we absolutely love about the Movie Machine is that your kid(s) will use new technology and an old school movie reel to create their movies. Simply print out the animations that you create in the Movie Maker App and then spin them in the Movie Machine toy!
All of the pictures are very bright and colorful and as an added bonus, even a little silly which also makes it easier to hold a little one's attention. We love that GoldieBlox encourages our children to use their imagination, introduces them to something from yesteryear, and supports them in making a true masterpiece.
My daughter is five; however, she understood the overall concept of this construction set; mommy and daddy just had to help her a bit along the way, especially with the reading. This may be a little difficult to master even at the age of 6 but this is a fun project that you and your children, even your older kids, can enjoy together! We have already been on the website searching for the next construction set that we will be introducing to our family.
GoldieBlox hope that the shining star of their company, Goldie and her friends will provide a vital way to see all of the different things that girls are capable of doing anything and everything while striving to be inspiring examples for girls and boys alike.
GoldieBlox believes that there are a million girls out there who are engineers. They simply may not know it yet but hopefully Goldie will show them the way!
GoldieBlox gives a whole new meaning to family fun time without adding a television to the mix.
Connect with GoldieBlox: Shop | Facebook | Twitter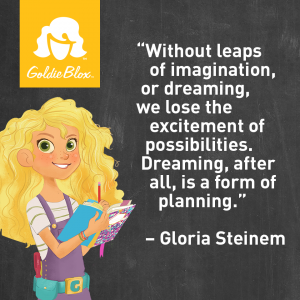 Disclaimer: This product was received from the Company for review purposes only. All thoughts and words in this post are my own and I was not paid to endorse it. I am only voicing my opinion of this product.