Kids grow up so fast! As a gift giver, this means they'll grow out of the cutest clothes and get bored of the shiniest toys, but there's one gift that kids (and parents!) will always appreciate – and that's college savings.
Usually, giving (and receiving) college savings is a big hassle – complicated paperwork, confusing investment decisions, or sacrificing potential gains by just giving/receiving cash – but now, the investment advisors at CollegeBacker have simplified the whole process!
CollegeBacker is the first and only robo-advisor for college savings. In minutes, you can open a 529 College Savings Plan with just $25, determine a smart savings goal specific to your child, and invite family and friends to participate.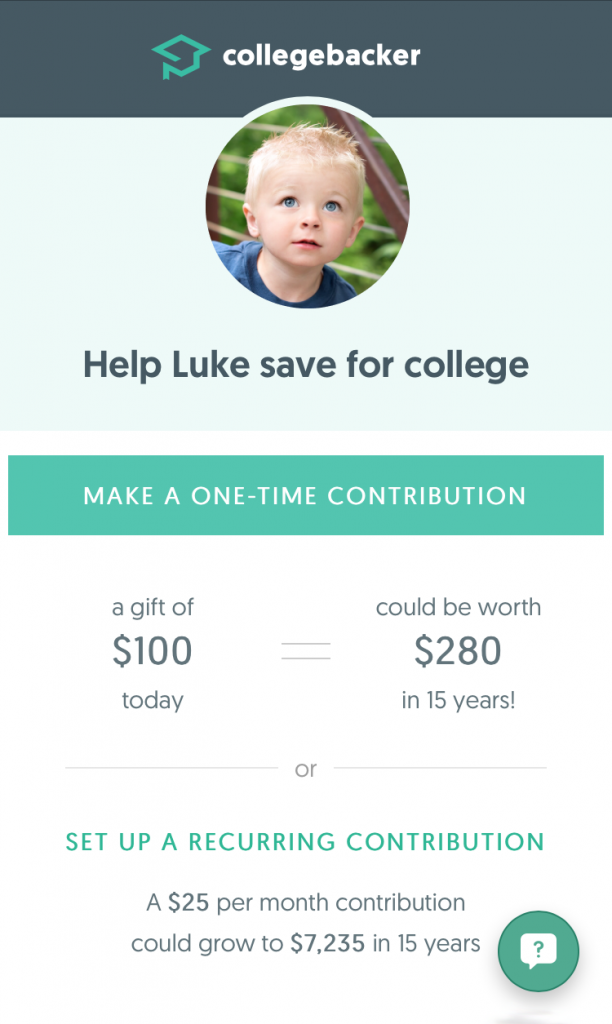 Even better, CollegeBacker is offering a bonus contribution of up to $75 to parents who start saving now. After all, it takes a village to send a student to college!
So, if you're a parent: Open an account in just 5 minutes and invite family & friends to contribute for a birthday, baby shower, or just in time for the holidays. CollegeBacker provides unique tools like private invitations and a customized webpage, so you can control what you're sharing.
And if you're not a parent, but there's a college-bound child in your life: Share this blog post with the parent so they can open a CollegeBacker account, or click here to join the waitlist for CollegeBacker's exclusive, hassle-free gifting feature, which will launch before the holidays. You'll never see your baby gift at Goodwill again!
Most importantly, you can rest easy knowing that CollegeBacker, an SEC-registered investment advisor, has taken care of the important details. CollegeBacker will automatically:
Open an expert-recommended, tax-advantaged investment account. Every CollegeBacker account is a 529 College Savings Plan, which means that you can make investments that grow over time and save on taxes, since the gains are tax-free.
Make smart investment choices, specific to your child. When you share your child's age with CollegeBacker, they will choose a cost-effective, age-adjusted fund that intelligently becomes more conservative as your child approaches college age.
Keep your money safe & secure. CollegeBacker is an investment advisor registered with the SEC, working directly with rigorously vetted state-sponsored 529 accounts, and protected by state-of-the-art browser encryption technology, identity verification, and other security measures.
Click here to get started – and CollegeBacker will contribute up to $75 too!