I am ashamed to say that at any given time there is about 10 devices going in this house that needs Wifi. My phone, the girls gaming systems, 4 computers, and two tablets. It's a lot and even though I pay ( dearly ) for very high speed internet sometimes we lag. Sometimes we need help to keep everything running smoothly and without any hiccups. Because trust me, if I am lagging while blogging I am one angry mama. ZyXEL has great products that enhance your internet and even turn dinosaur computers into wireless machines. I know it is hard to believe in the wireless age that there are people that still hook into the ethernet cable, but their is. Even one in my home, as much as I hate to admit it, sigh.
My oldest has had her computer for at least 5 years and refuses to upgrade. It is what she learned on and she is comfortable with it. The problem? It isn't wireless. I have a wireless machine but hook into the ethernet because I need the fastest speed in the house because of constantly downloading, uploading, and blogging. So to keep her connected all the way on the other end of the house, we use a Wifi adapter. But sometimes she runs so slow that she gets frustrated. That is when you need an extender. Not any extender, an extender that can handle just about anything. I am talking about the Wireless AC750 Range Extender from ZyXEL.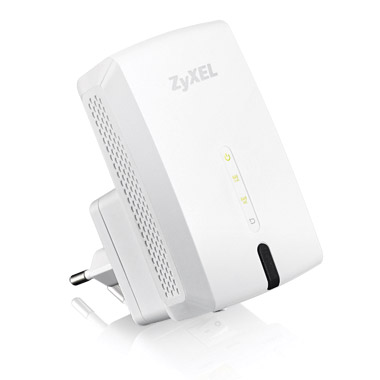 Wireless AC750 Range Extender from ZyXEL
ZyXEL's WRE6505 Wireless AC750 Range Extender provides wireless coverage throughout your home. Just plug the unit into a power outlet, and LED lights will indicate signal strength so you can place it on the optimum spot. The one-click Wi-Fi Protected Setup (WPS) setup simplified installation while a built-in Ethernet port provides instant network connection to multiple wired devices.
The ZyXEL WRE6505 extends and broadens your 802.11 a/b/g/n/ac wireless network coverage by eliminating dead spots for whole-home coverage. It allows you to enjoy the fastest video streaming, gaming and Web browsing on tablets, laptops or smartphones anywhere in the house, and it's backward compatible with all your current 802.11 a/b/g/n routers and access points.
Dual-band technology with "Speed/Range Boost" for advanced performance
The "Speed Boost" and "Range Boost" modes of the ZyXEL WRE6505 help establishing interference-free, optimal throughput as well as coverage. Choose the "Range Boost" mode for maximum wireless coverage or "Speed Boost" mode to prioritize speed over coverage.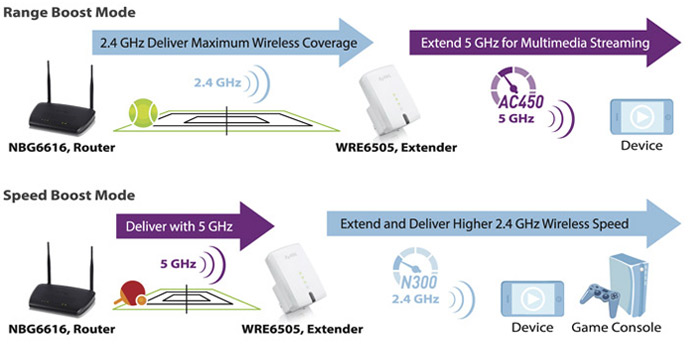 Compliant with 802.11ac with dual-band concurrent wireless
The ZyXEL WRE6505 is backward compatible with all your current 802.11 a/b/g/n routers and access points; and it helps to transmit signals using the less-crowded 5 GHz band for smooth streaming and low latency for games.
Compact wall-mount design for convenient deployment
The ZyXEL WRE6505 has been designed to allow flexible deployment, giving you the best wireless coverage and performance while eliminating the unsightly wires. Additionally, the device offers LED of three colors (red-good/amber-better/green-best) to indicate the signal strength for optimal Wi-Fi coverage. You can install it at the location with the strongest wireless signal to extend wireless coverage and enjoy your high-speed wireless network throughout your home in minutes.
---
Sometimes when you add a new hardware like that you need to amp up your power. That is where the 1000 Mbps Powerline Gigabit Ethernet Adapter comes in.
1000 Mbps Powerline Gigabit Ethernet Adapter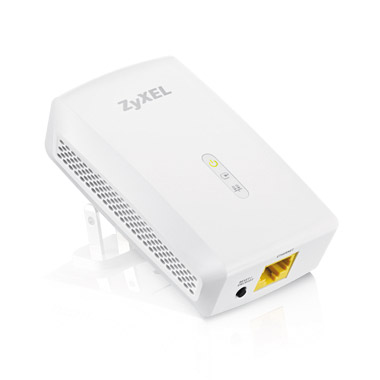 The ZyXEL PLA5206 1000 Mbps Powerline Gigabit Ethernet Adapter is based on the latest HomePlug AV2 standard with data transfer rates up to 1000 Mbps*.You can plug into existing electrical circuitry, transferrin power lines into a high speed network without new wires or drilling, and PLA5206 brings you a whole new large bandwidth to enjoy multiple HD streaming, online gaming and other network applications simultaneously in every room.
With advanced HomePlug AV2 technology, the ZyXEL PLA5206 provides speeds of up to 1000 Mbps* and backwards compatibility with HomePlug AV and IEEE 1901-based products. In addition, the PLA5206 is equipped with a Gigabit Ethernet port. Users can enjoy stable high-performance networking, including simultaneous HD streaming, online gaming and web browsing.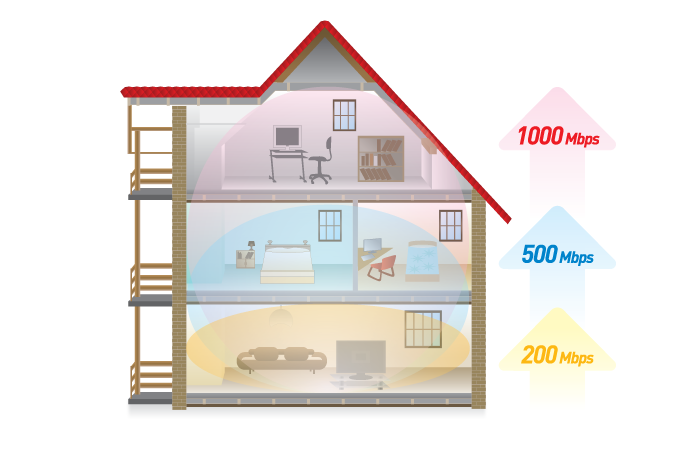 The ZyXEL PLA5206 lets you create a network using your home's existing electrical wires easily extending Internet connectivity throughout the building while eliminating the need to drill through walls or install additional network cables. Forget about complicated setup procedures; no configuration is required. Just plug your PLA5206 into a power outlet and create a completely functional network
The ZyXEL PLA5206 provides speeds of up to 1000 Mbps*, accelerating network applications like HDTV, multimedia HD streaming and online gaming. Users can easily transmit multiple HD streams and even 3D movies to every room quickly and smoothly.

Data transmission through the ZyXEL PLA5206 is protected by 128-bit Advanced Encryption Security (AES), providing a secure connection to the Internet. The encryption mechanism can be configured with a simple press of a button—no complicated setup or additional software is required.
The advanced Quality of Service (QoS) function improves high-quality multimedia streaming applications such as triple-play services by prioritizing processes including, HD video streaming, high-speed Internet access and VoIP.
For More Info:
---
I received the products above to facilitate this post. No other compensation was received and all opinions are 100% my own.