Get Glowing Skin with Glow-ology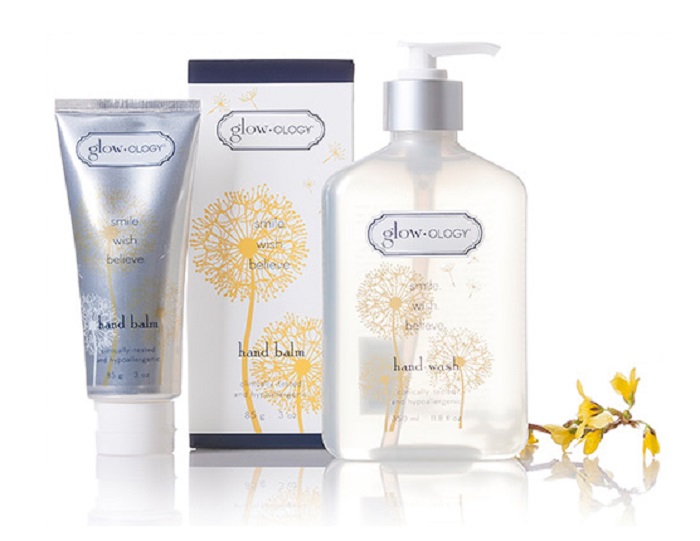 Products from Glow-ology will leave hands and body virtually glowing with a healthy natural look and feel. They are clinically tested and hypo-allergenic. Products contain NO parabens, dyes, petrochemicals, GMO's, sulfates, triclosan, phthalates or formaldahyde donors. Great for sensitive skin AND made in the US!
Four collections offer scents that will surely appeal.
Each is a different scent, but all are rich and glorious on the skin.
I think that of all the products offered, the hand balm is my favorite.

Immediately after use, my hands feel so soft and silky smooth. No oily or sticky residue. The aroma of each collection is absolutely heavenly. The texture is so luxurious. Rich, yet light to the touch.
Choose from the following products:
Hand Balm
Body Wash
Hand Wash
Body Butter
Hand Lotion
Body Lotion
About Glow-ology®

Glow-ology® was imagined to inspire women to feel Positively Beautiful. Our luxurious body lotions, refreshing body washes, and gentle hand creams feature skin-nurturing formulas with uplifting scents. Our commitment is to provide women with a complete line of wholesome and natural bath and body products that pamper and improve the appearance of their skin, while indulging the spirit through relaxation and restoration. Made in the USA from wholesome ingredients and with environmentally safe processes.
Hand and body washes are not drying to the skin and rinse off quickly, leaving behind supply skin. Body butter is so creamy and the hand and body lotions are marvelous. To be honest, I can't choose a favorite collection as they each smell divine. The scents are not overly strong. They leave behind a light freshness. Buy one product from a collection or get them all, to layer on hands and body. They come beautifully boxed…perfect for gift giving. Shop online or at a retailer near you.
Connect with Glow-ology: Shop / Twitter / Facebook / Pinterest
Disclosure: I received a free product from the sponsor to review. I received no monetary compensation and my opinions are my own and were not influenced by the sponsor.