Last year, in honor of our beloved aunt Dee Dee's passing, my hubby decided he wanted to go all out with our holiday decorations. See, Dee Dee loved the holidays, especially Christmas and always had her home decorated inside and out. Plus, in her better days you could always find her dancing and singing to her favorite holiday music.
Well, since Dee Dee would not have wanted to see us down and depressed hubby and I got to chatting, and with a little persuasion my hubby decided to get out and decorate our home with lots of lights and other items. He had not done that in years.
Sure, we spent quite a bit of money but he wanted to make it extra special and I wanted to help him. I purchased some gadgets that would allow us to set our lights to music and it turned out pretty well except we were missing one major component… an outdoor speaker that could be heard by our neighbors and passersby.
Being the typically frugal guy he is, hubby decided to drag one of our old, heavy speakers into the garage and sure it worked but it was big and in the way. Plus, it was definitely not made for winter weather. So, it couldn't stay outdoors for long. Last year was pretty much done by trial and error— if you couldn't already tell. haha!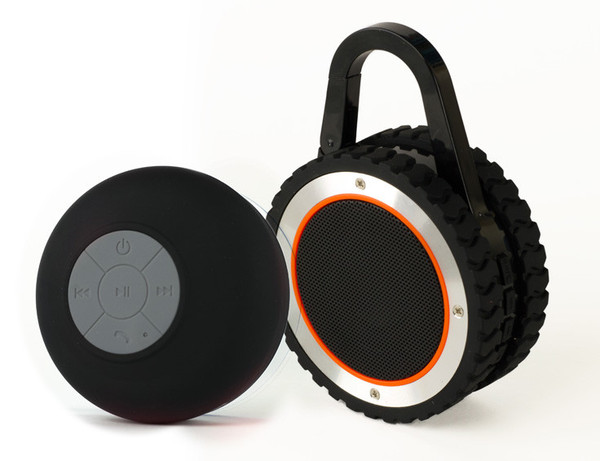 Thankfully this year things will go a whole lot more smoothly because we are more prepared. Hubby has been working on a program for our lights/music, plus FRESHeTECH was generous enough to send us a super cool and rugged bluetooth All-Terrain Sound® Water Resistant Speaker.
What sets this speaker apart from other bluetooth speakers is the All-Terrains ability to play in any environment– even under water! It's ruggedized outer casing is water, weather and dust-proof and can go nearly everywhere you go. It's the perfect speaker for outdoor enthusiasts but also makes a great addition to a holiday-themed light display such as ours.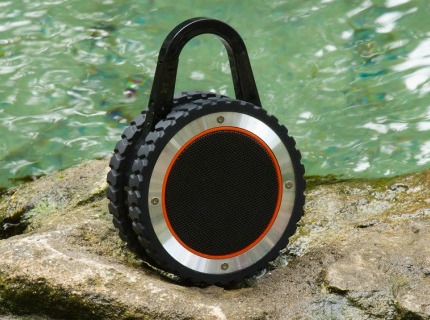 The All-Terrain Sound speaker is small in size (measuring 4 inches in length) but it has tons of great features including:
12 hours of continuous play
Rechargeable lithium battery fully charges in 90-minutes
Bluetooth 4.0 capability
Built-in microphone for answering phone calls
Yep, this baby not only plays your favorite tunes but when you're receiving a phone call, you can simply hit the "answer call" button and chat with family and friends THROUGH the All-Terrain speaker!
Designed for the person who needs a speaker that can keep up with their active and adventurous lifestyle. ATS allows you to break away from the solitude of your headphones and enhance the world's best experiences.
Take the sound speaker anywhere you go, even when playing sports, lifting weights, riding a bike, water rafting, playing golf, you name it… just use the industrial strength clip to attach it to your clothing, backpack, or bicycle or use the detachable suction cup. It's lightweight and perfect for on-the-go!
THE DESIGN IS REALLY COOL!
The All-Terrain Sound speaker has the appearance of a large combination lock and is covered in a quality, rubber material for extra durability. The face is a super sturdy speaker and all along the outer edge are your control buttons. These guys are very well made!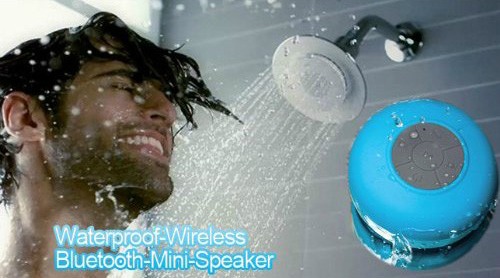 SPLASH SHOWER TUNES
If you are more of an indoor person, FRESHeTECH has you covered too— in the shower! haha.
Their Splash Shower Tunes® speaker offers the same great features as the All-Terrain Sound except you take this baby in the shower, attach the colorful speaker to your shower wall (using the attached suction cup) and jam to your favorite tunes while you bathe.
Now you no longer have to drag a portable radio into the bathroom and risk getting shocked if that annoying cord gets wet. And hey, don't ruin that expensive cellphone! The Splash Shower Tunes speaker is wireless, and waterproof— perfect for setting the mood during a soothing bubble bath. Plus, this small but awesome speaker is also portable so take it with you— it adheres to any flat surface. Use it by the pool, while you wash your car, even in extreme weather. Remember, it's waterproof!
Splash Shower Tunes gives you the freedom to play music, skip songs, increase/decrease volume, and answer phone calls all from inside your shower. Designed here in America by FRESHeTECH, SST has become the leader in shower speakers due to its simple design, ability to stick to anything, and great quality sound.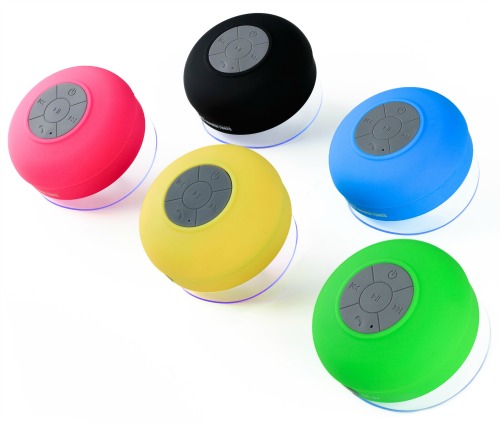 The Splash Shower Tunes speaker is available in 5 attractive colors; Blue, Yellow, Pink, Green, and Black.