For most people, celebrating their birthday is perhaps one of the most fun things to do. Suddenly, people get excited and can't wait to put together a clothing combination that takes them and their style to the optimal party level. For a long time, people used to dress in a classic tuxedo and little black dress when celebrating their special day. However, this year, we're more than happy to encourage lots of velvet, metallic, and of course sequins.
Depending on whether it's a larger or more intimate party, you can make small deviations from the typical style and make the look more festive, relaxed, and fun.
In this article, we look at some rocking clothing outfits and accessories to celebrate your birthday and make an almost effortless fashion statement.
Dare to Go Leather Black
A birthday party is a perfect occasion to change things up and dare to experiment with styles you might not typically wear throughout the rest of the year. Since this is a day to have fun and let loose, why not try something that could spark an interest and capture everyone's attention at the party you're going to attend.
The black leather trend has in recent years turned into a popular clothing trend among celebrities and style icons as it allows a person to experiment with their style while adding a touch of edginess to their overall look. Any piece of attire made of leather is usually considered part of the gothic clothing trend, used to create a fashionable and cool-girl vibe.
By wearing a body-con leather dress, you'll be sure to cause an uproar when you hit the party and manage to ride that fine line between a sophisticated and sultry vibe.
Silky Slip Dress with Pearls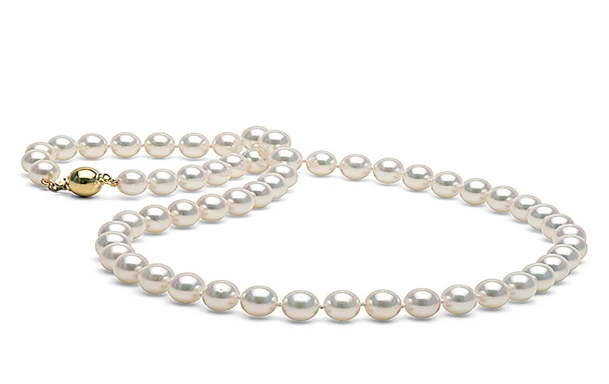 If you ask any fashion connoisseur, they'll tell you that a silky slip dress is the epitome of femininity, luxury, and it makes a fantastic party dress. Regardless of your body type, any curves will look sexy while wearing it and you will stand out from the crowd.
Find a slip dress that has a soft v-shaped neckline, adjustable straps, and a '90s flattering flare-shaped hem in your favorite color or pattern.
This single item of clothing can be amazingly transformative with its softness and the gentle swish of silk, as it creates an elegant and refined look that reminds of that Old Hollywood style. If you feel that you want to create a greater first impression when you enter the room, choose a piece from your stunning pearl jewelry collection to instantly add a touch of flair to your look and match the festive occasion.
Off-the-Shoulder Top and Glitter Pants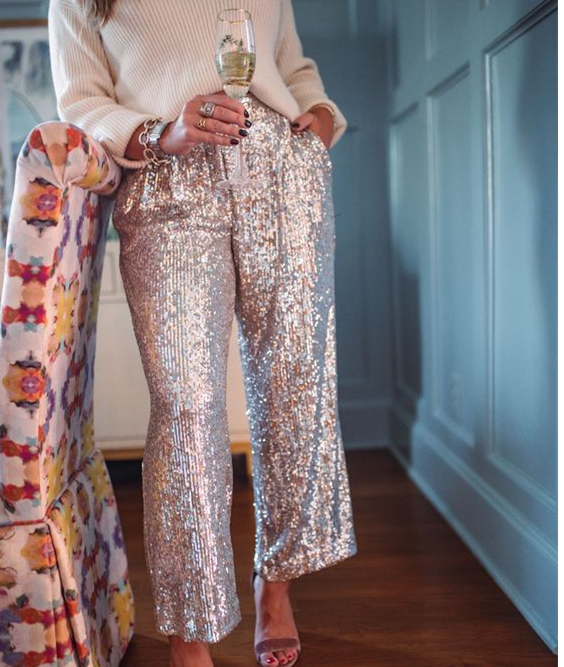 If you want to attain a glamorous but at the same time sophisticated birthday look, put on a pair of glitter pants and match them with a beautiful top.
Letting the top and especially the shoulders be seen has shown to be very trendy this year. Therefore, doing this at your birthday bash should be no exception. Let your top speak for itself and when put together with the glittery pants you'll create a bold outfit and give your off-the-shoulder top the attention it deserves.
A glamorous silver pump will foolproof your style along with elegant toned-down earrings. In addition, go with a dark eyeshadow to truly master that real party vibe and you'll be the head-turner of the night.
Sequined Skirt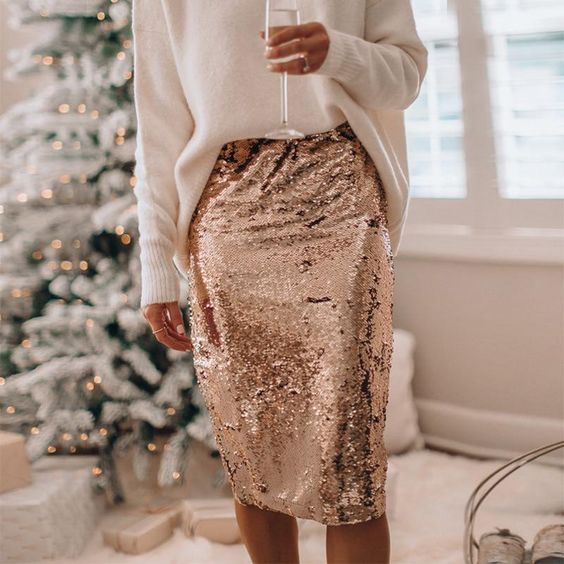 Most of us want to go the extra mile on our birthdays and choose something more embellished. A sequined skirt is an excellent idea when you're looking to find an alternative to a traditional party dress that will both offer sparkle, a flattering appeal, and catch attention when the sequins hit the lights.
You can pair it with a flirty blouse and some black statement heels, and a pair of hoops that will keep the look elevated throughout the evening.
Most women prefer a midi length skirt as more chic and grown-up looking, and if you're going to dance the night away with colleagues, it's more appropriate and you can wear it with a chenille sweater on top, which still creates the perfect mix of a festive and stylish ensemble.
As far as accessories go, as we mentioned before, keep them to a minimum by wearing a pair of hoops or sticking to subtle studs.
Velvet Sequined Jacket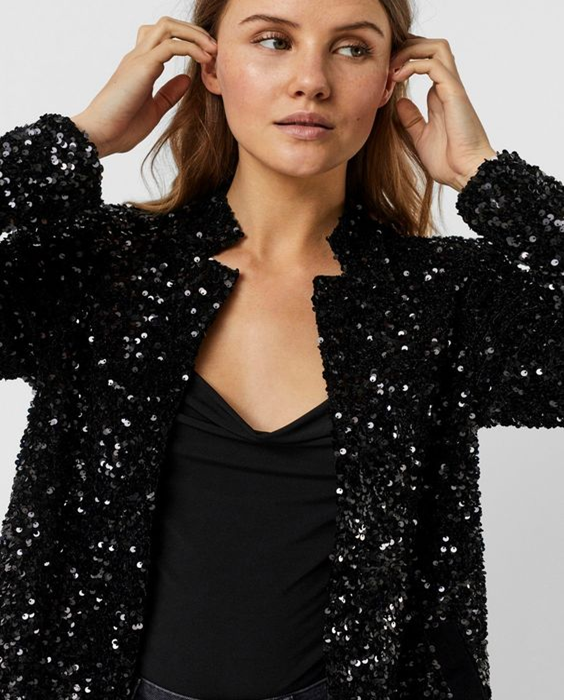 Wouldn't you agree that a sequin jacket is a must-have during this time of year? It's a true party season staple that will jazz up a casual look and the best part is that there are plenty of different shapes and styles to choose from to suit your taste.
If you have already picked out a dress, a blouse, or trousers for your birthday celebration but feel that something is off, a velvet sequined jacket could be the missing piece to tie it all together. We recommend that you opt for a black blazer-style jacket as this color will allow you to match anything you would wear underneath and make sure you're comfortable all night long. In addition, such jackets usually have functional pockets which is always a plus as you can keep your phone there and instead enjoy your glass of champagne.
Final Thoughts
Regardless of your style, these clothing outfits and accessories will help you nail the vibe and mark your birthday on a more fashionable note.
These rocking clothing outfits will seamlessly work for any type of birthday plan, and the accessories will bring the right amount of bling, ensuring that you light up any room and feel like your best self.