Amidst the chaos of hectic & busy lives, family travel gives one the perfect opportunity to unwind and build memories for a lifetime. Travelling to a spiritual destination like Madina in Saudi Arabia not only lets you explore places of religious significance but also gives you the opportunity to broaden your spiritual horizons. Madina is well-known as a city that accommodated the Prophet and his companions when they migrated from Makkah, making it an ideal place to visit for spiritual travellers.
If you're also planning a family vacation to the fascinating and holy city of Madina in Saudi Arabia, the Shaza Al Madina is one of the best hotels that you can consider for a perfect luxury destination. An ideal combination of sophistication and style, the hotel is set just outside the haram and offers an unmatchable experience to its guests.
What's Unique About Shaza Al Madina
When travelling with family, accommodation is as important as the destination itself. A Madina 5-star hotel stay will not only provide unparalleled service to you to make you feel like royalty but also give you an experience of a lifetime. Right from gourmet restaurants serving world-class cuisines to top-rated on-site spas, the best hotels in Madina have it all.
Shaza is one such 5-star hotel in Madina known for its luxurious flavour and a host of recreational relaxing activities for guests. With the best hotel rooms in Madina, luxurious suites, exclusive silk floors & a relaxing lounge, massive meeting & banquet rooms, the property has everything you need to rejuvenate and recharge yourself.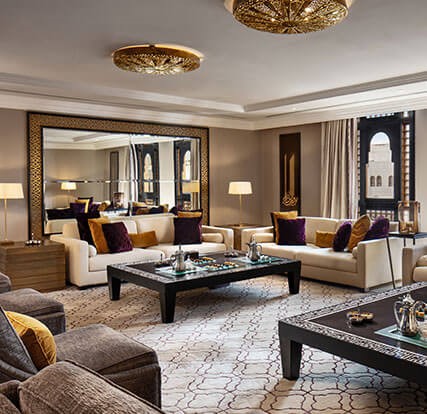 Image from hotel website
Highlights of Shaza Al Madina
1. Better Value
With Shaza Al Madina, you are sure to get your money's worth. Apart from features like high-speed Wi-Fi access, breakfast, and drinks, you can also enjoy the convenience of well-decorated rooms, best quality furniture, and a welcoming ambience.
2. Adventure and Activities
One of the best luxury hotels in Madina, Shaza Al Madina, offers an all-inclusive experience to the guests with a broad range of relaxing & fun activities along with ample space to indulge in them. Some examples include:
Concierge services.
Airline assistance.
Private parking, 24-hour in-room dining.
Currency exchange.
Non-smoking floors.
Shaza Kids' Club.
Shaza Afiya.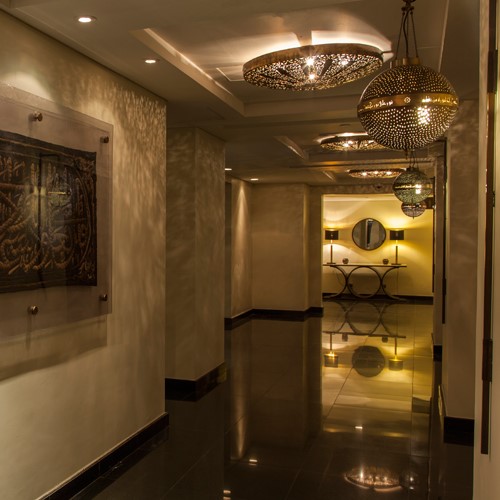 Image from hotel website
3. Centralised Location
This Madina 5 star hotel is located at a short distance from the popular Al-Masjid an-Nabawi mosque, renowned as the Mosque of the Prophet. It offers incredible views of the holy mosque's green dome and the beautiful courtyards of pilgrims at the time of prayer. Other places that you can visit include Quba Masjid, Haramain high–speed rail project, and Zull Qeblatin Masjid. The hotel is also close to Prince Mohammed Bin Abdulaziz international airport, offering great ease of travel to the guests.
4. Excellent Food/Dining Options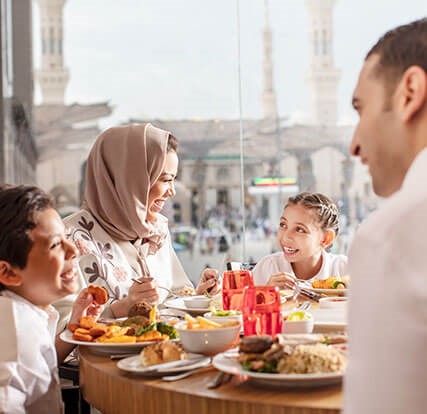 Image from hotel website
Dining option is an integral part of any luxury hotel experience, something that you will soon realize at Shaza Al Madina. The place offers a variety of options to choose from the hotel's own unique dining concepts. Arabesque in Shaza is one of the best open show kitchens that is conveniently located on the mezzanine level with a seating capacity of 140 guests.
5. In-Room Amenities
The rooms and suites of Shaza Al Madina offer plenty of amenities to make your stay extremely convenient. Some of these include:
Complimentary Wi-Fi.
Refrigerator.
Coffee maker.
Best pillow-top bedding.
High-quality in-room safe.
Iron and ironing board.
Have a Stellar Family Holiday with Shaza Al Madina
While you could easily spend your days filled with luxury, entertainment, relaxation and fun at Shaza Al Madina, the centralised location of the hotel allows you to spend time exploring the holiest city of Saudi Arabia comfortably.
Shaza is a luxurious hotel in Al Madina near haram that offers the best on-site accommodations and high-end entertainment and gourmet dining options, while also allowing you to conveniently explore the beautiful city of Al Madina to make lifelong memories.