If there is any room that requires the most effort in interior decoration, it is the living room. The living room decor sets the tone for the entire house decor. For living room decor, it is important to pay attention to details as "little" as the way colour blends with surfaces. Vinyl painting for instance, soaks into the surface and becomes part of it, making the surface look clean. Another tip is to decorate your walls with neutral vinyl printing that blends with furnishings.
The arrangement and design of furnishings used also determine the final layout of the living room. Here are the 5 ways to make your living room gallery-worthy:
1) Neutral Tones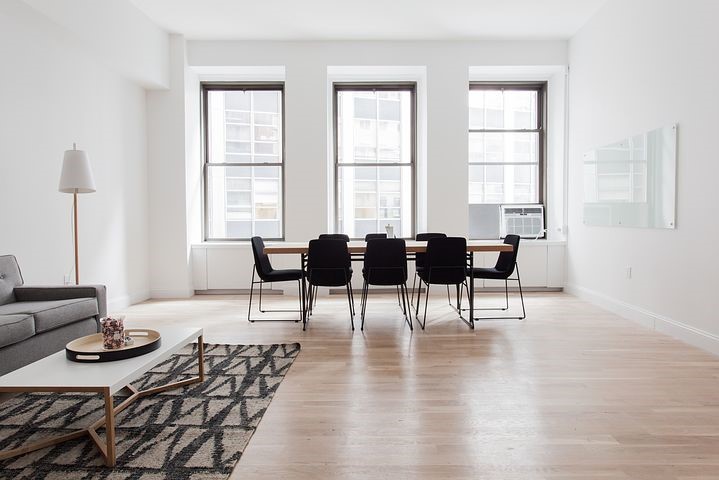 https://pixabay.com/photos/chairs-floor-furniture-indoors-2181947/
Decorating a living room with pieces in neutral colours gives a clean, minimalist and classic look. The effect of neutral tones is accentuated with the great coverage that vinyl painting offers. Contrary to popular opinion, neutrals are not just bland grey, black or white. Neutral colours also includes colours which are tinted with white or black.
Dusty rose or silvery blue are examples of neutrals with some colour. The neutral colour palette is wide enough to reflect any kind of personality. For example, gold finishes can reflect a glam style. Neutrals are versatile enough to be mixed with either other neutrals or bolder colours. Neutral colours are the perfect bases for living rooms that are regularly changed up with new furnishings, because they blend with almost all colours.
Warmer neutrals give a cocooning feeling while cooler tones can open up an area, giving an airy feel. They also enhance natural light. These colour a a have perfect undertones that make them perfect living room colours.
2) Geometric Lighting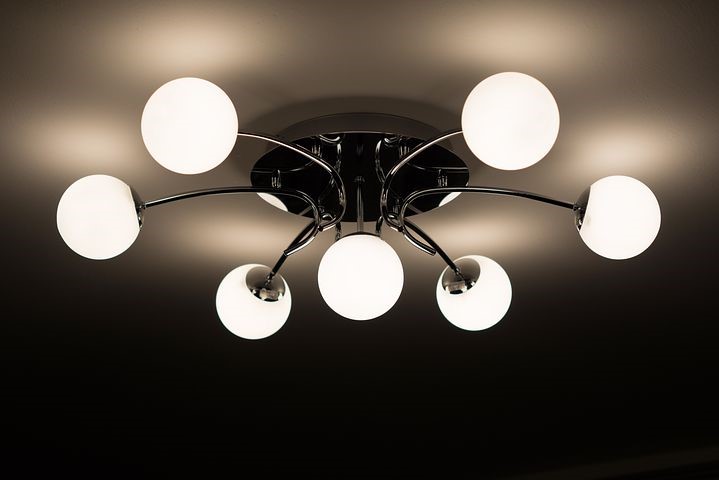 https://pixabay.com/photos/ceiling-lamp-lamp-chandelier-bulbs-335975/
Lighting sets the tone for the entire room's space, and geometric light fixtures are striking and eye-catching enough to offset a minimal or neutral living room. Geometric light fixtures match almost every kind of room arrangement and are the safest choices for living room lighting.I'moqq amen all you $50 or is it that she does she
The geometric light fixtures come in various forms, shapes and colours. These kinds of light fixtures are also perfect for side tables where they contribute to the general living room aesthetic. With geometric light fixtures, there is room to think outside the box as they must not be just squares and hexagons. Drum and stellar-shaped geometric fixtures are perfect modern twists to geometric lighting. Besides the luxurious touch vinyl painting has on ceilings, a geometric light fixture makes the top part of the living room a beauty to behold.
For living room lighting, the geometric fixtures could either be on the ceiling, side tables or as decorative accent lamps depending on the lighting needs of the room. It is also necessary to have pretty lightbulbs for these fixtures to complete the aesthetic.
3) Minimalist Living Room
https://pixabay.com/photos/modern-minimalist-lounge-sea-view-3100785/
Minimalist living rooms are the perfect definition of pared-down aesthetics with the most relaxing effects. Paring things down to the basics and ditching the superfluous is not just sleek, but it also does a lot for your sanity. From monochromatic minimalism to laid-back luxury, this simple approach to living room decor is a favourite. As easy as they seem, minimalist spaces are not so easy to put up. For minimalism in living room decor, it is necessary to choose quality over quantity, invest in stylish storage, create neutral bases and basically just keep it simple. With minimalism, it is easier to focus the living room to a particular mood or theme.
A minimal living room does not have to be boring. It can be spiced up with different colours or shapes of furnishings provided the 'less is more' rule is obeyed. A minimalist living room can move from boring and empty to colourful and luxurious just by adding a little colour contrast or a not-so-common kind of furniture.
4) Stylish Bookshelves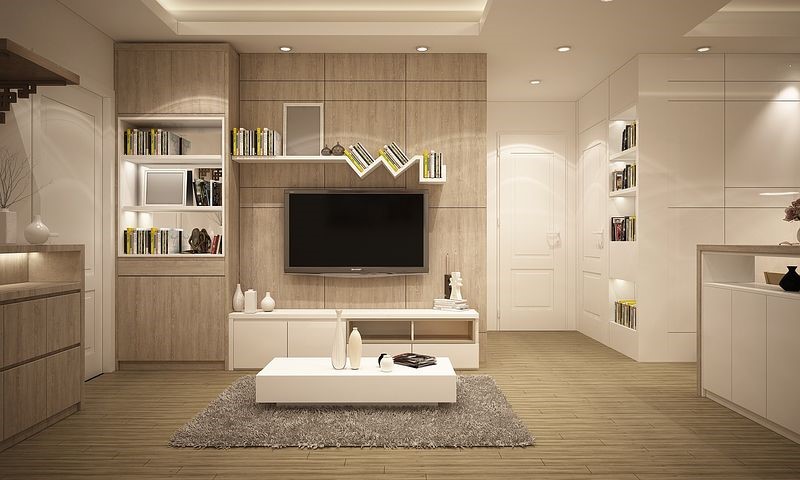 https://pixabay.com/photos/furniture-living-room-modern-998265/
Nothing draws more instant attention to a living room than a creative and stylish display of books. A nice looking bookshelf even makes a living room cozier. For these kinds of bookshelves, they could be done as DIY projects, inbuilt or add-ons. The important point is that the books are displayed in style. To an old, plain bookshelf, artwork could be overlaid for a pop of style.
Flowers and other artistic pieces could also be added to provide that flair. For minimalist or space conserving living rooms, books can be stylishly stacked under staircases or bookshelves could be used as decoys for hidden rooms. To save cost, books could be stacked in a neat pile against the wall and depending on how close the stack is to the bed, it could be doubled as a bedside table. Already made bedside tables or surfaces could also have books placed on them to give them more use.
Floating bookshelves are also beautiful solutions to a plain, blank wall. Whatever kind of bookshelf is chosen, it is important that its colour and design blends with the general aesthetic of the living room.
5) Wooden Accents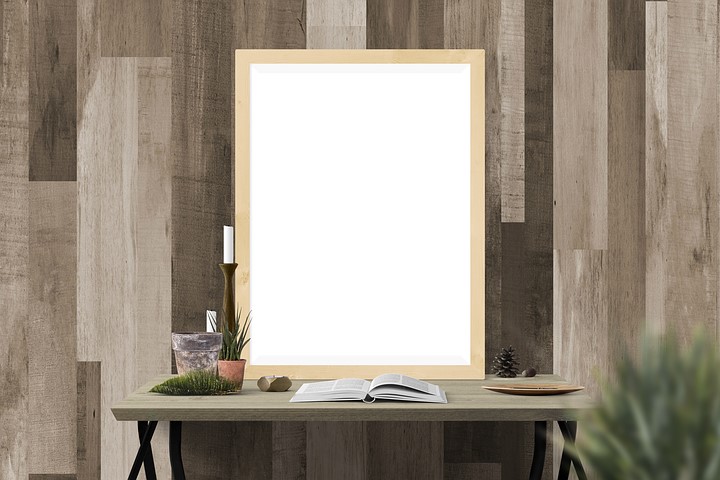 https://pixabay.com/photos/desk-picture-book-contemporary-1868498/
Wood is one of the easiest and most common ways to tilt towards natural home design elements. Wooden accents give any living room warmth and organic elegance and can be infused into furnishings, backdrops or accessories. A living room accent wall in wood is a great way to bring in both visual and textural contrast without altering the existing style, color scheme or theme of the living room space in a drastic fashion. Wooden accent walls is not only for textural contrast.
A fabulous wooden accent wall with a touch of 3D beauty brings the living room alive. The wooden accents also warm up other modern colours present in the living room. Asides being on actual walls, wooden accents also work as striking room dividers. Wooden accents add both a neutral and dramatic effect to the living room and it is necessary that the finish, colour and texture of the wood matches with the entire layout of the living room.