Have you ever heard that the way to your partner's love is through their stomach? Well, I think with Gourmet Cookies Love Potion Cookies you might have found your answer.
The one I want to talk about today is the:
Love Potion Dark Chocolate Vanilla Chip Romantic Cookie Mix These cookies not only look good, they taste good too! Now mind you I had to try them, and you will too after seeing the picture.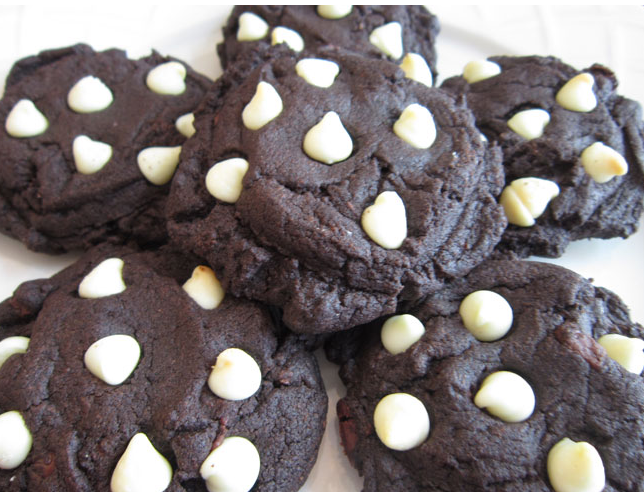 About the Cookie Mix:
These seductive dark chocolate cookies become a powerful love potion with ginseng, 100% cacao cocoa, vitamin E and vanilla chips. This mix includes vanilla chips because the scent of vanilla increases memories and emotions. This will make sure that you are unforgettable. Chocolate produces opiates in the brain increasing feelings of happiness. These cookies are made with dark chocolate 100% cacao cocoa powder, the darker the chocolate the more opiates are produced. Vitamin E is the aphrodisiac vitamin because it increases libido by regulating hormones. It also improves vascular health and blood flow. Ginseng increases stamina while decreasing fatigue and stress. Each mix makes 24 cookies.
I have never heard of a cookie mix that had ginseng, vitamin E and cacao cocoa in them. Well, the cacao cocoa I have heard of in a cookie, just not the other two. I can see how these three added ingredients would help with a "love potion" due to their combination.
You are probably wondering who is behind the Romance Cookie Mixes from The Good Natured Gourmet?
Good Natured Gourmet was born in 2012 by a Registered Nurse and a baker who saw firsthand the wonderful and powerful effects of natural ingredients and vitamins. Many of her recipes were inspired by many years taking care of pregnant and breastfeeding women, children, and adults.
Their dessert mixes are made with natural ingredients and vitamins to make them delicious and effective at the same time. At Good Natured Gourmet, their goal is to make truly unique and delicious desserts.
Their unique cookie mixes are geared toward lactation cookies for breastfeeding Moms, and romance cookie mixes for those that are in love or working toward that goal.
Follow them on their Facebook: