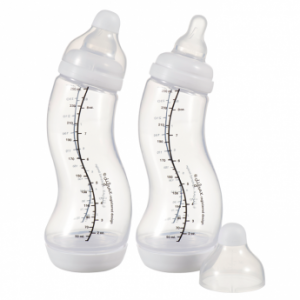 Difrax bottles and pacifiers have all the features you need as a new mom! I've found, especially while breastfeeding, that the exact bottle and pacifier used makes a massive difference. My baby only took the bottles that felt like mom. He only took the pacifiers that felt like mom. Having all the right features and options is critical to successful bottle-feeding and self-soothing using pacifiers.
"Everything Difrax does is devoted to babies and their parents. Difrax aims to make innovative and fashionable products which make the lives of babies and parents as convenient and pleasant as possible – and we mean all babies and parents! That's why Difrax is also a leading international player in the baby products market. "
Difrax's new line of bottles is so brilliant! It's shaped like an "S" so that the baby can feed in a more natural position, without swallowing air. It is unhealthy for babies to lie flat while feeding, and these bottles allow for a slightly curled position with a raised head. It also includes some innovative anti-colic features.
Difrax Baby Bottles features:
C0mes in two sizes – 170ml (5.75 oz) and 250ml (8.45 oz)
Comes in three color schemes – boy, girl, and unisex
Features a locking no spill cap that doubles as a measuring spoon for formula
Super soft nipple to mimic the feel of mommy's breast
Innovative "S" shape design allows for a more natural feeding position, and allows the milk to fill the nipple completely, minimizing the amount of air that's swallowed
Base valve helps reduce colic.
Can be disassembled from the base and top for easier cleaning
BPA free

Difrax carries an adorable line of pacifiers as well. These pacifiers come in two options: the ortho pacifier and the classic pacifier. The ortho pacifier is an orthodontic model, which is flat on one side. This helps proper development of the palate and the mouth and jaw muscles. While this may seem ideal, your baby may not care that that's what's good for him. That's what happened with my breastfeeding baby. He would only take a natural shape pacifier. The Difrax classic pacifier is perfect for breastfeeding babies, as it mimics the shape of the breast.
Difrax Pacifiers features:
Two nipple styles: classic and orthodontic
Comes in five sizes: newborn, 0-6, 6+, 12+ and 18+
Available in various patterns of boy, girl, and unisex
Unique shape allows the nose to be free
Vent holes minimize skin irritation
BPA free
Difrax baby bottles and pacifiers are beautifully designed with all the features you need. They are unique and innovative and have both baby's and Mommy's best interests in mind. They are the ideal solution for bottle feeding infants. The pacifiers are perfect for self-soothing toddlers.
Connect with Difrax:
Disclaimer:
This product was received from the Company for review purposes only. All thoughts and words in this post is my own and I was not paid to endorse it. I am only voicing my opinion about this product.