When becoming a new family, there's always a million things to fill your check-list with. You have to make sure you have the essentials like diapers, clothing, toys that are both fun and educational…and that's on top of the countless list of baby-proofing items you'll need. With a seemingly endless amount of things to do, it's easy to overlook one important detail: what your child's room is going to look like!
It can sometimes be a daunting task to decorate an appropriate bedroom space where your child is going to sleep, grow, play, and dream. This can be even more challenging if you don't want to cover your walls with tacky wallpaper (that can be just as challenging to put on as it is to take off) or have the time and funds to constantly play interior designer.
Therefore, we've found a solution that is not only customizable AND removable but also timeless. Let me introduce to you to the signature wall decals. Signature wall decals on the surface look pretty simple, but they can add a bold detail to any child's room. Not only will your child's room look simple and elegant, but the room will be personalized specifically for your child. Who doesn't want a decorated room that could never be duplicated?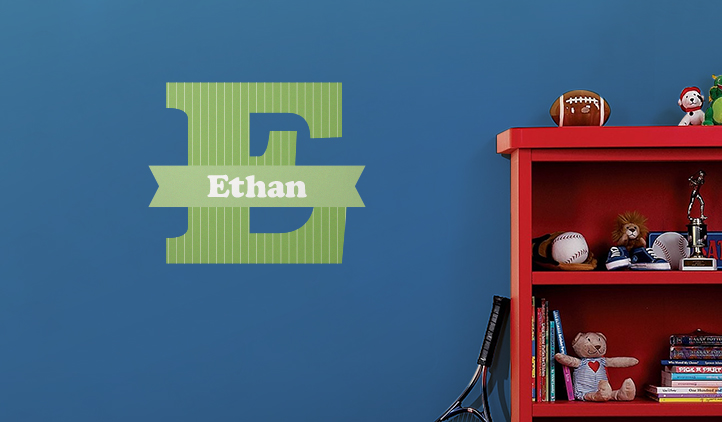 Best of all, signature wall decals are super easy to create and take no time at all. All you need is a computer, Internet access, and a child whose first name begins with a letter. If you haven't picked a name yet, don't worry, you can use your last name or wait until the baby is born. All 26 letters of the alphabet are available as templates for your decals with 6 different patterns you can choose from to fill in the background. Just type in your child's name and you're all set. The best thing about signature wall decals is how customizable they are. They allow you to have three different colors on one decal (foreground, background, and font), so any existing color schemes you may already have in the room are easy to match and compliment (or to match with any new colors and palettes you want to work with if redecorating). The font can also be customized, so you can match it to the ambiance of the space or to your kids' personality. Best of all, the font can be changed and resized so even long names will fit on a signature wall decal! You can also choose the size of the decal, ensuring that you'll have the perfect fit for your wall.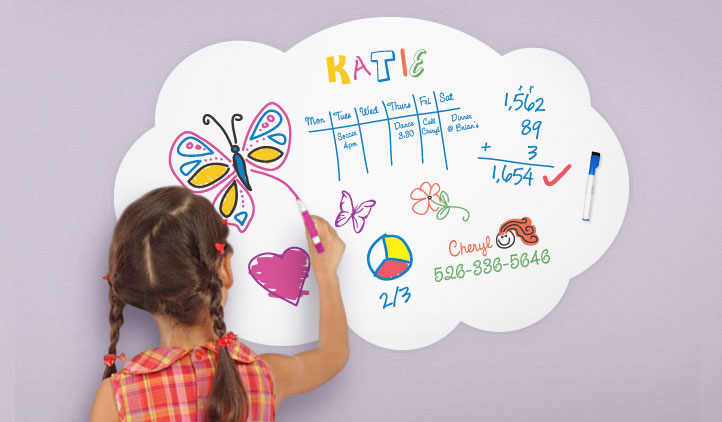 The application of wall decals is also a breeze. Once you've mapped out where you want your decal placed, make little pencil marks as a guide, similar to what you would do before you start painting or stenciling, and you are ready to peel and stick. Don't let the size intimidate you, the decal will adhere effortlessly and can be smoothed out with a squeegee or even a credit card. You never have to worry about air bubbles or needing professional installation. Unlike the stickers that your kids get from toy stores, these decals are made with a thicker industrial vinyl. This means, if you redecorate, your decal comes off as smoothly as it went on – without leaving any residue or peeling your paint!
Signature wall decals look great, but wall decals also come in many different materials! You can use decals to create expressions or messages. For example, use a decal to announce the news to your family, it's a great way to make a statement and keep a memory. Tell your child they're becoming an older sibling with a decal. Nothing creates a memory like a decal that says "I'm a big sister." You can also make clear decals for windows, glass, and mirrored doors. You can even make photo decals of your child's favorite cartoon and movie characters. Decals aren't limited to a child's room, you can create inspirational text or an uplifting quote for a themed room, reading nook, or playroom.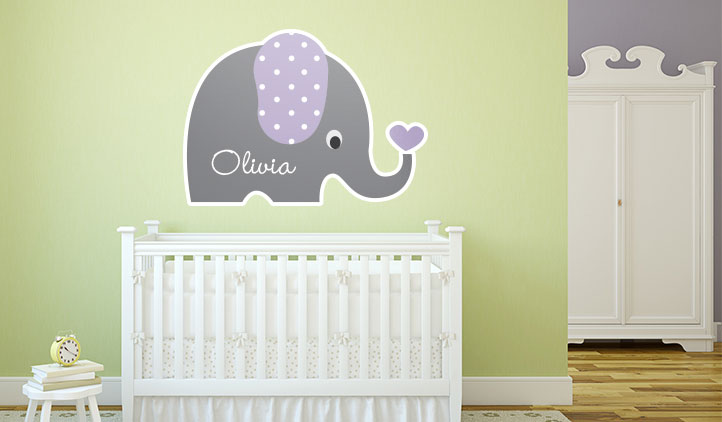 Customizable decals are great because they can be a fun activity for older kids (or computer savvy tots) and parents alike. It allows kids to be in complete creative control and can help them learn about space, pattern, and color.
For more information on how to get signature and wall decals or many other adhesive materials, you can get a free sample catalog from StickerYou.com.