In my home stocking stuffers are one of our holiday rituals. Every year on Christmas Eve we go stocking stuffer shopping. We seek out unique and fun gifts and stuff those stocking jammed pack with fun! And on Christmas morning we can't wait to dig into those stockings.
This year, I found some stocking stuffers early! My family loves to stay healthy. I'll be stuffing those stocking with the Bowflex Boost!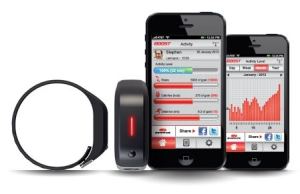 Trying to stay healthy is a full time job, much less trying to keep track of everything involved in a pro-healthy lifestyle.
. The Bowflex Boost just made my life easier. Simply use the Boost phone app to easily set goals and monitor them. And, using the Bowflex boost is so easy! To start using the Boost is sync the bracelet via Bluetooth and wear it. It will track and automatically sync your activity data to your phone.
I've falling in love with the Boost and I love how easy it is to check my progress. And you can also easily check in on you progress when you aren't near your phone by clicking the button on the bracelet. The colored indicator light will tell you how close you are to meeting your daily goal how cool is that?
One of my favorite features of the Boost is it's ability to track my sleep. I never feel rested, even after I think I've slept eight full hours. The Bowflex Boost let me know I was NOT getting enough rest. I decided to change my schedule and go to bed an hour earlier than normal and it worked. The Boost let me know that by simply changing my lifestyle by one hour that I was getting enough rest. Thus I felt better during the day and became more active which thus helps me stay fit.
The Bowflex Boost makes a wonderful gift. If you or someone in your family takes the healthy lifestyle seriously then give them the gift of the Bowflex Boost!
Features:
Smart: Tracks all your activity including steps, distance, calories, and sleep.
BlueTooth: Easily syncs with iPhone 4s and newer devices – no cables needed.
Long Battery: USB chargeable battery lasts up to 11 days.
Goal Driven: Just tap to see your progress toward your personal goals.
Personal: Set your goals, visualize data and insights tailored to you.
Connect with Bowflex:
Facebook
Twitter
YouTube
Disclosure: I received a free product from the sponsor to review. I received no monetary compensation and my opinions are my own and were not influenced by the sponsor.