There's nothing cuter than seeing a gorgeous little flower girl taking the main aisle by storm before the bride walks out in all her glory to marry the man of her dreams.
You can pretty much guarantee that if you're including a special space for a flower girl in your wedding, you're going to get plenty of "awwws" as she struts down the aisle tossing petals and feeling beautiful but picking out the perfect dress for your flower girl is about much more than the approval of the crowd.
When picking out the right dress for your flower girl, you'll need to consider all sorts of factors to ensure that she's comfortable, happy, and feeling pretty! Check out our tips below for picking out the perfect flower girl dress for your little darling, and remember, you can browse some inspiration from the JJ's House site!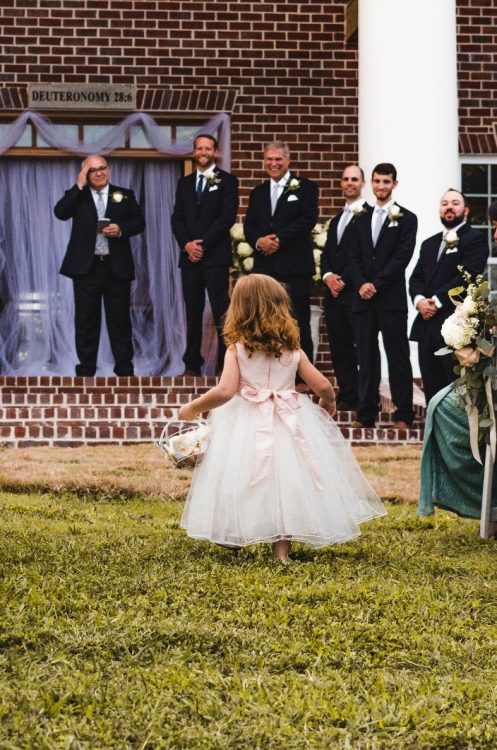 Fabric Matters
Though you want your flower girl to look lovely, remember, most flower girls are children, and comfort is going to be hugely important! When picking out your dress, check the fabrics with your flower girl. Is this one too itchy? Is this one too warm or scratchy? You'll want to look into fabrics that resist wrinkles and rips (hello, satin) because, after all, the flower girl is still a little girl, you might have to deal with wrinkles, rips, spills, and tears.
Plan for Sizing
It's also important that you're not forgetting that your flower girl is a constantly growing, evolving little thing. You'll want to make sure that you're picking out a dress that leaves a little room for her to grow into! Kids are consistently hitting growth spurts and adding inches all over the place, so it's important that your dress choice isn't too constricting and won't cause problems later on when your adorable little flower girl tries the dress on and finds it's too tight! Save yourself the alteration drama and plan for a little room in the dress of your choice.
Weather and Season Should be Factors
If you're all set with the season for your wedding date, then it's likely you'll be able to factor this into your flower girl's dress without an issue! Are you planning a winter wedding? Beautiful! Make sure you're picking a dress that will keep your little flower girl warm while also ensuring that she looks weather and season appropriate. Are you having your weather in the heart of the summer? Consider tea length dresses, sleeveless designs, and fabrics that will wick away sweat instead of something hot, scratchy, and heat trapping.
Color and Theme
Always keep your theme in mind when picking out your flower girl's dress! Sure, you need to focus on comfort and season, but you also need to ensure that your theme is going to be consistent throughout the attire, the flower girl included. When picking out a flower girl dress, don't stress about making sure it matches the bridesmaids' dresses exactly. Instead, look for beautiful complements to the color and the theme and focus on giving the flower girl a style all her own.
Don't Forget About Cost
Make sure that you're keeping a realistic grip on the cost of your flower girl dress. Yes, your little lovely deserves the best, but remember, this is a dress that will likely be trampled on, stained, and wrinkled, and likely, it's not something that can be worn again. Make sure you're keeping all these factors in mind when considering a dress within your budget. Make sure that if you're choosing a dress for a flower girl who isn't your child, you check with the parents on the price of the dress, as they're most likely going to be the ones paying for it!