When you install flooring in your home, it's not just about function, but looks too. Choosing the best flooring for your home renovation can sometimes seem like a tricky venture. The one you choose is going to depend on; looks/style, budget, placement of the flooring, and of course preferences. Below, we will be going over different rooms such as the kitchen, bathroom, basement, and family room – the top rooms people renovate, and which materials are best used for flooring in these spaces. As well as a few benefits of these materials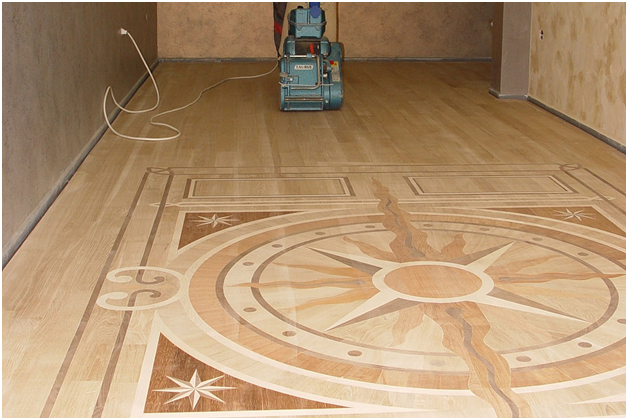 Best Flooring For Kitchen Renovation
When choosing flooring for your kitchen it must have a few prerequisites;
It has to be safe. Chances are, you will be spending quite a bit of time in the kitchen, because of this, you want a floor that is slip resistant, leveled, and can withstand a lot of foot traffic.
You also want a material that is low to medium in terms of maintenance. When you have a floor that has a slight pattern to it, or has a darker color, it tends to hide dirt and dust better than one that does not. You also want to pick a material that can handle moisture.
The flooring for your kitchen should also be durable. Movement in and around the kitchen will cause wear and tear so you need something that will stand up to the test of time.
You also want something aesthetically pleasing to the eye. Something that will work well with the other colors and materials in your kitchen.
Suggestions: Because of all the factors above, a few options for your kitchen renovation include; porcelain tiles, laminate flooring or luxury vinyl.
Porcelain Tiles: If it's variety you want, porcelain is a good option to go with. Porcelain is also a good way to match up to other materials and colors in your kitchen, from the walls, to the appliances, to the backsplash and more. Porcelain definitely comes in a lot of colors and patterns, and you can even find some porcelain tiles that mimic other materials that are otherwise expensive like stone.
Laminate Flooring: These tend to have a softer underfoot than solid hardwood, which makes them comfortable and eye-catching in the kitchen. You can find a variety of images to imprint onto the wood. Falling short on information about laminates? Visit nalfa.com to fill yourself in.
Luxury Vinyl: Vinyl has changed a lot over the years. It's become more of a green friendly product that doesn't use nearly the amount of chemicals it once did. It's also softer than regular vinyl and it can also have images imprinted on it, like with the laminate flooring above. This means that you can have all the benefits of vinyl, but mimic different materials, patterns, colors, etc. It's actually becoming a very popular material to use in both kitchens as well as bathrooms.
Luxury Vinyl flooring looks a lot like wood. Of course you have someone come in your home and they are a wood floor snob, they will be able to tell the difference between that and wood, but when you want something warm underfoot, brilliant looking, and something that will be durable for years to come, this is a good option to consider.
Best Flooring For Bathroom Renovations
One of the first things you think of when it comes to a bathroom is the amount of humidity, moisture, and water that will be in this space.
Suggestions: Three of the best materials to consider are laminate flooring, tile, and stone.
Laminate Flooring: laminate tend to stand up better to moisture and water than hardwood flooring according to tilemarkets.com. But you still have to make sure you can manage spills and water droplets on your laminate flooring. Make sure that you include bath mats in the bathroom by the shower/bath, as well as by the sink.
Tile: Porcelain tile is the best material for a bathroom. It can take spills, it can take droplets of water, and it can withstand the differentials between the humid and not so humid temperatures in your bathroom. It can be slippery, though, so make sure that you get a honed finish rather than a polished finish. Tile also comes in every color and pattern under the sun.
Stone: Stone is one of the few materials that can be used indoors as well as outdoors, so it's no big surprise that this is an ideal material to use in a bathroom. Natural stone comes in many variations from marble and slate to granite and travertine. Just make sure, again, you get a honed or tumbled finish, rather than a polished finish.
Best Flooring For Basement Renovations
Even when you plan to have the entire basement finished, you will still have a significant amount of moisture in the air, especially if it's a below ground basement. Because of this, you need a material that can withstand the moisture but also looks attractive. One definitely consideration is to add a dehumidifier in the basement. This will get rid of any excess moisture in the air and will allow you to use the flooring material you really want – not use it just because you have to. Some of the best materials to consider; Laminates and Porcelain tiles, as well as concrete. These materials work better than something like carpet because even when you get rid of the moisture if it returns, it will return via the floors and walls. But, these materials work pretty well under those circumstances. As long as your basement isn't a flood zone, these materials should work well.
Concrete: Now before you rush away from this section, hear me out. Concrete flooring is becoming more and more popular over the years. It's not as plain as just laying the concrete out and that's it. Now you can get your concrete floors patterned, you can get them stamped, you can even have colored dyes added into the mix so that you can have a colored floor. Concrete is, of course, an amazing material for basement. It can withstand moisture and wetness, hence why so many garages use this material. You just need to make sure that you have it properly sealed. Don't get it sealed and the contraction of the heat vs the cold can make it crack, and that's the last thing you want considering concrete is pretty difficult to repair once it cracks.
Laminate Flooring: laminate actually work pretty well in moisture ridden zones in your house. As long as you don't have a flood, the laminates should be okay to use in your basement. Just make sure that the floor beneath it has a moisture barrier that will block most of the moisture from coming up into the flooring.
Porcelain Tiles: Even if you don't want to make all the floors in the basement porcelain, you should at least consider placing it in areas with high traffic such as a kitchen or bar area. Porcelain can withstand a lot of foot traffic which is why its a chosen material in places like hallways, kitchens, and basements.
Best Flooring For A Family Room Renovation
A family or living room is a place where you relax and unwind. You might watch movies here, you might play with your kids or spend time with them in this room, it's probably the place you go to watch sports events, entertain and more. Because of that, it's important that you use a material that is not only functional but aesthetically pleasing too. You want to create a cozy and warm place to spend time.
Suggestions:
Solid Hardwood: When you have the time and the money to purchase solid hardwood flooring for your family room, do it. Solid hardwood looks and feels like nothing else. Nothing else can compare to the warm it brings to a room, not even carpet. You can find regular domesticated woods to more exotic ones. Superiorflooring.ca has quite a range in colors as well in order to compensate for your carpet or other floors.
Carpet: Carpet is a very traditional material. However, it's still used in homes across the world because it's inexpensive, it's pretty easy to clean, and you have a lot of color options available. It's also soft underfoot.
Cork: Cork is quickly becoming a popular material. It's a renewable source which makes it green friendly, it's softer underfoot than real wood, and it's a really durable material. The only downside is that it costs just about as much as engineered or hardwood floors. When looking into more of a budget option, think about laminate flooring over hardwood or engineered wood.