The Happy Chocolatier takes chocolate and happiness to a new level with its unique chocolate truffle Cubze. When you open a colorfully foiled truffle Cubze, you are greeted with a little inspirational statement about happiness. Some of our favorites are:
Be happy. It makes people crazy.
Happiness is contagious.
Whoever is happy will make others happy, too.
Happiness is like a kiss, it best when shared.
Some pursue happiness and others create it.
The Happy Chocolatier takes the time to individually wrap a bit of happiness inspiration into every chocolate truffle. The happiness statements are from famous people and fans of The Happy Chocolatier (including local students).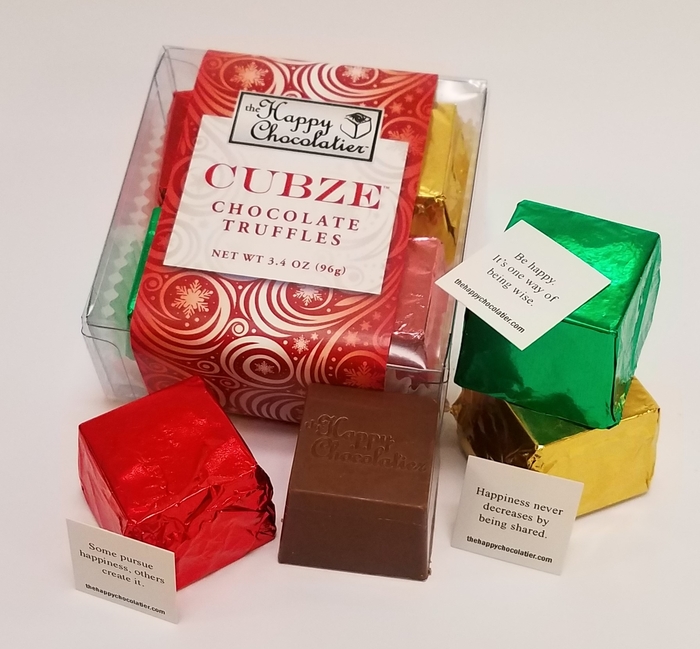 While most chocolate truffles are traditionally round, these truffles are about one inch cubed in size….literally three bites of happiness. Truffle Cubze are all-natural chocolate and come in milk and dark chocolate varieties which include:
Original Dark Chocolate
Dark Chocolate Raspberry
Dark Chocolate Orange
Dark Chocolate Sea Salt
Dark Chocolate Mint
Milk Chocolate Cappuccino
Milk Chocolate Peanut Butter
Milk Chocolate Cookie and Cream
The Cubze are available as individually wrapped treats or in gift collections. The Happy Chocolatier gift boxes provide both fine chocolates and happy thoughts, making them ideal gifts for special occasions and during the holidays for family, friends and business associates. The elegant silver gift boxes are presented with festive seasonal accents. Inside each of the gift boxes, the colorfully foiled truffle Cubze shimmer like a box of jewels – only better because you can eat them!
Well, The Happy Chocolatier certainly creates happiness. The chocolate truffle Cubze are literally two treats in one! For more information or to order some chocolate truffle Cubze, visit the company's website, www.thehappychocolatier.com. Or, follow them on Facebook and Instagram.