If you don't know what a Chicken Tractor is, its a Chicken Coop and/or Run that you can move from place to place on your property. If you make it light enough, you can just pull it along. The problem with that is, if its light, wind can blow it and predators can more easily get into it. If it is too heavy, you will need a truck or tractor to move it. And let's be real,… if it isn't easy to do, we aren't as likely to do it. You will procrastinate way too long, and then you'll do it,… maybe. Well, some of the designs out there have removable wheels that you can put on them, but you have to lift the Chicken Tractor so that you can put them on. This option isn't easy for some people, such as small framed individuals or retired people. Well, lucky for you, simple and easy is what ChickLifts is all about!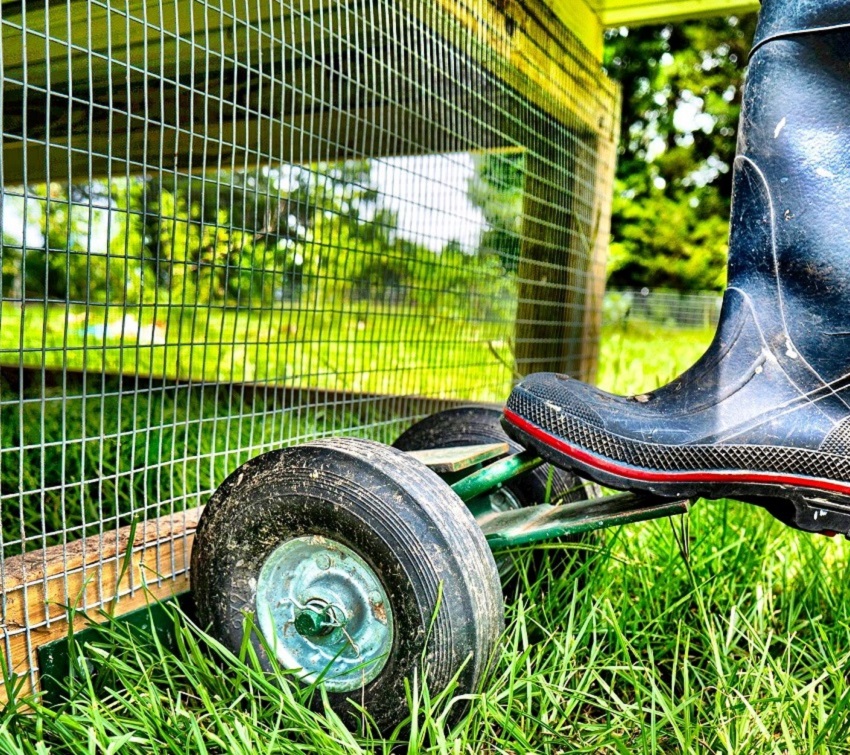 The wheels are there and ready when you are, and they have several designs. What's more, if you have special needs, ChickLifts is willing to design special mobility items that will fit your special needs, such as higher clearance for rough terrain, or a lift for those heavier Chicken Tractors. If you have special needs or concerns, just contact them. I just had a few questions and they were quick to respond. Pictured above is their Original ChickLift, its their most popular style. It consists of a set of wheels that attaches to the back of your Chicken Tractor. This isn't just a set of wheels though. They are solid rubber flat free tires. The last thing you want is a flat tire when you need to move your chickens to a new location. The wheels allow you to have your Chicken Tractor flat on the ground and then by stepping down on it, it will lift it up off the ground for transportation. Now you can pull on the front of the Tractor and move it by yourself, easily. Even a heavy Tractor can be easily moved by one person. Then you only have to step on the ChickLifts again, and you can lower it firmly on the ground again. Maybe they should be called EasyLifts! Now let me tell you some things that you might not know.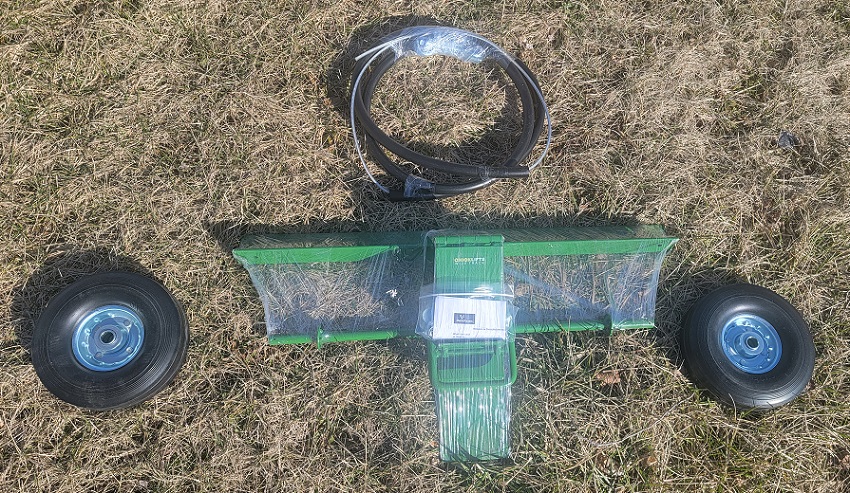 This is how mine came. It is The Wide Track ChickLift for 8-10 foot wide coops, and it comes with a pull kit that attaches to the front of the tractor to help yo pull it to it's next location. It is extremely easy to install.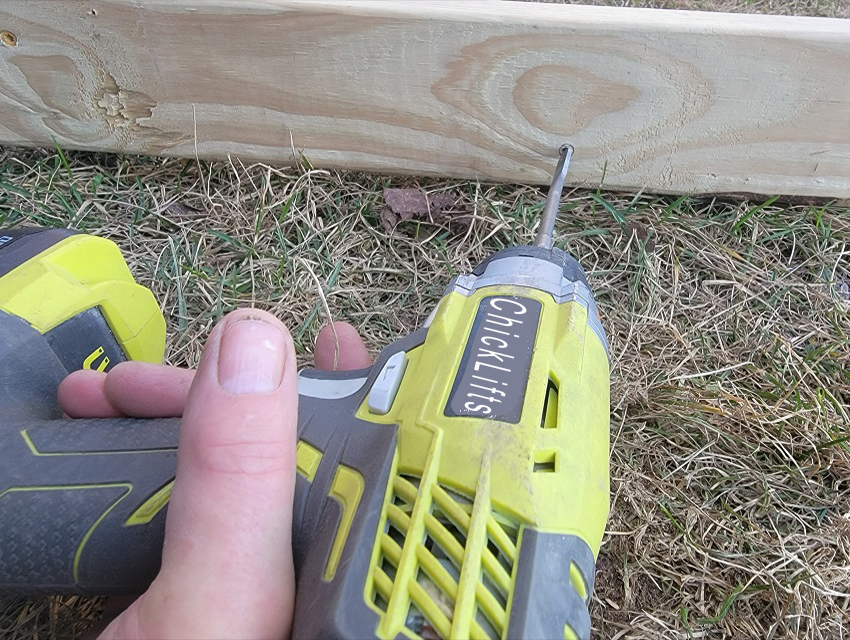 You only have to drill two 3/8″ holes.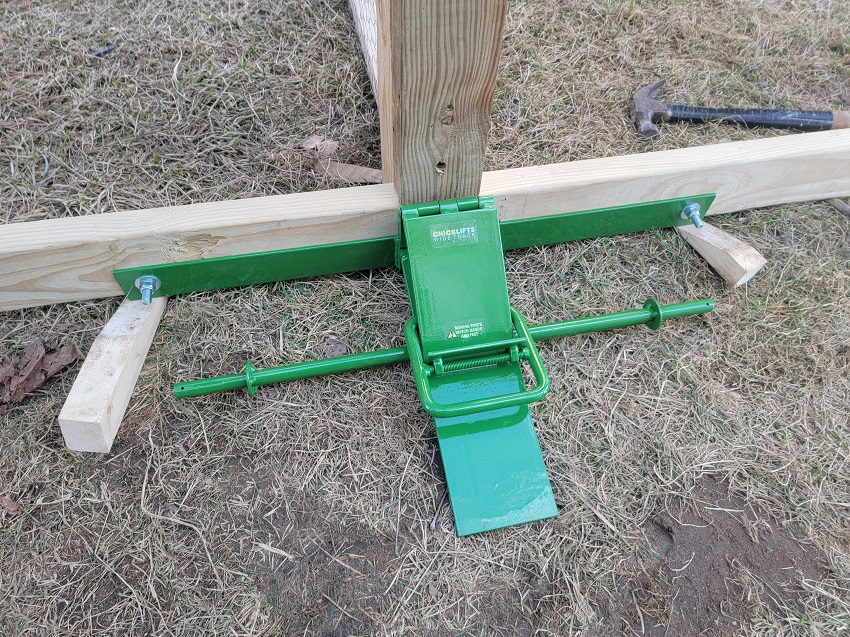 Next you can bolt the whole apparatus to your tractor.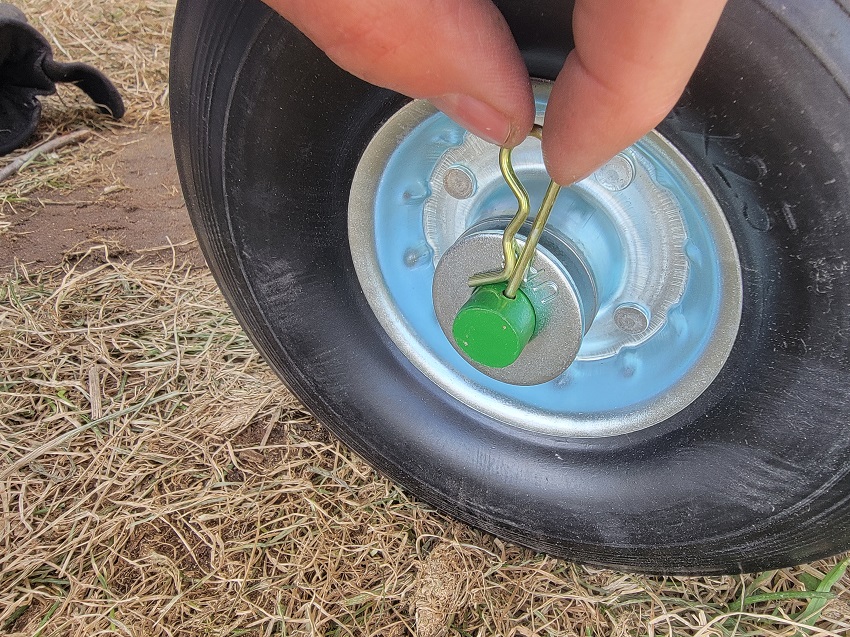 Then you slip the wheels and washers on. Lastly, you place the retaining pins in to keep your wheel from slipping off. That's it, you're done! Your ChickLift is ready to go. ChickLifts made it so simple that anyone can do it. Now you are able to easily move your chicken tractor.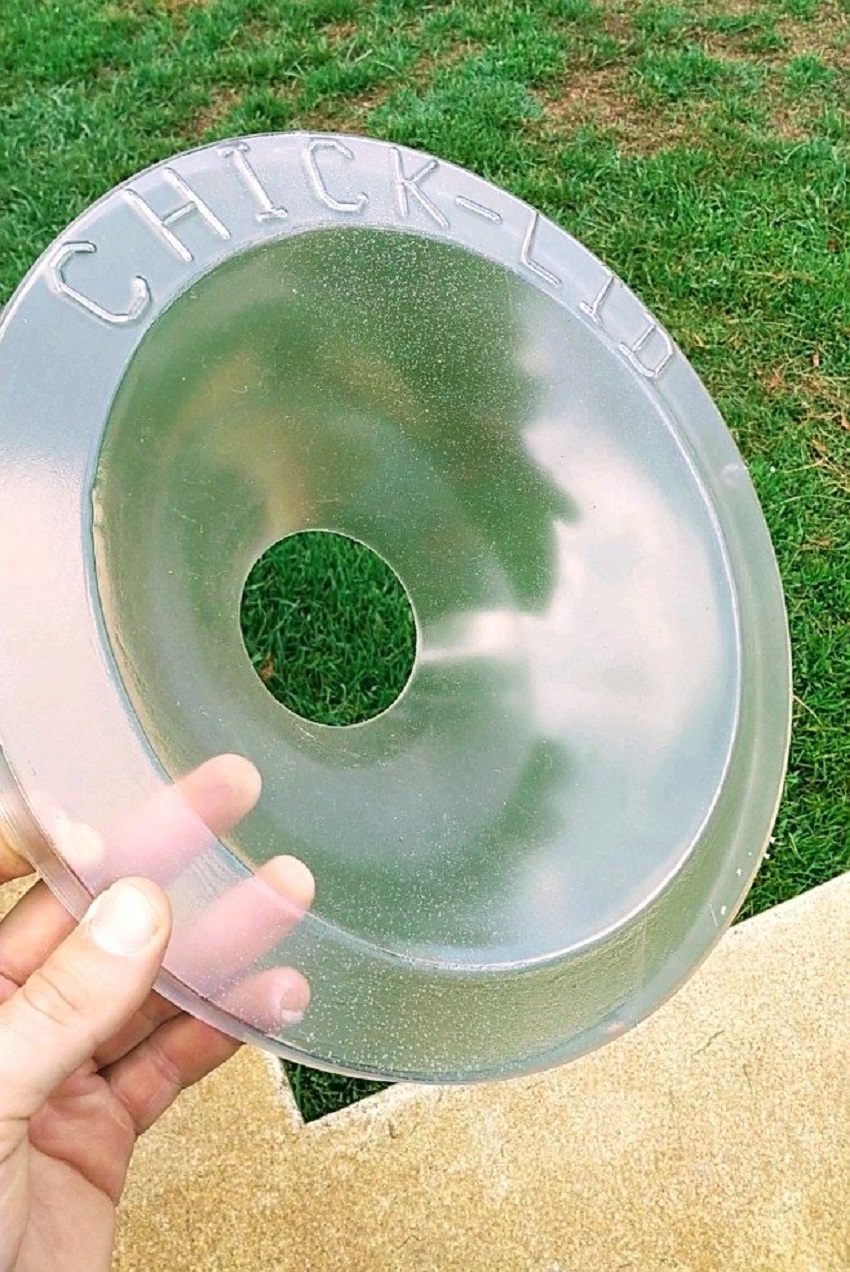 I also got one of these New Chick-Lids. The concept is pretty simple; you just place a battery operated LED in a bucket with some water in the bottom of the bucket. Place a drop or two of dish soap in the water so that the bugs drown in the water (unable to float due to the lack of retention from the dish soap). and cover it with the Chick-Lid. The bugs are attracted to the light and enter the bucket at night. The cone shape makes it hard for them to locate the exit, they become disoriented and eventually end up in the water. So then you can feed these bugs to your chickens. ChickLifts told me that bugs are attracted more to a white light, and that one of the best and cheapest options for a light is with a Harbor Freight security light. It attaches with one screw and you're done for about $13.00. Man, these guys are really helpful!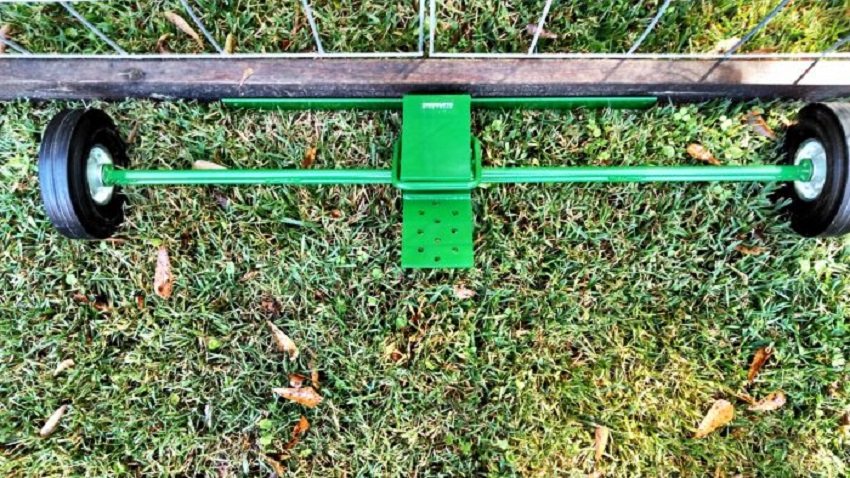 Here is a picture of The Wide Track PLUS ChickLift (10-12ft+ wide coops). It also comes with a Pull Kit which includes all the hardware needed to attach it to your Chicken Tractor. Their Pull Kits are much easier on your hands than a rope or chain. I also want to inform you that their Pull Kit can be adjusted to fit the user's height when you install it, This way, the individual is leaning into the pull, and using their body weight rather than only their arms. The tube and wire can be cut to fit your size to minimize wear and tear on your body.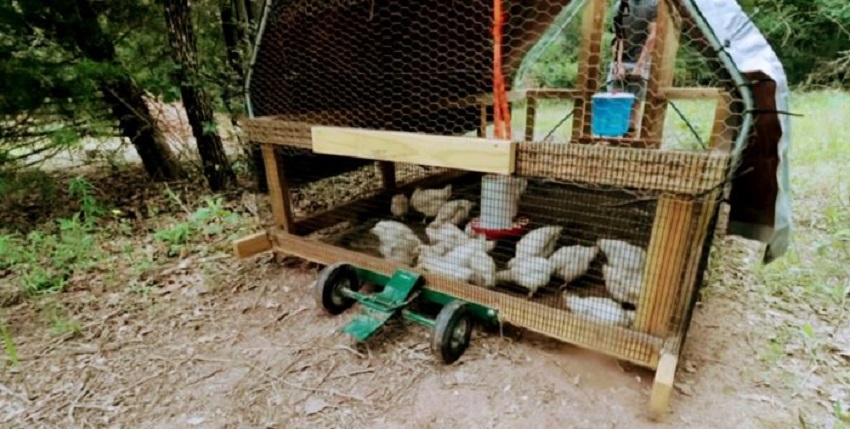 You know, Chicken Tractors are really great for several reasons. They move around to allow your chickens to free-range while they remain safe from predators. They benefit from the lush fresh grasses and bugs on a daily basis. Because it is easy to move, you are more inclined to move it on a daily or semi-daily schedule. Your chickens also stay healthy longer because you are moving them more often. They cannot remain healthy if they are subjected to breathing their droppings every day, so by moving them more frequently, your chickens are healthier. And you get your lawn fertilized without burning it up from too much nitrogen. Are you starting to see the trend here? You have to move it often in order to maximize your benefits. This is all done by stepping on the mechanism and pulling it along' That sounds easy enough. And like I said, if it isn't easy, you aren't as inclined to do it, so ChickLifts made it easy for you. I have also seen people who have made Tractors for their rabbits. Now there's another use for a ChickLifts. You can put it on your Rabbit Tractor!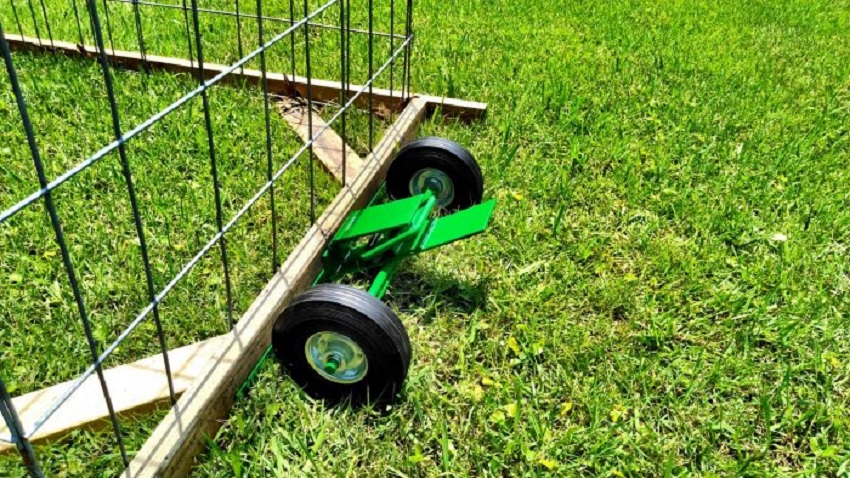 If you would like to look into getting your own, click on this link: ChickLifts. You can look through their inventory or contact them about your special needs. And just so you know, these ChickLifts are proudly made in America; Texas as a matter of fact. With that said, I saved the best until last, ChickLifts is giving away one of their Wide Track ChickLifts for an 8-10 foot wide coop for free! I told you I contacted them with some questions. Anyways, it will be a lucky day for one lucky individual, and it all starts on St. Patrick's Day (3/17/23). The Luck of the Irish! If you would like to enter, here are the details:
Click on the Rafflecopter Icon below starting on March 17th, 2023. You can get extra entries by performing the tasks on Rafflecopter; some are daily and some are just once. Good Luck To All!