School's out for summer! While that's great news for the kids, are you left scrambling to keep them entertained amid the pandemic? Thankfully, Kids Against Maturity has you covered! This hilarious family-friendly, fill-in-the-blank card game will keep your kids busy and laughing both indoors and out all summer long.
It's no wonder Kids Against Maturity has received numerous awards, including being voted 2020 Game of the Year by Creative Child Magazine. It's great portable entertainment for the whole family – at home, travelling, at sleepovers or on camping trips – and guaranteed to create lasting memories.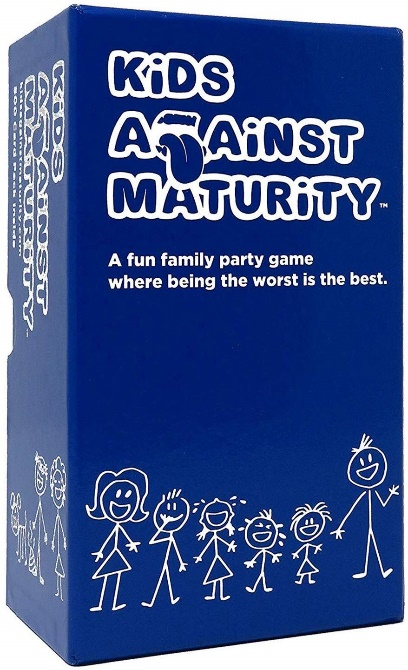 Designed for 3-10 players, ages 8+, Kids Against Maturity combines age-appropriate toilet humor for children and teens, with witty layered innuendos for parents, making it a fun choice for the whole family.
One game set includes 500 cards – a mix of blue question and white answer cards – one rules card, and a compact box to store it all.
Similar to the popular adult game 'Cards Against Humanity' or the child-friendly party game 'Apples to Apples', Kids Against Maturity is easy to learn and simple to play: All you need is to 'be the worst to be the best'.
Each player gets 10 white answer cards and takes turns asking the blue question cards. Everyone answers each question with their funniest white card choice and places it face down. The question reader chooses what they think is the funniest answer, and the player who placed down that card wins the hand. The player with the highest number of most amusing responses wins the game.
This wildly entertaining card game will have the whole family laughing so hard, you'll wonder where the summer went!
Kids Against Maturity retails for $29.99. Don't forget to check them out on Facebook, Twitter, Instagram and for a limited time, receive 10% off your purchase at https://kidsagainstmaturity.com/.