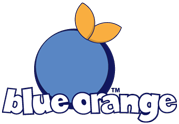 We still have summer break where my kids go to school. That means 3 months of no school. Toward the end of every school year I download a bunch of print outs for the kids to do while on break. I spend hours finding something for each of them. Every year the summer gets away from me and before I know it they are heading back without learning a thing. Blue Orange games has fun games that would have saved my behind if I had known about them before summer started. I'm lucky that I found them a month before school starts so my kids can brush up on their school skills before school starts again.
This year we are going to be ready for back to school with our brains ready to go. Blue Orange games make learning fun for the kids. Keeping their minds busy while keeping them entertained. Children can be fickle, something they love one minute they might not love the next, so its important to have a few different games to change it up often.
My kids will immediately shut down if they think I am trying to disguise learning in a "fun" game. But these games are amazing and really kept them entertained. I think some of it has to do with the fact they can compete against each other to see who wins the game. Making it fun, but shhhh don't tell them they are learning.
Blue orange offers games for all ages. Some of my favorites are listed below.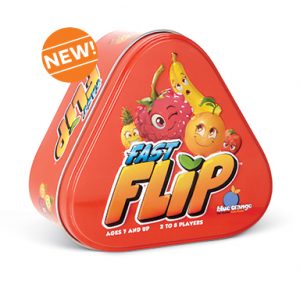 Fast Flip!
Get ready to scramble for the match in this crazy fruit salad! Match your fruits to a number, or numbers to a fruit; you don't know what match you'll have to find next! Whether you play with the tokens or with the cards alone, all players of any age will be fast flipping for this brain teasing match up. The game comes complete in a tin for your cards and tokens, making it an easy travel item. The magic distribution of fruits on the cards guaranties that there is always one correct answer. You just need to be the fastest to find it!
Dr. Eureka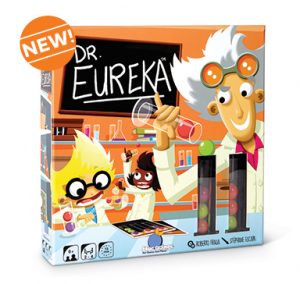 The brilliant Dr. Eureka has important experiments for you to complete! Pick a challenge card, 3 test tubes and 6 colorful balls to solve his scientific formula. Carefully move your materials from tube to tube without dropping them, and position them as illustrated on the challenge card. This brainteasing party game can be played solitary or competitively. The high quality components and the creative concept make it a challenging game for the whole family.

This matching game will propel your child into ABC fun as they sound out the letters while matching them with familiar and vibrant illustrations. Developed hand-in-hand with learning professionals, this Super Genius game was specifically created with early learners in mind.
The concept is brilliant! There is always one — and only one — match between any two cards. Pick a cooperative rule or race to find the match. There are endless ways to learn… while having fun.
Making learning fun will get them back into school mode in no time and help them retain some of what they learned the year before. It's going to make going back so much easier! Now if they only had these games for adults. I'm going back to school myself and I could use a little help brushing up on my math skills. Maybe I'll put it in their suggestion box.