Whether you're just starting your journey into expanding your living space outdoors, or you're looking for a new way to change things up with your existing space, these tips can help spur creativity when it comes to your deck!
Check out these inspiring deck ideas on how to revamp your deck, whether it's a first-story patio or second-story deck, or even if you need some under-deck patio decorating ideas!
Surrounded by Greenery
Use landscaping to your advantage by trimming hedges, bushes, or plants surrounding your outdoor deck to create a sense of coziness with nature. It'll make for a nice outdoor space that provides some privacy while still looking appealing. In addition, you can use potted plants of varying shapes and sizes for a nice visual contrast if you don't have a yard.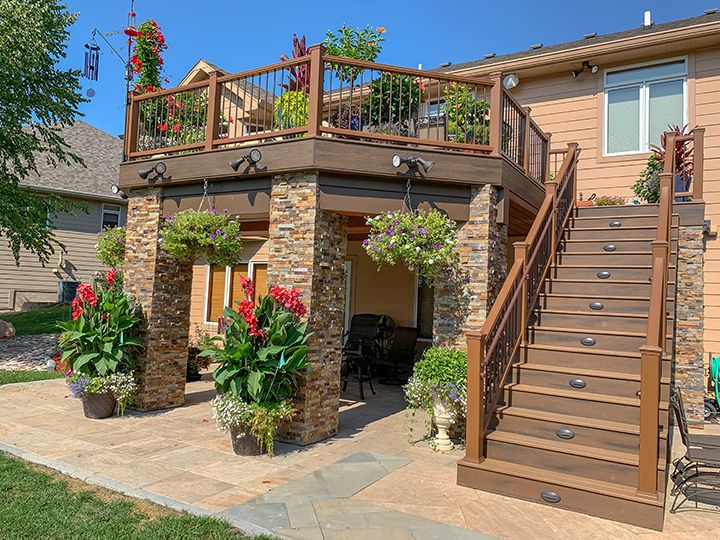 An Outdoor Bar
Take grilling and cooking outside to a new level by installing an outdoor bar for drinks and cocktails! Get some outdoor stools and install a bartop with lumber for the full experience. You won't want to miss a second of the exciting party when it comes time to spend time outside once it starts to warm up!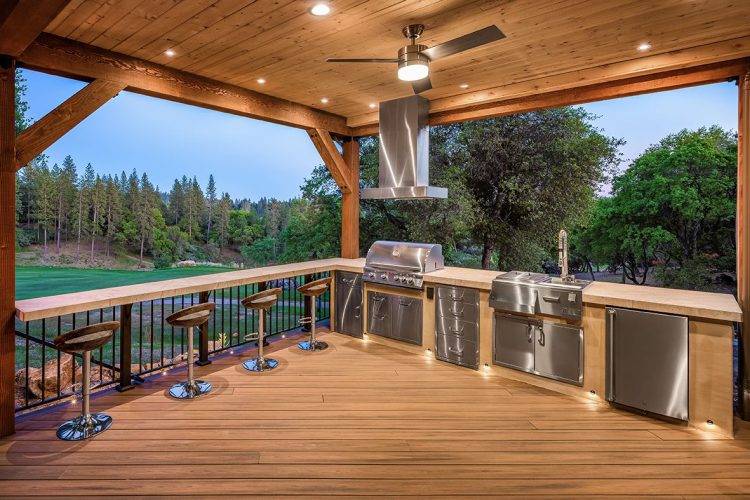 Built-in Bar and Benches
You can take the previous step even further by building it into the actual deck itself! If you're in the construction stage, this is the perfect time to enhance the deck experience by planning out your amenities beforehand. For example, adding some seating with built-in benches will mesh well with the original design and make the space even more welcoming!
Cozy Under Deck Nook
If you've got an upstairs deck with space underneath you're not yet utilizing, consider transforming it into a great place to spend afternoons in a comfortable, quiet space. Using the outdoor furniture and a coffee table, you can make it into an outdoor living room that'll be the most sought-after spot in the house!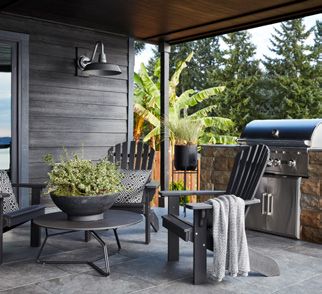 Hot Tub Installation
Got lots of extra unused space on your deck and a craving to spend more time outside during the winters? What better way to solve both than a new hot tub? It's a great way to get more use out of your outdoor space during those cold months, and even more so on cool spring and summer nights.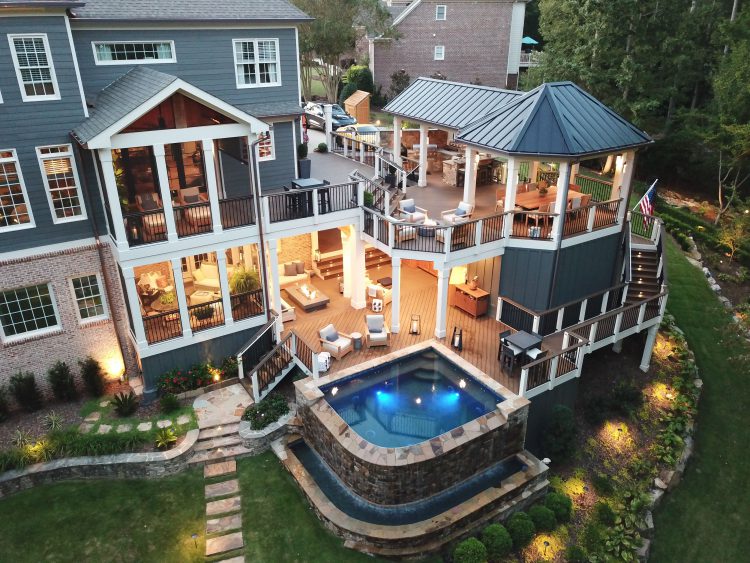 Pergola Installation
If you're no longer feeling the open-air feeling of your outdoor deck, a great way to solve that is by putting in a pergola. It will maintain the beauty of having an outdoor space but switch things up by filtering the light that it lets in. You can also bring nature into the fold by hanging some plants and decorations from the latticework!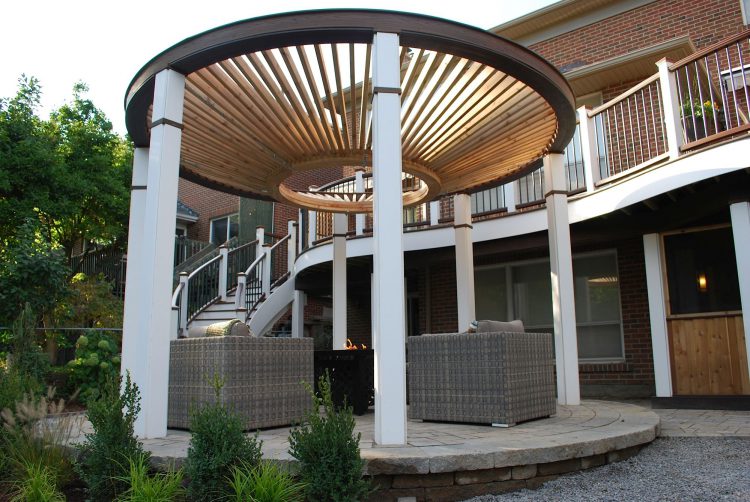 Fully Covered Deck
If you're looking to expand your outdoor space or can relate to the sentiment of the last tip, you can always construct a deck that has an overhang. This can be the perfect bridge between indoors and outdoors by letting in the outside air but keeping the elements out. As a result, you'll get great use of the deck throughout the year, and even when it rains! And if you want to spend time outside without always feeling the hot, beating sun, this is the perfect design for you!
Make it a Staycation
Turn your own backyard into a beautiful hotel resort by transforming it entirely. It can be the perfect getaway by painting the railings white, adding some outdoor rattan furniture, and some potted palm trees! And if you have a pool, then that's an added bonus.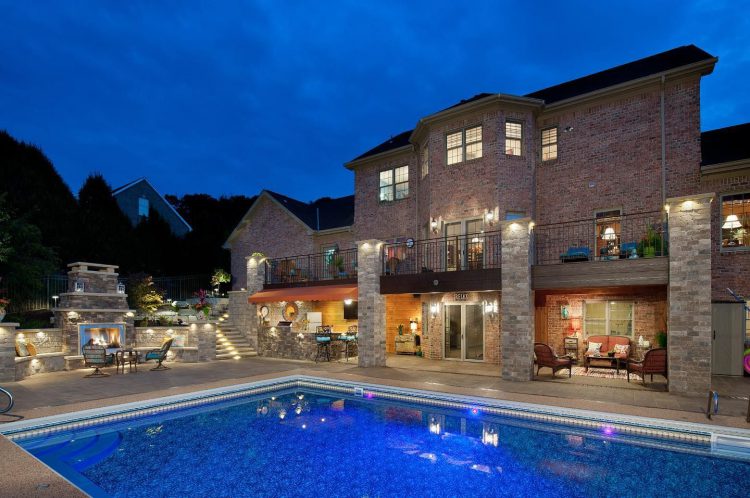 Give it the open yard feel
Let things flow into one another by eliminating the railings entirely on your first-floor deck. Then, if needed, you can extend the stairs, so there isn't a dip from where the deck drops off onto the ground. Your entire backyard will turn into one big open space by getting rid of the boundaries between the deck and the yard.
Complement the Existing Architecture
When starting the construction of your deck, be sure to pick a color that will work well with the existing architecture of your house. This can be done by simply using the same color of your siding or trim or picking a color combination that matches these features. You can also get creative by incorporating patterns like stripes or spirals!
Hanging Swing Installation
A great wow factor that isn't too difficult to install is a hanging swing bench. Not only does this provide great alternative seating, but it'll also increase the value of your home for when it comes time to sell! And it will surely impress any and all guests that come to spend time at your home.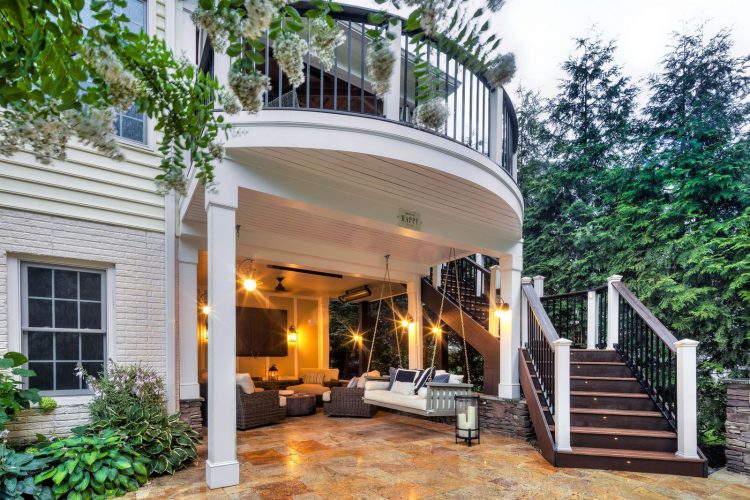 Cozy Boho Design
Turn your small deck into a beautiful, cozy nook by incorporating the classic elements of Bohemian design style. Colorful curtains, outdoor rugs, tapestries on the ceiling, and lots and lots of pillows will make your outdoor deck a gorgeous spot to spend time outside! Hanging string lights along the ceiling and railings will complete this wonderful set-up!
Using Glass in the Design
If you're going for a more modern feel, a great way to accomplish that is by using glass during design. Whether it's for the railings, some of your furniture like a coffee table, or creating a windbreaker, glass is a beautiful, simplistic way to give your deck that sleek look.