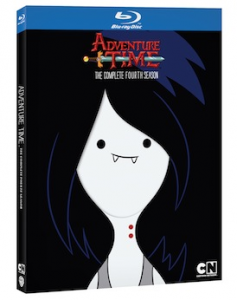 Adventure Time has released it's Fourth Season on DVD and Blu-ray. I can't believe it's been 4 season's already. My 17 year old watches this show weekly, so she was so pleased to receive it to review.
Adventure Time: Fourth Season was released on October 7, and can now be purchased anywhere that sells DVDs and Blu-ray discs.
It's been a great adventure sitting down with my 17 year old, and 3 year old, to watch Adventure Time's fourth season. I've loved every second of the memories made.
Adventure Time is about a human named Fin, and his best friend Jake, whose a magic dog. They constantly go on great adventures.
Marceline is on the cover, and she is a vampire/demon, who is friends with Fin & Jake. Her dad is a big evil demon that controls the Nightosphere, Hunson Abadeer is his name. She and her dad have a bad relationship because he ate her fries.
The Ice King, he's an evil king that steals princesses because he wants to marry one. When he was young, before he turned into the Ice King, he and Marceline were best friends because he found her as a little girl on the street. She had a teddy bear, and in a way, he adopted her, but then in the end his powers over powered him. He no longer remembers them being friends.
Princess Bubblegum is the princess of the Candy Kingdom. Fin has had a crush on her the whole series.
There is so much more to see, but you need to get the DVD.
Connect with: Site | Facebook | Twitter
Disclaimer:
This product was received from the Company for review purposes only. All thoughts and words in this post is my own and I was not paid to endorse it. I am only voicing my opinion about this product.