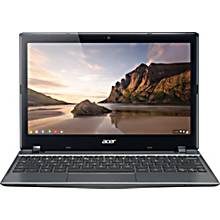 When I think of notebooks, I imagine this small laptop that mimics a kids toy. I've never owned a notebook, much less a Chromebook, and I must say, I'm pleasantly surprised. Although I envisioned a kids toy, it's far from it. This little baby is packed with a powerful punch. First let me say, when I first set up the Chromebook, I immediately went to my Norton antivirus account so I could download the virus protection, however it kept telling me that it couldn't be installed on the computer. So, I did a little digging on the Chromebook to see if it had McAfee already installed and it didn't. But, that's when I came across the "Stay Safe app". The Google Chromebook has a built-in-virus protection with multiple layers of security. Which means you don't have to pay for antivirus software! I'm already in love!
The Acer C710-2834 11.6″ Chromebook has Intel Celeron Processor 1007U 1.5GHz 2MB L3 Cache with 2GB DDR3 Dual-Channel Memory and 16GB SSD Hard Drive. It is available at Staples for only $199! That is the cheapest I've ever seen a Chromebook. Leave it to Staples to offer the best deals around! And with Christmas just around the corner this is a great find! I know I will be putting a couple of these amazing Chrombooks under my tree this year!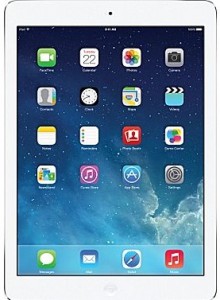 Another great buy I found at Staples is the New Apple iPad Air with Retina display with WiFi and 16GB It's 20 percent thinner and weight just one pound! I thought the iPam mini was tiny but this rocks!
Plus the A7 chip with 64-bit architecture, ultrafast wireless, powerful apps, with up to 10 hours of battery life.2 And over 475,000 apps in the App Store are just a tap away.3. The monitor is a big 9.7″! It also has a 5mp iSite camera with 1080p, HD video recording and Facetime HD camera. And Staples has the best price on the new Apple iPad Air I've found!
Staples is by far the best place to shop for your tech gadgets this year. Their prices are simply unbeatable! And, if you're like me and love to shop on-the-go you can download the Staples Mobile App to your iPhone or Android and shop from anywhere, anytime!
From technology, to household items such as coffee machines to office supplies, Staples has been my one-stop-shopping choice for the last seven-years! Why not make it yours too! And don't forget to check out their weekly ad online, you can save big! I look at the Staples weekly online ad each week before I make a purchase of any kind. Because 9 times out of 10 I can save big buy going to Staples first!
Connect with Staples: Shop | Facebook | Twitter
Disclosure: I received a free product from the sponsor to review. I received no monetary compensation and my opinions are my own and were not influenced by the sponsor.