Two elements are required to optimize the fun in shopping: easy and cheap. We've compiled a list of apps that do one or the other or both! Save money and live a little with these stress-free shopping apps.
Looking for that very trendy sweater but don't want to spend a lot? Need a gadget for that uncle who loves the next new tech item? With so many great shopping app options, there's no reason why you won't be a happy shopper. Here's a list of the 7 best shopping apps that'll not only make life easier, but more fun filled!
Massdrop
Community commerce platforms are becoming more and more popular. Massdrop is no exception. What makes Massdrop easier is that it specializes in people who consider themselves enthusiasts. After all, Massdrop's motto is "Bringing Enthusiasts Together."
Select your interest, whether it's tech, writing, photography, cooking, beauty, or whatever else you're interested in, and explore. It works like subreddits do on Reddit.com, only it features a larger community with more options.
When you choose your interest, discover a whole world of articles, products, information, and anything having to do with your specific selection. You must be a member to join, and once you're in, you can connect with other members on your favorite activity, subject, hobby, etc.
Massdrop makes shopping easier because you'll be able to explore what you're looking for along with people that really know your interest.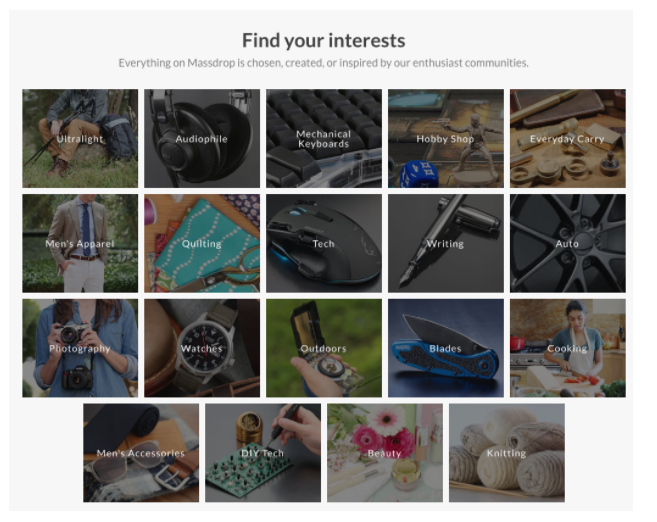 Ibotta
This app is an absolute shopping must. The cash back benefit of Ibotta alone is enough to make this an important app to download.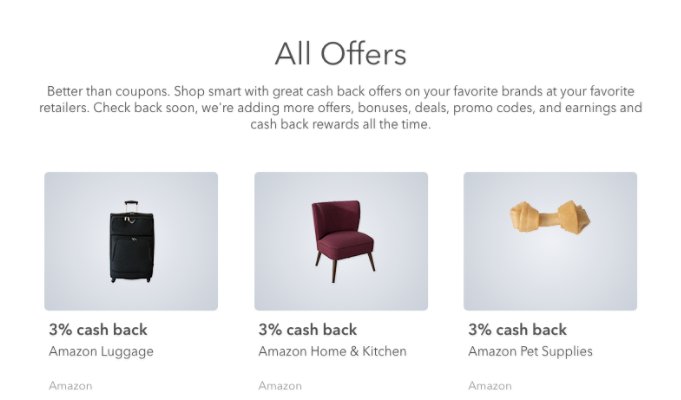 The app is free, so let's start there. After you download it, Ibotta will allow you to earn real cash back with purchases. Instead of points or rebates, you'll get back actual money that gets put into your PayPal account.
Simply search an item that you want on Ibotta. You will see how much you'll get back right there, so there's no guessing.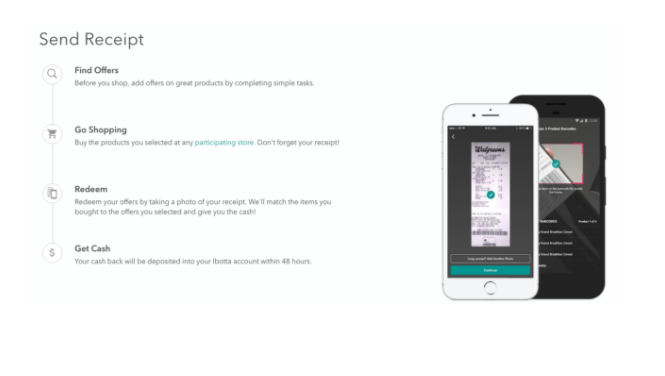 You earn money back by completing tasks. Tasks include reading a short blurb, filling out a poll, writing a review, or various other short tasks that will earn you money. Once you buy the item, you'll need to send proof of purchase.
You'll make money while you shop. What's better than that?
Dealspotr
Looking for promo codes online can be extremely taxing and tedious. It's the worst when you think you found a working promo code only to find it's a dud at checkout. This is where Dealspotr comes in.
Dealspotr is an online coupon community where you can find verified coupon promo codes to use at your favorite stores. No more wondering if a promo code will work, Dealspotr checks it for you!
This advanced deal sharing platform is easy to use. Simply browse coupons or look for specific stores by using the search tool at the top of the homepage.

You can browse trending deals to see what the hottest selection of coupon promo codes is for any given day.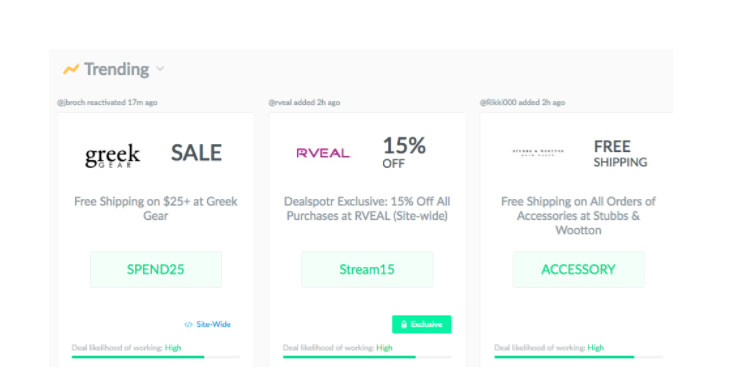 You can use promo codes verified by users, or you can find single use promo codes that are use-once only. Those are offered by people who aren't interested in a personal promo code they received but want to share it with others. You can also share your single-use promo code. It's a helpful, sharing community of 50,000 members looking to help each other save money.
Wish
Described as a mobile mall app, Wish is a money saving shopping app. This startup has grown to become one of the best shopping apps you can download.
This app has become so popular, The Chicago Tribune reports it is now worth more than Sears, Macy's, and JCPenney combined. This is telling of what the future of shopping will be. Online shopping is only going to get more and more popular.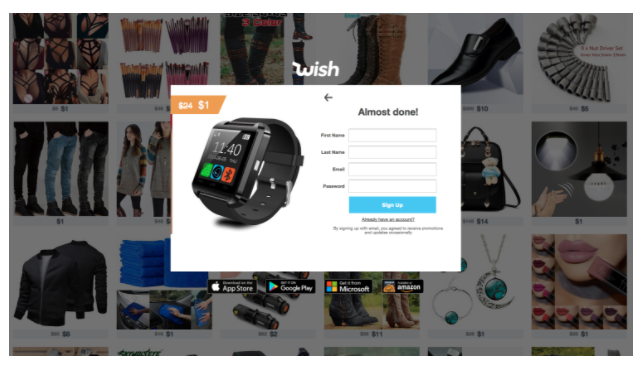 Signing up with Wish is quick and easy. Once you log in via Facebook, email, or Google, you can pretty much start shopping immediately.
Wish is an eCommerce platform that gives you a great visual experience. You'll be invited with images of attractive items to buy and it's easy to use.
The benefit of wish is that it brings customers and brands together. As a consumer, you can buy directly from the makers and as a brand, you can connect with new customers easily.
Wanelo
Similar to Wish, Wanelo describes itself as a "digital mall." Sounds futuristic, doesn't it? Shopping online has never been easier.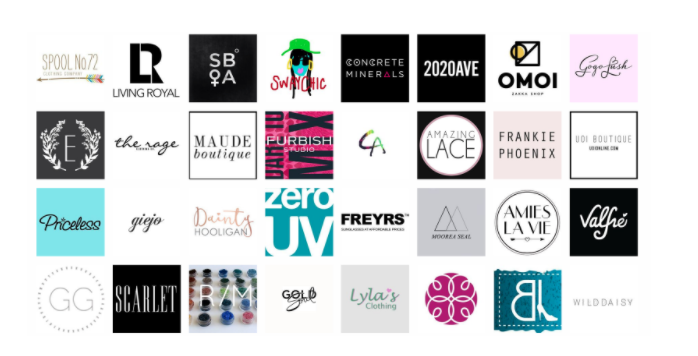 Shop all kinds of shops and stores through Wanelo and discover savings as well. It boasts that it has over 12 million products available for customers to buy in all categories.
Wanelo offers large household name brand items as well as smaller, independent brands. As you can see in the image below, Wanelo has popular trendy items for a low cost.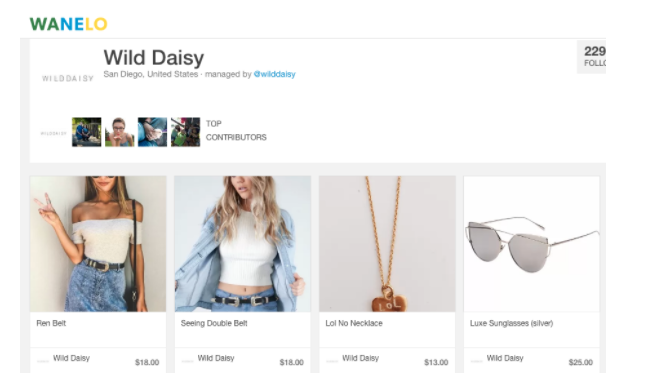 Download Wanelo and find unique items you won't find anywhere else.
Keep
Keep is an aesthetically beautiful shopping app that lets the user browse for items you won't find at any ordinary store.
As Keep says, you'll find "Instagram-worthy outfits." Keep knows what the modern and fashion-focused shopper is looking for and offers it at your fingertips.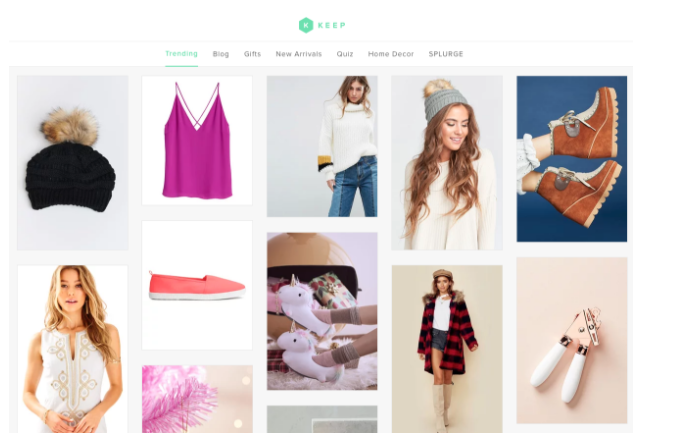 Not only is Keep a shopping app, it offers helpful informational articles that can help guide you to the right purchases – especially around the holidays! No more worrying about what to get that special someone. Keep finds all the fun, cool, unique, and unusual gift ideas for you. They even offer a "Holiday Gift Quiz" to pinpoint exactly what you should buy.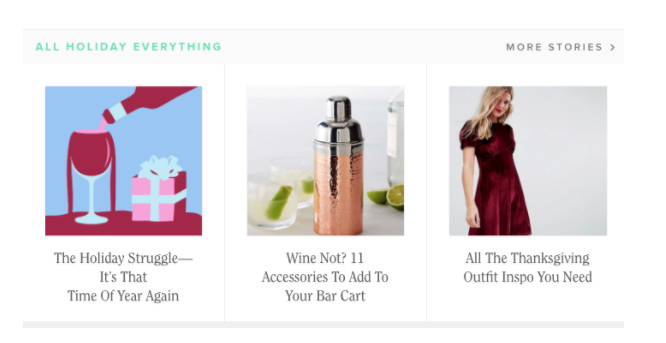 It's so fun to use a shopping app that offers a pleasant layout, great products, and helpful tips, so why not download Keep?
Shop Happy
No longer does shopping need to be a hassle. Try out these apps and decide which ones you'll keep in your go-to shopping app deck. Shop with ease and from the comfort of your own home. And remember, have a blast!