"What do parents want?" They would most likely aspire to give their kids the best education, right? Especially when they are not next to them…

Our kids love our phones, tablets and computers and in most cases know how to use them better than their parents! This can become a win-win situation when the right apps are being installed, for our kids to enjoy and learn from.
Wouldn't you like to have this peace of mind, knowing that when your kids are playing with your devices they are learning something new that will be useful, fun and educational for them.
I recently discovered Counting Parrots game, which is an engaging Math app by Yingele that provides a fun, entertaining rudimentary mathematics learning experience for children ages 3-7. Children gain so much out of it; they learn to count, associate numbers with quantities, practice patterns and grouping, understand simple equations, and strengthen fine motor skills and memory.
Our kids have fun with colorful parrots that provides them with mathematical basics they need for first grade, and practically – for life.
About Counting Parrots
In this game the children have a goal – they must teach the parrots to fly. The colorful animation celebrates with the child, every time they "win" the game!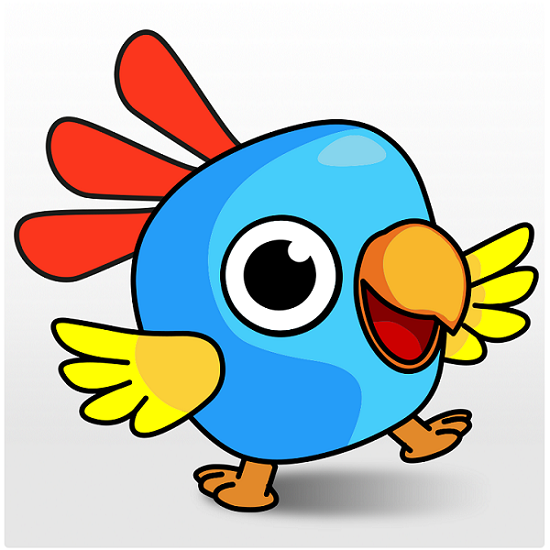 Each time they play, they get a different combination of experiences, and the games increase in difficulty as they progress through the series. Each game is random so no two games are ever alike.
The system is noncompetitive; children are graphically told when they are wrong with accompanying sound effects, and the correct answers are demonstrated. The system does not keep score.
The free version includes 3 games and the expanded version is only $5.99, a minor investment in a child's academic future. Counting Parrots game is available through the Google, Apple and Amazon apps stores.
The Educational Features
Counting Parrots game promotes the pleasure of playing and the development of math skills at the earliest ages possible. The game allows each child to move at a self-directed pace. The app was field-tested with educators and children alike, to make sure the game focuses on providing the basic mathematical skills children need for understanding addition concepts. By playing Counting Parrots, our kids will gain the following mathematical skills:
Improve number recognition
Improve following instructions
Reinforce relationship between numbers and amounts
Learn counting, grouping, recognition, size comparison, simple equations
Stimulate and enhances memory development through both rote and creative thinking
The game encourages development of critical thinking skills to determine right answers
The different games deliver immediate feedback essential to the youngest learners
It enhances fine motor skills with drawing projects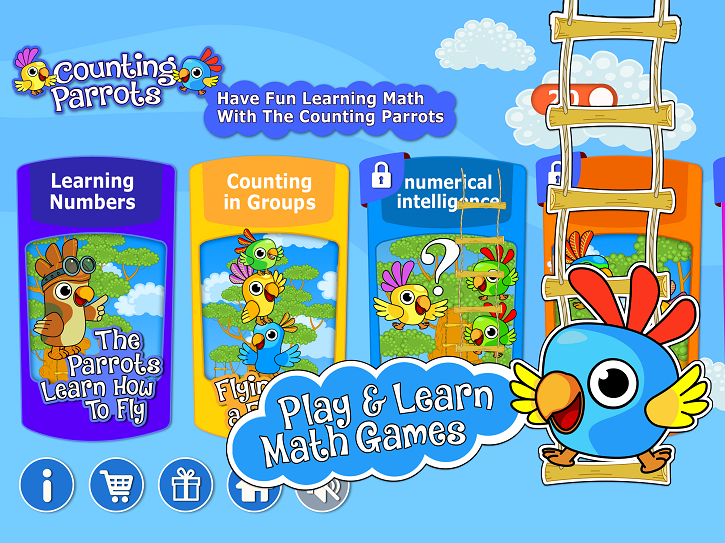 The App
The app itself has additional advantages that are favorable for parents:
Its free, "lite" version features numbers 1-10 and includes two games, while the paid version extends to 10-20 and includes all four games. If you wish to upgrade the app you will only be charged one-time app fee and no other hidden charges or upsell. Its technology is fully compatible with all devices – iPad, Android, web, etc.
The app meets the standards of COPPA – "Children Online Privacy Protection Association." The game is safe, it doesn't collect information about our kids, it's not open to chats or social engagements and doesn't include advertising or any redirections to paid opportunities. It has a parental control, which makes it hard for kids to leave the app without a parental assistance.
Next time you are about to download an app for your kids to play with, make sure it's not only fun, but also educational, useful and inspiring!
App Download Links
Click to download Counting Parrot game:
Google "Play Store"
Apple
Amazon
To Watch the apps' video, click here
Connect with Yingele: