"Some moments are nice; some are nicer, some are even worth writing about."- Charles Bukowski.
In a heartfelt moment, Actress Naomi Watts wished her late ex-boyfriend, and the legendary actor who played The Joker in The Dark Knight, Heath Ledger, happy birthday with a throwback snap of the former couple on Instagram on Wednesday, 4th April 2018. "Happy birthday to this darling heart. We will never forget you… #heathledger #rip," she wrote alongside a throwback picture of the couple taken in 2004. The story immediately took the media by the storm as one of the most emotional moment shared.
Instagram is full of such beautiful, heartfelt and merry birthday moments shared by people across the globe. Though only those by the celebrities come into the limelight, there are some truly heartening birthday moments shared by the everyday men and women that is sure to put a sweet smile on your face and touch your heart. Let look at these 5 birthday moments on Instagram.
Sweetest My Bakeway Moment:
In the daily hustle of trying to make a living, we often forget to appreciate the things we have, the people we have around us, particularly our parents. So, the moment we can return the gesture in kind, however small it might be, is worth sharing. Such was an entry to a contest run by Bakeway, a niche online marketplace to order cakes from major bakeries in Pune, India, where the entrant shared an instance where she gave to her dear mother the sweetest surprise. Definitely worth sharing!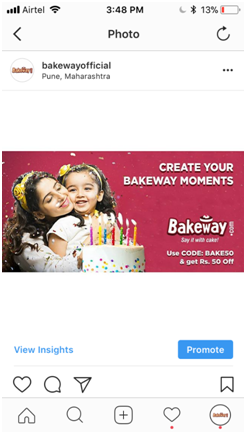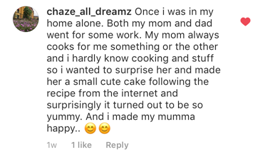 Magical Birthday:
The only lifelong dream of a Potterhead would be to be a part of the magical Hogwarts. Though one cannot truly be a part of that fantasy world, one can sure visit London's famous theme park. No gift can be better for a Potterhead turning 11 than a trip to Warner Brothers Harry Potter Studio Tour in London on their birthday. And that exactly what this kid got for her birthday. Talk about wishes coming true magically!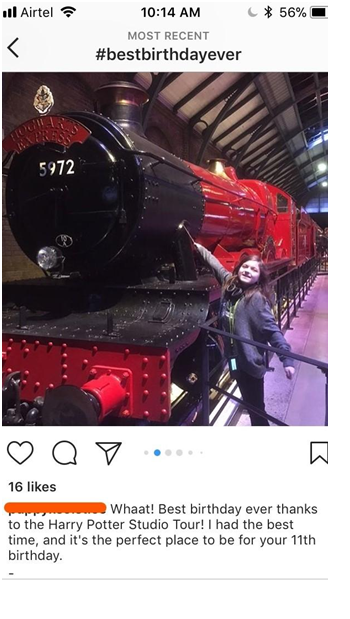 The Roman Birthday Holiday:
You might not be Princess Anne escaping to Rome on her Roman Holiday. But you certainly are the queen of hearts to your partner, if he gifts you a perfect romantic vacation in Rome on your birthday. Can anyone beat this beautiful birthday moment?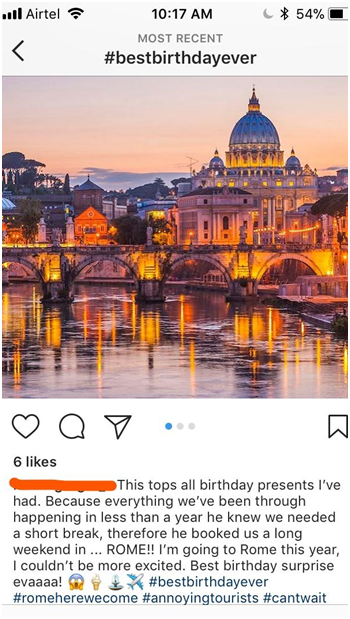 Never too old for Disneyland
One can never be too old for Disney Wonderland! Though thirty is the time you realize that half your life is already over. Why panic, when you can celebrate it by visiting Disneyland. Best way to launch into the "adult" phase of your life by reminiscing your golden years in this trip to the wonderland. Whether you are Disney fan or not, this Instagram moment is sure to put a wide smile on your face.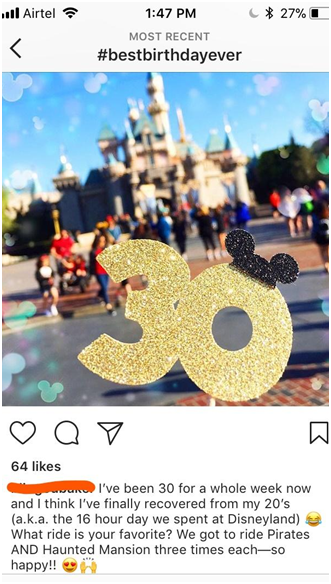 Letter from the heart
And, saving the best for the last! There can be no better gift to a mother than her little ones writing a special "thank you" note to tell her how much they love her and appreciate her. This last Instagram birthday moment will simply bring tears to your eyes. Warning! Keep the tissues ready.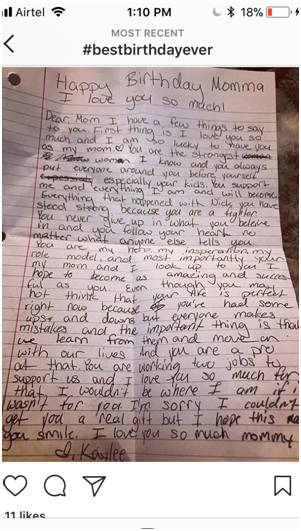 It is true what they say, "In a person's lifetime there may be not more than half a dozen occasions that he can look back to in the certain knowledge that right then, at that moment, there was room for nothing but happiness in his heart."