I recently spent a few hours riding shotgun with Lesley Foltz, a middle-aged mother of six children (two of which are away at college) who has either fostered or adopted over 30 children with her husband Scott over the years. They live in a quaint neighborhood in Jacksonville, FL and that's where my journey with Lesley began.
Lesley was driving her conversion van that's she's owned for about a year. It was bigger than a minivan and much smaller than a tiny RV. It was all black with tinted windows and had aftermarket wheels that looked like those you'd see on an SUV that someone decided to upgrade to the hilt. From the outside, her van was sleek and refined. The inside was cool, too.
"I will never not drive one of these again." I had asked Lesley what she liked about her van as soon as I shut my passenger door. She was backing out of her driveway. "It's just everything I need. I couldn't ask for anything else in a van."
Van with a Bathroom Driven Every Day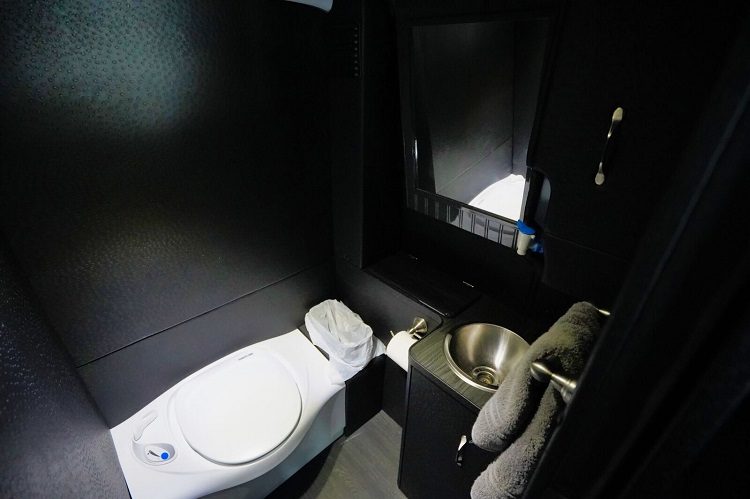 We were on our way to an orthodontist's office to pick up her daughter Harley's new retainers. Harley, her friend Ashley, and Lesley's two-year-old son Mikhail were sitting in the row of seats behind Lesley and me. Behind that row was another row of seats. Behind that, a cooler for snacks and drinks. And in the rear of the van was a bathroom in which an adult could stand up that included a legitimately sturdy toilet, sink, towel rack, and accent lighting.
This van was a 2016 pre-owned Mercedes Sprinter 144 short roof passenger van that had been converted into a minivan on steroids by Freedom Conversions in Jacksonville, FL in 2017. They specialize in turning Mercedes Sprinter and Ford Transit vans into custom recreational vehicles (search for the tag #vanlife to see what I'm talking about), ultimate tailgating vehicles, mobile offices, and more. The idea for Freedom Conversions came about when one of its founders, Clint Drawdy, couldn't find a suitable vehicle for his wife with a chronic gastrointestinal medical issue. They needed something that she could drive everyday that also had a comfortable bathroom for quick access. Clint found that the best solution for his wife would be to build a van on his own and Freedom Conversions was born.
In Lesley's case, Freedom Conversions made an everyday driver that can tote the kids to and from various activities throughout the day without the need to stop for restroom breaks or snacks. And by everyday driver, I mean that Lesley drives her van every day, everywhere.
Crazy Days, Easy-to-Drive Van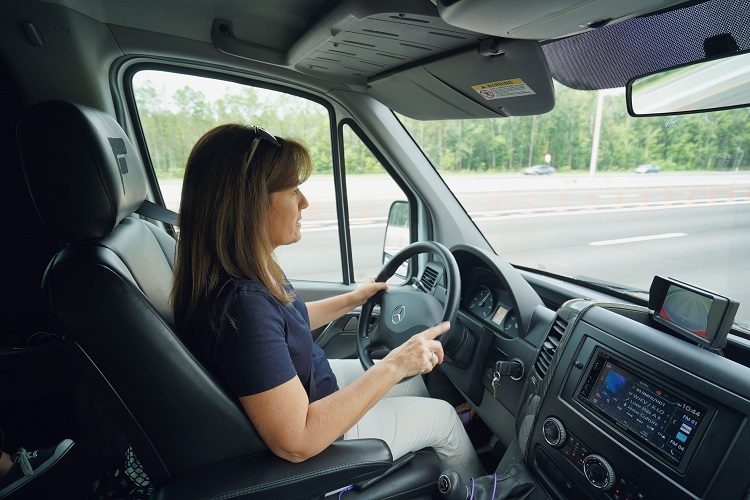 Lesley's van is about one foot taller than most minivans, about two feet longer, and doesn't have a rear window due to the placement of the restroom and rear storage, but that's not really needed because it has a rear-view camera. She drives it like a boss, which she says isn't that difficult to do. We were pulling into a tight parking lot at her orthodontist's office.
"If I can pull it in, I can pull it out," she said as she effortlessly slid into a parking spot with vehicles on both sides. There was plenty of room around her van and she wasn't sticking out of the space or blocking traffic. It fit in a normal parking spot just fine. Lesley and the girls went into the orthodontist's office. I snapped some pictures of the van while I waited with Mikhail, who was sound asleep in his infant seat. I couldn't believe how well she had parked this thing.
Harley opened the sliding door after I had waited a few minutes. The door isn't automated, but it seemed simple enough for an eight-year-old to operate. Everyone got inside and we were off to grab lunch at a drive-through.
We stopped at an intersection. I asked Lesley, "You've been raising kids for a long time now and you've only had this van for a year. What did you drive before getting this?"
"We had a Nissan NV for several years prior to this. It was huge," she said. She continued to tell me all of the reasons why the NV was an okay fit for a time, but it wasn't perfect. "It just felt too big and it drove like you would expect from a large van. Parking my Freedom van is a dream, but I used to get so nervous when I parked the NV. I usually had to try a few times before I got it straight in the lines. I don't have to do that anymore." I knew for certain she was right.
Her new van is done well and has the features that you'd want in a family vehicle. Lesley told me she didn't want for there to be a TV in her van. She said, "We just didn't need it." But it's entirely possible to have a TV and just about anything else you can imagine installed in a conversion van by Freedom Conversions.
Drive-Through? No Problem.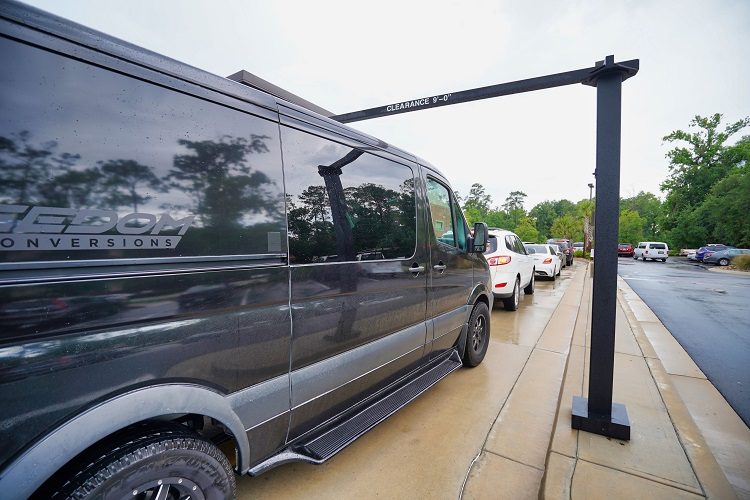 We pulled into a Chick-fil-A parking lot. There were two drive-through lines and both were wrapped around the building. It was the sort of scenario that would make anyone in any vehicle a little on edge. Lesley was not deterred as she whipped her van around the corner and into the queue. A restaurant employee instructed Lesley to stay in the outside lane (I think he was concerned that she may need a little more space…she didn't need more space. This van turned on a dime and had enough clearance to go wherever the other vehicles could go.
"What do you guys want?" she asked. We all gave her our orders. I didn't realize until later that Lesley hadn't ordered anything for herself in true mom fashion. A restaurant employee took our order shortly after we cleared the low clearance marker that hung several inches above the top of Lesley's van. Not a problem.
The line was moving quickly. We stopped at the next station to pay. There was an umbrella positioned to keep the cashier in the shade. It stuck out just barely into the lane. Lesley said, "We may just barely hit this umbrella." We may have bumped it, but just barely. In her defense, it was sticking out into her lane. The Chick-fil-A employee smiled and we carried on to the pick-up window. There was a metal overhang and someone standing under it with our food in hand. Lesley had no issue grabbing it from the server and didn't have to reach very far at all. We did a quick bag check and pulled around the corner to sort things out.
Lesley gave me a parting thought as we exited the drive-through. "I've never hit a cone," she said. I believed her.
A Long Distance Travel Vehicle that Kids Love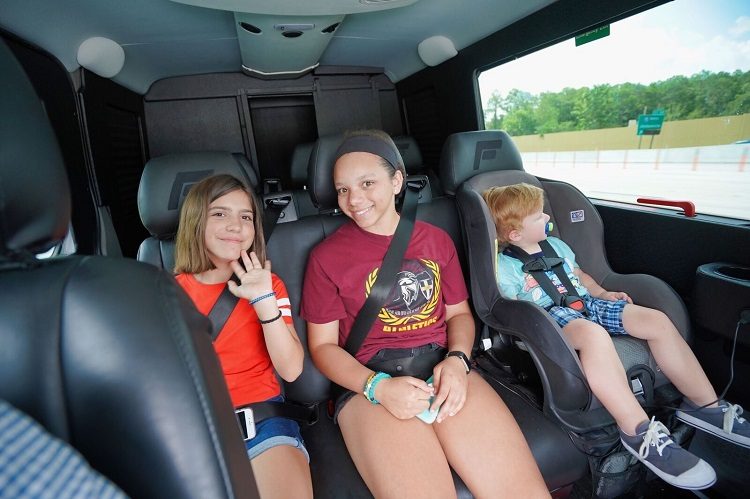 "Can you tell me about a successful long distance trip you've taken in this van?" I asked Lesley.
"We go to Orlando a lot," she said. "Our kids always need to use the restroom along the way. Or they need snacks or a drink. That used to mean that we would stop at a gas station or rest stop and just pray that the kids didn't touch too many things. Sometimes our kids would have to wait for a stall or use the restroom on their own and that was concerning for us sometimes. You worry about germs and safety."
Lesley was clearly passionate about the safety of her children. Her tone changed.
"We don't have to stop at rest stops or gas stations for potty breaks now. It's that simple. Scott and I can pull over real quick while the kids use the restroom, wash their hands, get snacks out of the cooler, and drink whatever they want," she said.
I asked her how the kids did on those trips. "They love it. They don't argue and annoy each other as much because they have room to spread out," she said. "Fights in the back seat don't really happen too often."
Lesley's van can seat eight people including the driver. Other conversion van configurations could seat more. The six rear passenger seats seemed to be plenty for the Foltz family.
Minivans Don't Compare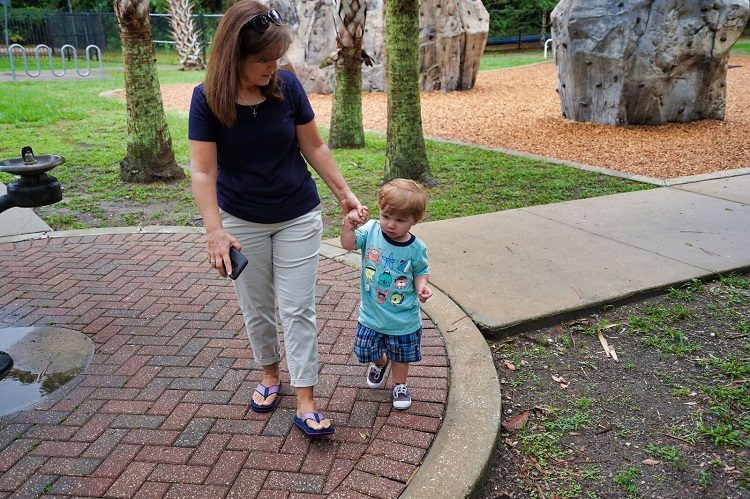 We started driving toward our final stop. Lesley wanted to give the kids a quick breather at a local park. It was sunny and warm. Perfect park weather. She pulled into a parking spot, again, with ease. The girls opened the sliding door and hopped out after Harley had unbuckled Mikhail. The red-haired toddler came scooting out of the van with some help from Lesley. I asked Lesley about how other people interacted with her van. She goes to many homeschool and sporting events with her kids. She smiled and explained that the van can cause some fun commotion.
"People talk to me about it all the time. Other kids love it. They always want to use the bathroom in it. I always say no," she said regarding kids aside from her own. "It's not that I don't want them to use it necessarily, it's just that if every kid on the soccer team used it, we'd have to empty the cartridge much more frequently. Plus, I like to keep it somewhat clean."
Freedom Conversion vans come equipped with a simple cartridge-style sewage tank that can be emptied into any normal toilet. That's a huge advantage over many similar vans and RV options that require a special dump station to empty tanks. Lesley said that her kids empty it sometimes, it only takes a few minutes, and they do it in her house.
"We only empty it about once a week. Sometimes more if we take long trips," she said.
Lesley didn't want to give up her Nissan NV immediately after she got her Freedom Conversions van. I asked her why. "We had the NV for about seven years prior to getting this van. It was what I was used to having. I wanted to keep both vans, thinking I would only use this new van for special occasions where I knew I would need a bathroom or something," she smiled. "I found myself driving this new van everywhere. It was easier to drive and so much more convenient than the NV."
I asked her if she could give me an example of what made it so convenient.
"You know," she paused for a moment, "it's really just the convenience of everyday life and not having to think about logistics as much. There are some weeks when I am driving across town every day to different events for the kids. Sometimes I'll have one or two of the kids riding along with me for hours on end while they do their school work in the van. I don't have to think about going home for a pit stop or stopping at a gas station for a restroom break. Everyone is happy, usually, to just tag along because we have snacks, a bathroom, and it's just so much less stress."
By this time we had loaded up the van and began to make our way back to the Foltz home.
More than a Van, It's Part of the Family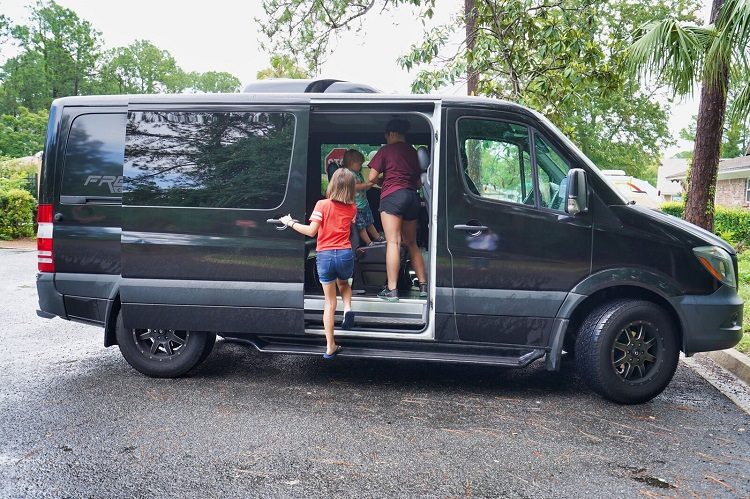 "So, what will you drive when your kids are all grown up and out of the house? Will you drive a van like this?" I asked.
She said, "My husband will often ask me if he can drive the van. He doesn't need to drive this van. He has his own car. He just loves driving the van as much as I do. It's fun, comfortable, and convenient even when it's just the two of us on a date night. I just don't see us ever getting rid of this van even once the kids are gone. It sits high, so we feel safe on the road. It's spacious, it's convenient. I just love it."
Lesley pointed out that many of her friends who are in similar stages of life with kids, errands, sporting events, school, and generally crazy schedules typically ask her about the price of her van. She said they are interested in it for themselves but are concerned about how much it will cost.
Lesley said, "I always tell them it costs as much as a new SUV."
Freedom Conversions can upfit a wide array of van models, both new and used. Typically, customers will bring a large van of their choice, be it pre-owned, new, whatever, and Freedom Conversions will install a bathroom and a few trimmings starting at $15,000. Out the door, you can spend less on a mack-daddy van like Lesley's than you would for many new SUVs. It's very doable.
We pulled into Lesley's driveway. The kids hopped out. My mind was circling around the phrase, "That was simple." It was. The whole day was simple. There was no crying for a potty break, no whining for food, no arguing over who was sitting where, and no difficulties getting around town. Lesley and her family didn't think twice about getting on the road with confidence in her van. And that's really what every vehicle should do best…get us on the road with confidence.