It's always fun and exciting and also incredibly frustrating when you begin the process of starting your new online business. It's fun because you know you're about to make a huge change in your life and this will become a major turning point in the way you earn money. It's exciting because there are plenty of great things waiting for you on the horizon doing business online and you're ready to take the world by storm. It's also frustrating because starting an online business is not easy, there's plenty to do and hardly enough time in the day to get it all done.
With that said, we want you to have a positive experience when you start your new online business. To that end, we will share three tips that will make it easier to undertake this new endeavor. So use these tips and get ready for an amazing new journey.
Tip #1: Searching for the perfect name and logo
You'll have an easier time branding your company if you can come up with the ideal name for it. This may not seem like a big deal to you now, but it's worth it to try out numerous names to see which one fits best.
While you're at it, try to come up with a name that still has a .com extension available. Google tends to like ranking .com websites over all others, so you're going to benefit the most with a .com.
After you have finished searching domain databases to find out if the.com is available, you'll also want to check with your local Secretary of State. As an example, if you live in the peach state, you should run a Georgia corporation search on the Secretary of State's website to find out if that name is still available. If it's available in your state and also available online with a .com, you should go for it and incorporate under the name.
While human graphic designers can get you where you need to be with your branding, logo making software has come a long way in recent years, and companies such as Logojoy allow you to get your perfect logo before spending a cent. It's also designed to guide you through the process like a designer would, but without all the back and forth and high costs.
Tip #2: Are You Capable Of Receiving Online Payments?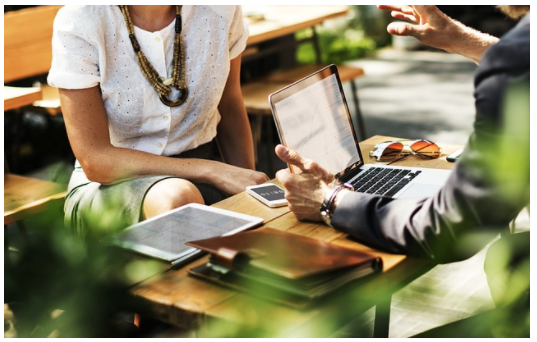 This should come as no shock, but your business isn't going to go anywhere online if you can't receive online payments. In fact, you have to set up your payment processes so you can receive credit cards from potential paying customers. This might seem easy on the surface, but there are definite complications involved.
Instead of attempting to figure this out on your own, you should contact a professional company that will help you get a gateway set up. Once you have your gateway in place, you'll have the ability to receive credit card payments that are encrypted, which is perfect because it helps protect any data received on your end. This will protect you and your customers and that's exactly what you need to make your buyers feel confident in your abilities as an online seller.
Tip #3: Work Hard And Focus On The Big Picture
Many of us, unfortunately, get bogged down in the little things and we often overlook the big picture. As a business owner, you have to remember to stay focused, on task, and the ready to tackle anything that comes your way. Forget about the little things and keep the big picture in mind at all times while growing your business.
Conclusion
When you first start out on the internet, you'll really have to focus on building your brand online. So do your best to stick to the tips we've shared today. If you do, you will not make foolish mistakes that could end up setting you off course.