Located less than an hour from downtown Houston, Magnolia, Texas, offers small-town charm and a relaxing getaway from the hustle and bustle of the big city. This southeastern Texas destination is known for its scenic surroundings, including the many lush trees for which the town is named. If you're planning a family trip to Magnolia, make sure to visit these kid-friendly attractions to keep the little ones entertained.
Kleb Woods Nature Center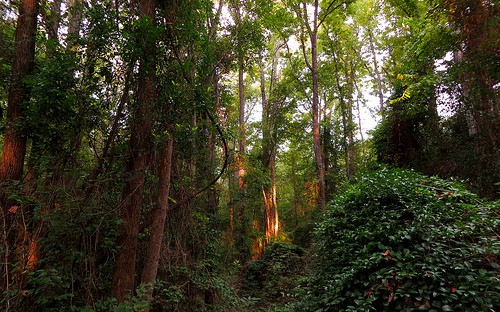 Image via Flickr by athrasher
Located about 10 miles south of Magnolia, the Kleb Woods Nature Center is a great place to enjoy the outdoors with kids in tow. With more than 133 acres, this natural preserve is ideal for nature-lovers who want to enjoy an outdoorsy adventure. Lush forests with winding trails are marked by beautiful, towering trees and hundreds of bird species. The preserve is home to many wild animals, including armadillos, deer, flying squirrels, and rabbits. It also features a wildflower garden.
The main nature center building has a number of displays and a lovely wraparound porch. You can also explore an old farmhouse on the property that features several examples of antique farm equipment. If possible, consider visiting Kleb Woods Nature Center in early September, when the annual hummingbird festival takes place.
Historic Magnolia Depot
Are your kids fascinated by trains? If so, they'll have a blast at Magnolia's Historic Depot Complex. Visiting this fascinating location is like stepping back in time to see Magnolia as it was in its earliest days. The depot includes a recreation of an original doctor's office and a barbershop. You can also tour an antique sawmill and roam the Magnolia Depot Museum to see photographs, memorabilia, and other historic items.
The key attraction at the Historic Magnolia Depot is the Southern Pacific caboose. Painted in historically accurate colors, this charming train car is open so visitors can step aboard and see what rail travel was like long ago. Families staying at one of the local Magnolia hotels will enjoy the short commute to this historic attraction.
Unity Park
When the little ones need space to run and play, head over to Magnolia's Unity Park. This 30-acre park has plenty to keep young children busy, including a splash pad, a skateboarding park, and a playground. There's also a tennis court where your family can enjoy an exciting matchup. Various trails and a creek run through the park, as well, giving kids the opportunity to explore in a serene setting.
Unity Park hosts several local events throughout the year, so check out the schedule before you go to see if you'll be able to take advantage of any special programming during your visit. You can easily make a day of it since the park features plenty of pavilions and shelters in which to enjoy a picnic.
You don't have to visit a big city to find entertaining activities for kids. Magnolia, Texas, might be a small town, but it has plenty to offer families that are looking for kid-friendly adventures.