To enter the contest, click here!
In support of Milk Life's partnership of Team USA, Borden Dairy Company, one of America's leading dairy brands, has launched a new, interactive promotion that offers consumers the unique opportunity to win a year's worth of FREE Borden Dairy milk by supporting the Team USA athletes competing at the Olympic Winter Games PyeongChang 2018.
The exciting new promotion, which runs through February 28, 2018, encourages consumers to be a "future champion," following in the footsteps of the U.S. Olympians that serve as role models to both kids and adults across the United States. Wencel Worldwide, a Chicago-based digital marketing company, has partnered with Borden Dairy to promote the contest to dairy lovers throughout the nation.
The instructions are simple: consumers are asked to show off their patriotic spirit by taking a unique selfie of themselves using one of two Facebook frames featuring Milk Life sponsored U.S. Olympians & Paralympians (accessible at https://facebook.com/elsiethecow). After taking the photo, participants can share the photo with their friends and family using hashtag #BordenFutureChampion and submit the photo here: https://a.cstmapp.com/p/23960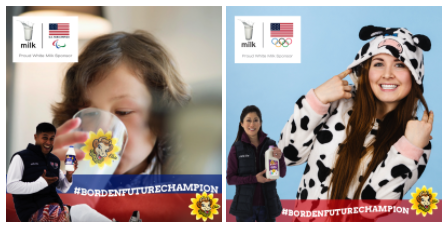 The lucky winner will be mostly determined by Borden drinkers themselves — at the conclusion of the contest, the five submissions that received the most votes will be selected as the final contestants. A panel of judges will make the final decision and choose which submission best embodies Team USA spirit of the Olympic Winter Games. That lucky individual will receive the coveted prize of free Borden Dairy white milk for a year.
Promotional materials will be distributed to Borden Dairy retailers to allow their customers the chance to enter into this unique contest. For contest rules and details, visit https://a.cstmapp.com/promo_terms/23960
Borden Dairy Company carries on the legacy of Gail Borden, Jr., who brought stability and structure to dairy farming methods, milk distribution and business practices. Today, Borden strives for the highest quality and nutrition standards just as its founder did. For more information, visit www.bordendairy.com.