Come meet this year's newest animated heroes, Bunyan & Babe! Bunyan & Babe is a new animated feature from Cinedigm Entertainment. This heartwarming tale is a modern day twist on the classic tale of Paul Bunyan and his pet blue ox. Travis and Whitney are on their way to visit their grandparents in the country. Travis expects to be bored without video games, but is soon whisked away on an exciting adventure! When he discovers the evil plot of a greedy real estate agent to secretly steal the land of the town's residents, Travis knows he must help somehow. He stumbles through a magic portal and is transported to another world where he meets Paul Bunyan and his blue ox, Babe. Together, they help Travis save the day and form wonderful friendships along the way.
Norm spies on Travis and Whitney and their grandparents as they arrive on the farm.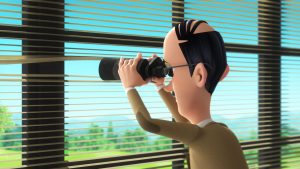 Travis gets a lesson in milking cows from Grandpa.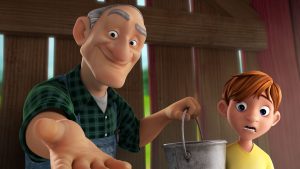 Travis meets a legendary hero, Paul Bunyan!
Travis makes a new friend, Babe the Big Blue Ox!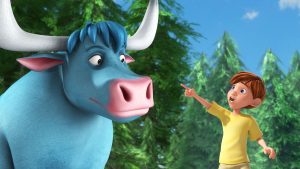 The Amazing Blackstone hypnotizes the audience in an attempt to trick them.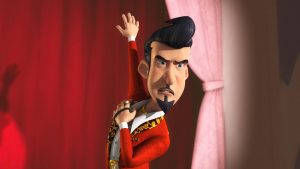 Travis and Iris hurry to save the town with a little help from Paul Bunyan.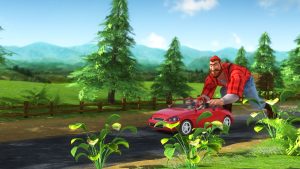 Kids of all ages will love this movie! I watched this movie with my 8 year old daughter and 13 year old son. My daughter absolutely loved it but even my 13 year old enjoyed it! Sophie, 8 years old, says: My favorite character is Babe. He's funny and weird! I like it because it's not like most of the other movies I watch. None of the other movies have a kid who gets to meet a big, giant hero and his pet blue ox!
Featuring the voice talents of John Goodman, Kelsey Grammer, Jeff Foxworthy, Mark Hamill and YouTube star Johnny Orlando, Bunyan & Babe will debut in select theaters starting on February 3. Watch it for free on Google Play before it hits theaters. Hurry! This offer expires on 2/16/17.