Toy Story 4 has landed! But not as you know it. In The Book, personalized children's book publishers have just released the personalized Toy Story 4 book. In anticipation of the movie's release on June 21st 2019, we have been sent a personalized copy with a first-look at the toys in their fourth adventure…
The book picks up right after the heart-wrenching ending of Toy Story 3, where Andy gives his childhood toys to the adorable Bonnie. Now, we've seen Bonnie with her lovable toys in TS3, so we know Woody and the gang are in good hands. But, from the trailers, we know something is afoot for the toys. Bo Peep comes back as a wise maverick, there's a whole host of new characters, and it all starts with Bonnie's newest creation on page 4… Forky!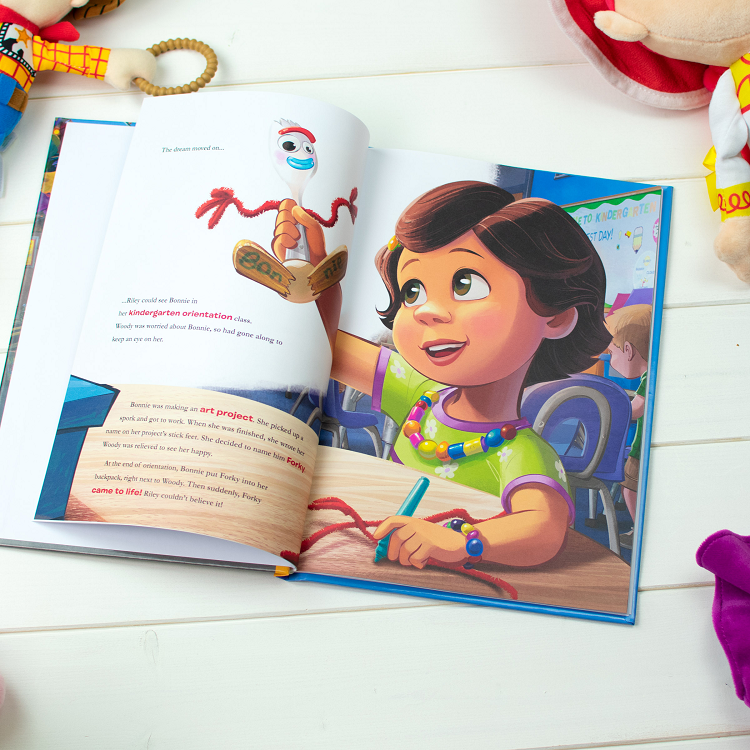 Yes, Toy Story 4 has stepped up their game and given Bonnie the power to make new toys from cutlery, and a few pipe cleaners (love the eco-friendly vibe). Although, this is not the first time we've seen Disney do this. Rewind back to the first ever Toy Story film and think about the penultimate scene leading to Woody and Buzz's freedom….
Andy's twisted next door neighbor, "Sid Philips", is getting ready to shoot Buzz into infinity and beyond with the rocket strapped to his back. Thankfully, Sid's plan is thwarted by Woody and all the other toys Sid had previously performed "surgical" procedures on, but to quote Buzz, "I don't think that man has ever been to medical school". Aged 11, we're sure Sid has a lot of character building to do before he can ever dream of that profession. Nonetheless, the toys he had dismembered came to life, and now in Toy Story 4, we're about to see that again with Forky and his existential crisis. This time, it means a lot more for the toys, and especially Woody.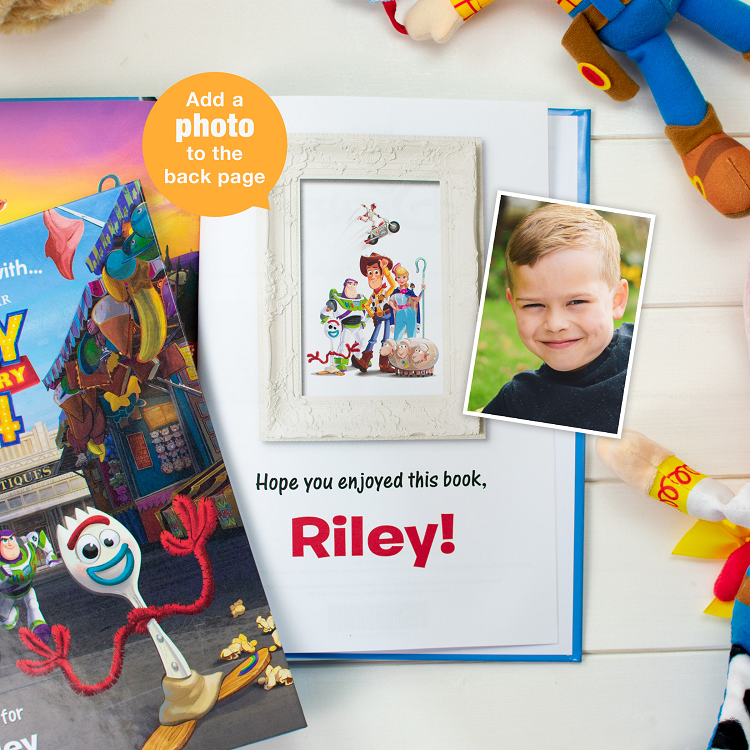 Does the book give away the ending before the movie is even out?! There's an ending in there, but, you'll have to find out for yourselves. The book itself is available in softback and hardback and anyone can be written into the story! It's ideal for kids because the book begins as a dream and from there, the child will see their name dotted throughout the text, alongside the magnificent illustrations drawn on a digital tablet – the story is personalized in a beautiful way. You can also upload your child's picture which will appear at the back of the book.
For anyone who cannot wait until the movie is released, the book is a brilliant alternative and a special keepsake for kids aged 3+.