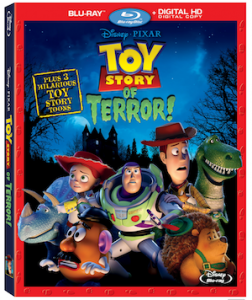 My son, age 3, and I sat down and watched Toy Story of Terror the other night. It is the cutest Halloween cartoon ever. Jacob sat through the entire cartoon, like a champ. You know how hard it can be to get a 3 year old to sit still for any amount of time! Then my daughter, age 17, watched it, and said it brought back memories of why she loves the Toy Story Movie Series so much. And the never seen before footage was worth every moment of watching. You can get Toy Story of Terror today everywhere you can buy Bluray & DVD movies. It's at a great price!
About Toy Story of Terror
What starts out as a fun road trip for the Toy Story gang takes an unexpected turn for the worse when the trip detours to a roadside motel. After one of the toys goes missing, the others find themselves caught up in a mysterious sequence of events that must be solved before they all suffer the same fate in this Toy Story OF TERROR!
"Toy Story OF TERROR!" features the voice talents of original "Toy Story" cast members Tom Hanks as "Woody," Tim Allen as "Buzz Lightyear," Joan Cusack as "Jessie," Timothy Dalton as "Mr. Pricklepants," Don Rickles as "Mr. Potato Head," Kristen Schaal as "Trixie" and Wallace Shawn as "Rex," along with series newcomer Carl Weathers as "Combat Carl/Combat Carl Jr."