Finding time to work out can be tough, but if you can try and get the whole family involved then this can help to make things fun once again. If you want to make fitness a priority then here are the steps you can take to try and make that happen.
Family Fitness Challenges
Nothing motivates people more than getting a reward or even some family competition. If you can, it is important to agree on a prize that helps to motivate everyone in the family. You need to encourage everyone to be eager to win and you also need to do it over the course of a week. If you do this then you will soon find that you can motivate people daily without nagging. Create a chart so you can then record all of the tasks you manage to complete. If you can do this then you will soon find that it is easier for you to get the result you want out of your routine.
Buy Some New Clothes
Whether you opt for white leopard leggings or simple grey joggers, it is a good idea for you to make sure that the whole family have some great workout clothes. If you can ensure that everyone has the clothes that they need then this will help you to keep people motivated and it will also help you to make the most out of your fitness routine.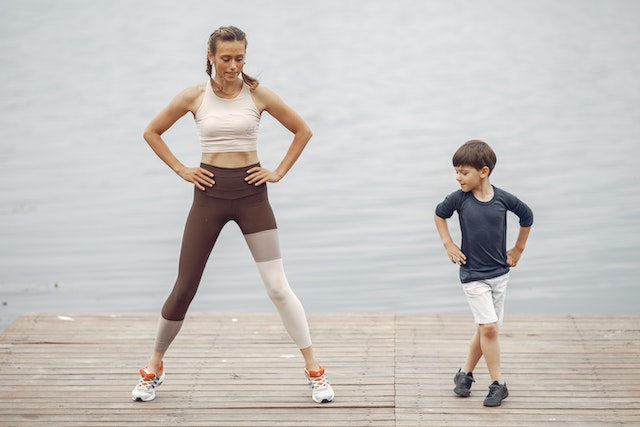 Ditch the Car
It doesn't matter whether it is the school pick-up or whether you are running errands because it helps to ditch the car. Experiment with walks and find the best route to get from A to B. If you can time how long every route takes you, you can then find out which ones are most interesting, or fun. Take the kids with you and get to know the new roads in your neighbourhood. This is a great way for you to increase your knowledge and you may even find that you end up meeting new people as well.
Make Time for Play
If you have a few blocks of time free on your calendar then why not use them to your advantage? You can make time for the whole family to play and arrange activities you know everyone will enjoy. It may be that you plan a family yoga class or that you simply try and go for a swim at the local pool. Trail hikes and bike rides are also very good options here. You never know, something may stick and become "your thing". If you can achieve this then you should be able to get people out and about without having to nag.
Daily Activities
Why not take a few minutes in the morning to do a family stretch, or even make some time after lunch to go on a family walk? Getting a solid routine is a very good idea and it gives you the chance to clear the cobwebs after a night of sleep. By going on a walk after dinner, you may find that you can wind down after the day and that you don't have to worry about everyone being parked in front of the television after.