If you haven't heard of the Zike® Z100®, you are missing out on one of the newest rages for biking for kids and adults too. The Zike® is a combination of a scooter and a bike wrapped into one neat ride!
The Zike®Z100 is designed for children ages 6 to 10 weighing less than 150 lbs. Features include a rugged steel frame with aluminum alloy wheels and air-filled tires, textured grips and reflectors on the pedals and a hand braking system. Kids will enjoy ziking everywhere on their Zike® Z100® and parents will appreciate the many health benefits. It strengthens the overall body and reinforces good posture, that their children are gaining! The Zike is unlike anything you have ever seen before and provides hours of fun and fitness!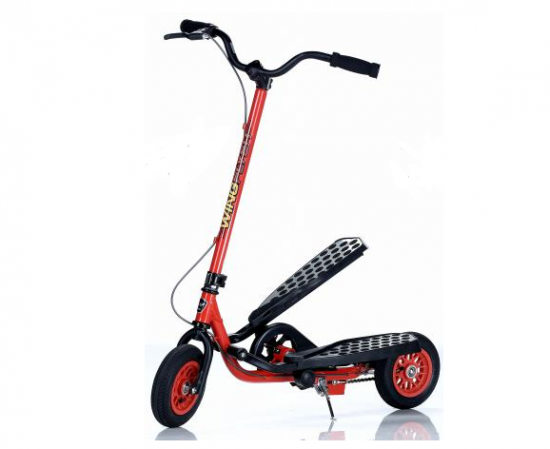 Patented smooth drive system
Rugged steel frame
Aluminum alloy wheels
Air-filled tires
Comfortable rubber grip handles
Textured grips and reflectors on pedals
Folds easily • Supports up to 150 lbs.
Recommended for ages 6-10
Before ziking, please inflate your tires fully to 45 psi.
I had my nephew who is under 150 pounds but older than 10-years-old try it out for me and he was impressed. Although it is recommended for ages 6-10 years old, the weight restriction is what I was going by. Before you allow your 6-year-old to ride, make sure they are steady with their balance and have the leg strength to maneuver the Zike®Z100. I can definitely see where the exercise will happen by the pumping of the pedals, it reminds me of a stair climber, but it doesn't keep you stationary. Due to its uniqueness, you will make your child the envy of the street. The Zike comes in many sizes to tailor the needs to your rider.
Stop by Zike to see all of the different sizes that they offer——->Zike Styles.
Follow Zike on their Social Media:
Facebook | Twitter | Pinterest | Instagram | YouTube | Tumblr |