We all know babies grow fast. It's a matter of a few weeks, and you already have to give up the swaddling and start the new "transition phase" between the swaddle and the pajama. But why do you and your baby need to go through all these passages? In the first place it's for safety reasons: according to numerous studies, your child could be exposed to a higher chance of SIDS (Sudden Infant Death Syndrome).
If it sounds complicated, do not worry! We prepared a super simple infographic for you! (We used the Sleeping Baby collections, which are made keeping in mind this delicate and crucial transitioning process)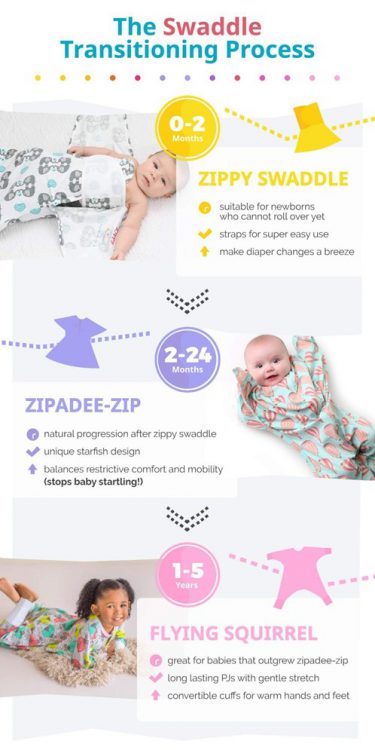 0-2 Months
In their first weeks, babies cannot roll over yet. They need to be wrapped in a swaddle resembling a "burrito" for their safety. One of the most painful things to do during that time will be diaper changes, and this is why the Zippy Swaddle has an easy access to the diaper with a bottom zipper, and makes the change a breeze!
But how will you know when it's time to transition out of swaddling? If your baby is consistently breaking free of the swaddle each night, it means they're ready for the transition. Remember that it's totally normal if your baby experiences a few sleepless nights: it might take a little time for your little one to adapt to this new approach.
2-24 Months
Your little one "unlocked" one of their most important baby skills: the roll over! It's time to transition out of swaddling and wear something more comfortable for movements, while still assuring safety: something like the Zipadee Zip! This transition sack acts as a wearable blanket that will keep your baby warm and cozy.
1-5 Years
Your baby is ready to wear their first pajamas! Sleeping Baby made their Flying Squirrel to be worn by babies or toddlers between the ages of 1 to 5. At this age babies are still growing super fast and using their body to express themselves, to assume a comfortable position while sleeping, or just to play. It is important to guarantee freedom of movement with a garment that has a gentle stretch.
All the phases above are a big step for your baby, so don't give up if it's a little difficult. Try to use some tricks like rocking your baby to sleep, using a pacifier or whatever technique works to soothe your little one.
You can find some other useful tips in this article about Swaddle Transition Trouble.