The Giraffe Razor Extension Handle is one of the more helpful inventions I have seen. You will find this useful if you experience back pain, arthritis, are in your second or third trimester in pregnancy, or are post-op from hip or knee surgery.
What is the Giraffe Razor Extension Handle

The Giraffe Razor Extension Handle is a shaving accessory designed to tailor the length and angle of your current razor. This inventive women's shaving accessory has two universal razor attachments. One is small and one large, that snap onto the head of the handle which securely locks your razor into place. These attachments are compatible with the most popular men's and women's disposable and reusable razors on the market today.
The Giraffe features a telescoping handle that extends the length of your razor an additional 15-20 inches, a benefit that just about eliminates the need to bend at the waist or put yourself in an awkward position in order to shave those hard-to-reach areas. The Giraffe's pivoting head easily rotates to a 30°, 45° or 90° angle, expanding your flexibility. This is another added benefit that helps the risk of slipping or falling in the shower. Also, the Giraffe's no-slip grip is made with a rubberized finish to help provide the control needed to shave your legs safely.
The Giraffe Razor Extension was featured on the Today Show back in March of this year. Not only is it helpful for those with back issues, etc mentioned above. This is also excellent for those with limited space in their tub or stand-up shower. The clever mechanism, which accommodates almost any size razor, also features a pivoting head that rotates to different angles, helping with those hard-to-reach areas.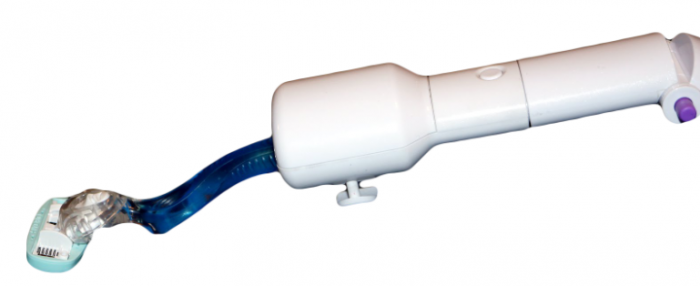 To Reiterate The Giraffe's Benefits Include:
Safety – Decreases the Risk of Falling
Comfort – Minimizes Lower Back Strain
Privacy, Independence and Time Management
Broadens Options for Wearing Comfortable Clothing
Positive Self Image
Improve Quality of Life
Visit them on their Social Media:
Facebook | Twitter | Pinterest | Instagram | Google + | Website
Giraffe has been generous enough to offer 5-lucky Mom Blog Society readers a chance with win their very own Giraffe. Simply click on the giveaway image below to enter for your chance.

Disclosure: I was not compensated for this post. However, I did receive a product from the company below and the opinions expressed in this post are 100% my own. I am disclosing this in accordance with the FTC guidelines.