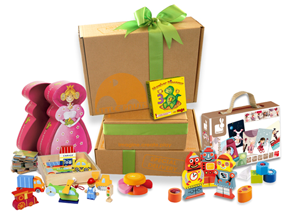 Play presents a unique opportunity for young children. It offers them the chance to learn and explore, to discover new things, and to really remember all that they do discover.
"In today's society we seem to have taken for granted those simple childhood joys. With the "faster than a speeding bullet" advancement of technology, we have quickly moved away from the written letter, the signed card and the care package of books, gifts or toys. We now send email, text messages and electronic greeting cards."
Little Pnuts brings us back to those days of small appreciations. And it does so in a way that brings out the best of a child.
Little Pnuts offers quarterly care packages that are tailored to your child's developmental stage. As a stay at home toddler, M needs these educational play moments to keep engaged and to keep his mind active. I don't want to "teach" him just yet – I want him to be able to play as a toddler should. At the same time, I do want to be able to offer him educational experiences through his play.
The Little Pnuts Special Delivery box that we received offered just that. It had in it four toys – each one better than the next. All of these were toys I would not have discovered in my local toy store, or thought to purchase. It was clear when I opened it how much thought and research went into this selection.
Inside my little Pnuts Special Delivery bundle:
This box was all about math, numbers, and colors, but with a very playful spin. I listed the products in order, with the last one being our favorite.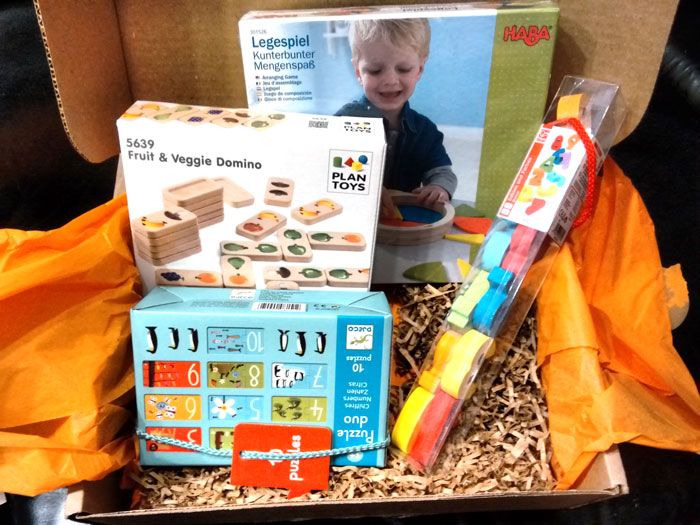 Djeco Puzzle Duo is technically a counting, matching game, but with a "puzzle" spin. It is perfect for your toddler's first puzzle and teaches basic counting skills.
Plan Toys Fruit & Veggie Domino is M's first domino experience. Kids can match up the pictures/colors with each other while learning all about healthy eating! M actually loves fruit and vegetables (we have more of a challenge with protein) so he enthusiastically brings me the pieces and feeds me "ganana" and apples.
Hape – Qube Play Set – Numbers and Colors – These number and color-teaching blocks are perfect for visual learning! Since M doesn't play much with blocks (yet – he's unique in that way!) and he isn't quite doing actual sit-down learning, I glued some magnets to the backs of these. They make perfect chunky number magnets and he keeps playing withe them, while I repeat the names of the numbers and colors again and again. This is perfect for us, as he's obsessed with magnets, and they look great on my fridge too.
Haba Multi-Color Arranging Game is our absolute favorite. This toy is simply genius – a very very simple concept with lots of options. It teaches math in a way that incorporates hands-on problem solving. Each color level is split into a different amount of pieces. It comes with pattern cards that can sit on the bottom of the wooden circle, and your child can match the colors. Or, your child can figure out how to mix and match to make her own circles. The wedges can also be used outside of the wooden circle to create patterns and shapes.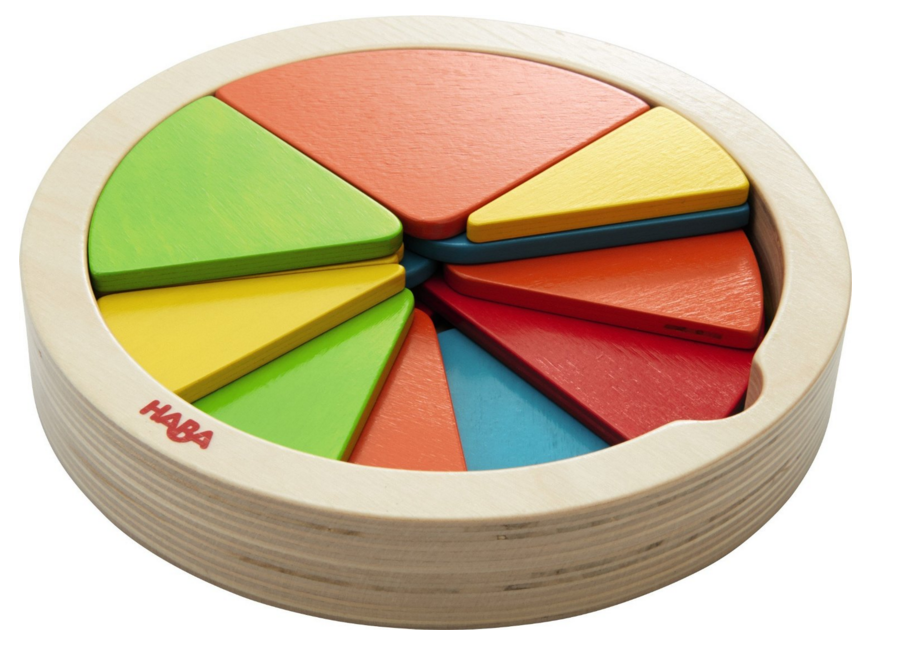 Little Pnuts has another offering that is great for moms on-the-go. Their travel boxes are designed to take along, and fit right on the tray of the airplane! They include everything you need for hours of entertainment.
Last March, we took a loong trip with our tot. We had a nine hour flight and then a three over layover in the large and empty Moscow airport. Then, we had another four and a half hour flight. And that was just one direction.
Having the right entertainment handy was key. It was important to have options, and not to rely on the airline or anyone else. Little Pnuts helps traveling parents by offering a travel box that has everything you need for the way. Pst – it's great for road trips too, and even that two-hour ride to visit an out-of-state grandparent.
Inside my Little Pnuts travel box: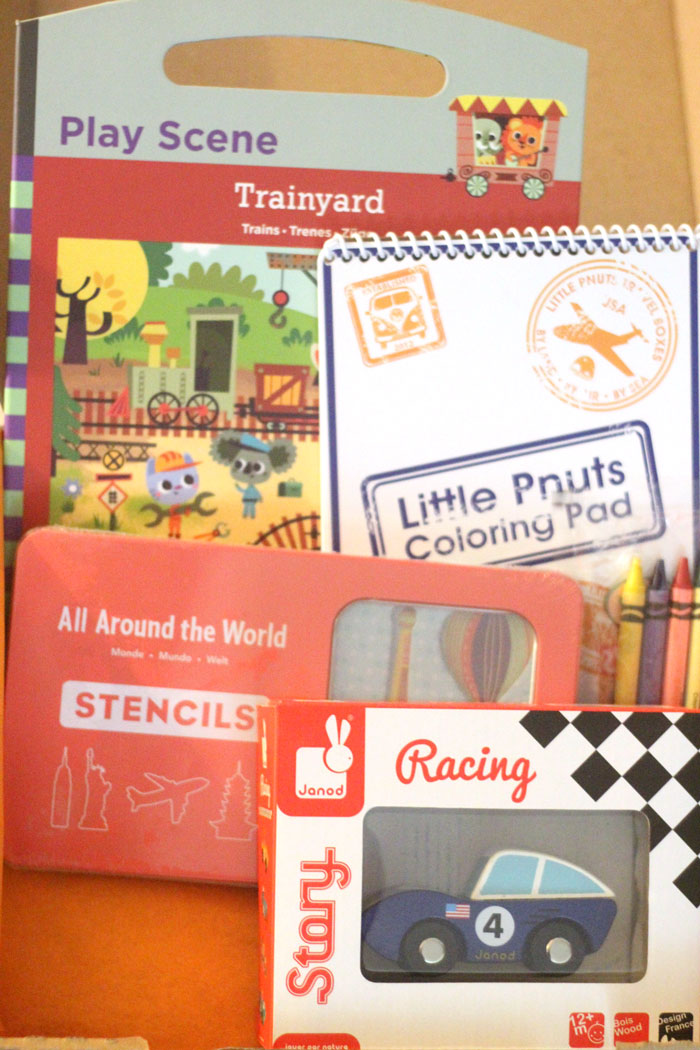 Everything in this bundle is compact and easy to take along. Some are small in size, and those that aren't are very flat, and take up less space than a typical board book. Here you go, clockwise from the bottom:
Janod wooden racing car: This little vehicle delighted my car-loving tot! It's high quality and a great addition to his existing car collection, but a fresh option to delight him on a road trip.
Around the world stencils: Turn a trip into a learning experience! These stencils are easy for a toddler to use, and provide a fresh spin on "coloring" for that long trip.
Mudpuppy Trainyard Play Scene: If your child loves stickers, this will provide plenty of entertainment! The reusable clings are applied on a scene and can be used over and over again.
Little Pnuts Coloring Pad: While the bundle officially contains "three items" it did come with this very helpful bonus. When we traveled in March, we brought some loose scrap papers, and, needless to say, it was a pain. This spiral bound pad has enough pages for your child to be busy for a while.
Crayola crayons: Another nice bonus, this packet of four crayons goes with the coloring pad and stencils. This way, you have everything you need for some on-the-go artwork, without breaking apart your main set of crayons.
This would have been a dream come true had we had it back in March, and we definitely plan to use it next time we visit the grandparents abroad!
As a mom, grandmother, or even aunt buying toys for a loved one, you want to know that you are getting the best possible for the money you spend. Little Pnuts does all the research for you, so that you can provide the best play experience you can.
Connect with Little Pnuts:
Disclaimer: This product was received from the Company for review purposes only. All thoughts and words in this post is my own and I was not paid to endorse it. I am only voicing my opinion about this product.