Super Swizz Sprial Slicer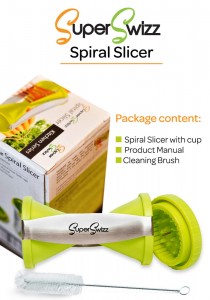 Hubby and I recently started a new habit. Clean eat eating so when I saw the Super Swizz Spiral Slicer I knew it would be perfect for us. The Super Swizz Spiral Slicer actually cuts raw vegetables into pasta shaped spirals. Which is perfect when making big salads since it's great for cutting firm vegetables like carrots, zucchinis and cucumbers. If you can use a pencil sharpener you can use this slicer. It's that easy. Simply place your vegetable in one end and twist. I love using it to make curly fries too! I know, that's not clean eat, but this girl loves curly fries.
One of the dishes we made was Paleo spaghetti out of zucchini. Frankly I was shocked how good it tasted! I'm amazed really. If you love kitchen gadgets, or just looking for a way to save time in the kitchen then I would highly recommend adding this to your collection! It's light weight, stainless steel and easy to clean! What more could you ask for?
★

BEST Quality Spiral Slicer by SuperSwizz -With Our Vegetable Spiralizer you'll make some amazing dishes.

★PACKED FULL OF FEATURES : Special, sturdy Japanese blades made of stainless steel Create endless Julienne strips. Has Two Julienne sizes – 2×3 mm and 3.5×5 mm and is Dishwasher safe.

★ SO EASY and Super fast to operate. The Kitchen Spiral Cutter comes in a small enough size to fit into your drawer and works SO MUCH BETTER than the more expensive models on the market today.

★ SLICER COMES FULLY EQUIPPED with DETAILED OPERATING INSTRUCTIONS for a quick and easy start.

★ Designed to make raw vegetable "pastas" with ease from carrots, zucchinis and the like, the SuperSwizz Spiral Slicer is the perfect gadget for raw foodists. From veggie spaghetti, easy stir fry, to fancy garnishes for the sushi plate, this spiral cutter makes it all so easy. It is ideal for making curly strands of firm vegetables, creating garlands of vegetables, making stunning salads and food preparations. Creating easy and healthly meals – Simply use this vegetable spiralizer like a pencil sharpener. There will be a little leftover (like a pencil-sized core) which you can easily slice as normal. SuperSwizz Spiral vegetable slicer can cut spirals in 2 thicknesses (2x3mm & 3.5x5mm).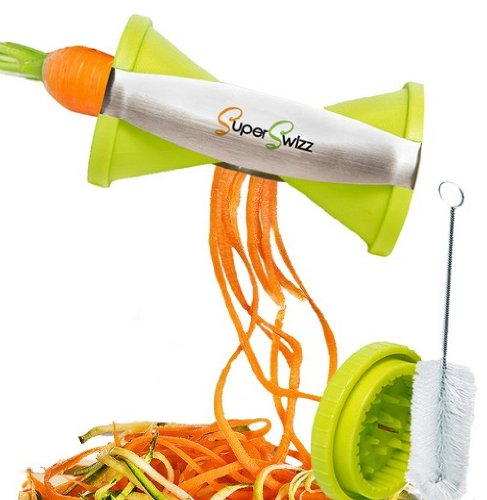 Connect with Super Swizz Spiral Slicer: Shop | I received one or more of the products mentioned above for free using Tomoson.com. Regardless, I only recommend products or services I use personally and believe will be good for my readers.