Summer Treats Made Easy With Mrs. Freshley's
I love entertaining all year long. Especially for family barbecues and reunions. With the nicer weather finally here, I want to spend more time out of the kitchen. Entertaining and cooking doesn't always let that happen. There were parties that I found myself actually missing all of the fun because I was trying to make sure all of the snacks, meals and desserts were perfect.
We recently had an amazing opportunity to work with Mrs. Freshley's and try several fun and easy recipes for Summer Treats that the kids are going to love! The best part of these recipes is that they only take a few minutes to put together and you can even have the kids help. The recipes are also great for putting a little twist into old favorites.
Mrs. Freshley's sent us several of their amazing products to try free of charge to review in our home. I was extremely excited to try the products themselves as well as try the recipes. I am a huge fan of Mrs. Freshley's Dreamies. They taste so much better than other brands and more affordable.
Mrs. Freshley's Candied Fudge Brownie Ice Cream Sandwich is a fun and easy treat that even the kids can make! We made the Candied Fudge Brownie Ice Cream Sandwiches for he kids play date at our house yesterday. It was a fun way to get all of the kids involved in making their own sandwich. Instead of just using sprinkles to decorate the ice cream sandwiches, I put together a little sundae topping bar. It included sprinkles, dried fruit, cookie crumbs and other crushed candies and toppings. Each of the kids were able to dip the edges in their favorite toppings.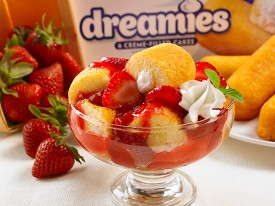 If you love strawberry shortcakes then you are going to love this fun, easy and fast recipe from Mrs. Freshley's. It only takes a total of 4 ingredients and less than five minutes to make. Mrs. Freshley's Dreamie Strawberry Shortcake can also be made with other berries such as blueberries, raspberries, blackberries and more. We are going to make the Dreamie Strawberry Shortcake this weekend when we get home from our annual strawberry picking trip with the kids.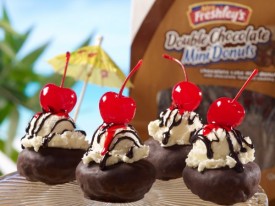 I have never thought about dressing up donuts. I am extremely disappointed with myself about this. Twice a month, the kids and I host a huge Mommy and Me group. It is a lot of fun and a great way to reconnect with our friends.Everyone gets together and brings a snack. Making Mrs. Freshley's Double Chocolate Mini Donut Sundaes was so easy and was the talk of the party. I can't believe how easy it was to turn ordinary snack desserts into elegant desserts that I am proud to serve to my guests.
I loved working with Mrs. Freshleys and trying their new Summer Treats recipes and can not wait to share them with my friends and family at our next barbecue and party.
If you would like more information or would like to find other yummy recipes, please visit the Mrs. Freshley's Website. Be sure to stay up to date on all of the latest news and products from Mrs. Freshley's by following their social media pages on Facebook and Twitter. While you are there be sure to follow Mom Blog Society on Facebook and Twitter.
Disclaimer: Mom Blog Society received product free of charge to write our review. All opinions stated in our review are our own truthfully opinion and were not influenced by the sponsor or from getting the review product free of charge. We were in no way compensated for our review or opinion.