Kids love bugs and dirt and scampering around outside playing with bugs and playing in the dirt. And then they like cleaning up after getting dirty. Ok, so maybe parents like that part a little more than kids. So it was with a bit of anticipation that we opened the box from SmartLab Toys. Why were we anticipating the box from SmartLab Toys? 3 words: Get Growing Greenhouse, Bug Playground, Indoor – Outdoor Microscope and All Natural Spa Soaps. Ok, so that was like 12 words. These are 4 mini science experiments designed for kids.
Get Growing Greenhouse is a mini greenhouse with a drip watering system. My daughter loves to help the hubby in the garden, so now she can grow her own little sunflower plant and beans.
Next up is the Bug Playground. Capture some bugs with the unique little bug catcher and watch them crawl through the crawling tube, scurry over the jungle gym, swim in the pool and climb up the climbing wall. Don't worry, the lid has air holes so they will be just fine until your little one lets them go.
When they want to start examining nature a little closer there is the Indoor – Outdoor Microscope. Attach the lanyard so they can carry it around, then grab a leaf and look at it up close. When they want to go in you can attach it to the stand and they have their own little microscope just like mommy or daddy (assuming mommy or daddy work in a lab somewhere and use a microscope on a regular basis).
And finally when it is all over. They can get cleaned up using some soap they made with the All Natural Spa Soap Kit. That's my favorite part.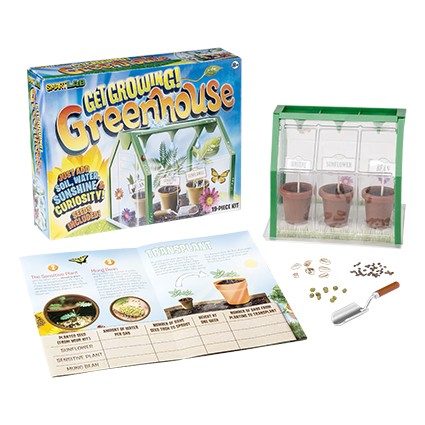 About Get Growing Greenhouse
Discover the science of plants with this innovative self-watering greenhouse. Add soil, water, sunshine, and curiosity to grow a sunflower, a plant that is sensitive to touch, and a bean. Water the plants using the drip-drop watering system, and chart the growth of each plant by filling in the Seed Growth Chart as the seeds sprout and grow. Read the booklet included in the package to discover the answers to scientific plant questions such as how plants defend themselves and why people need plants to live. When the plants have outgrown the mini flowerpots, learn how to transplant them into the garden, then choose new seeds to grow in the Get Growing! Greenhouse.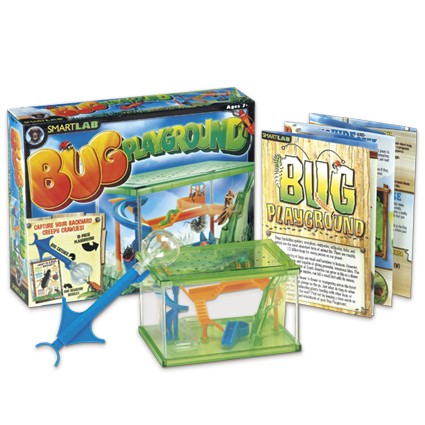 About Bug Playground
Wrangle your backyard creepy-crawlies into this mini funhouse. Good choices: crickets, ants, and beetles. Not so good: wasps, termites, and cockroaches. Go outside and play!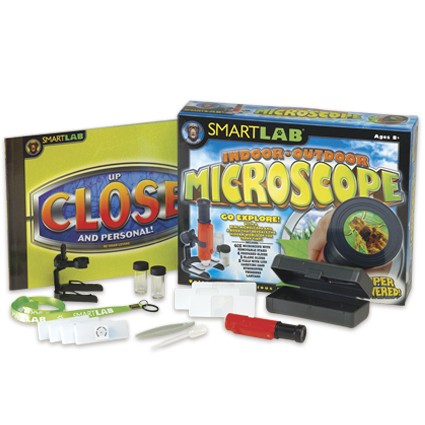 About Indoor – Outdoor Microscope
This twist on a classic science toy allows kids to carry their microscope anywhere—sunny days at the park, on family vacations, or inside the house during rainy summer days. The 40x microscope comes with a lanyard, microscope equipment (blank and prepared slides, tweezers, an eyedropper, specimen vials), a removable stand, and a carrying case. The 32-page book includes experiments for both indoor and outdoor exploration.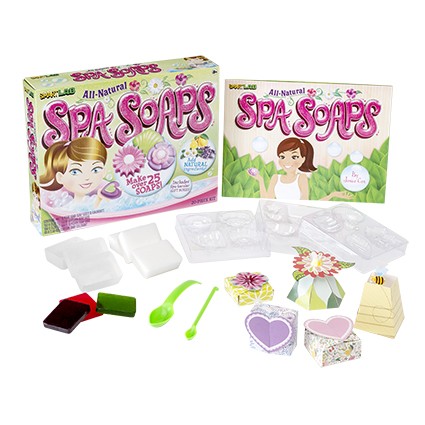 About All Natural Spa Soap Kit
Use a microwave oven and the super-cute molds, soap base, and pigments in the set to make seashell- or flower-shaped soaps. Get creative by adding all-natural ingredients found in the kitchen and in the garden! Add rose petals or lavender to create scented soaps, oatmeal to make soothing soaps, and much more! Add honey and make a beehive-shaped soap! Follow the recipes in the booklet or dream up custom soaps. Make soap for friends and fold up five whimsical, pre-printed boxes to give as gifts. The possibilities are endless with this spa-tacular kit.
Connect with SmartLab Toys: Shop | Facebook | Twitter
Disclaimer: This product was received from the Company for review purposes only. All thoughts and words in this post are my own and I was not paid to endorse it. I am only voicing my opinion of this product.