Soniclean Pro 5000

Brush Buddies creates an entirely new category in oral care. The have created a full line of oral care products that kids and adults love!I recently had the opportunity to work with Brush Buddies and review one of the many products that they have to offer. We were sent Soniclean Pro 5000 to review free of charge.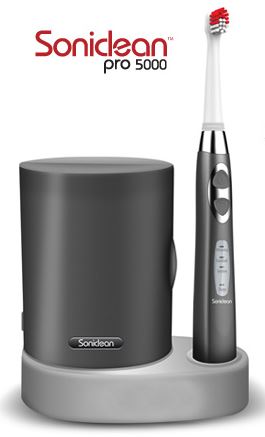 I was very excited when I found out that I would be reviewing Soniclean Pro 5000. I have sensitive gums and I have tried other toothbrushes that I did not like. The Soniclean Pro 5000 is  The first thing I noticed about the Soniclean Pro 5000 is that it is the perfect size for my bathroom counter. The Soniclean Pro 5000 has so many different features that it is hard to pick just one that I love.
Like I said earlier, I have very sensitive gums. The Soniclean Pro 5000 comes with two different types of brush heads. The Whitening bristles are the perfect bristles to get a sparkling white smile. The Sensitive bristles are my favorite and perfect for my sensitive gums and teeth. Both sets of bristles are amazing and give your teeth a nice cleaning.
The Soniclean Pro 5000 has a rechargable battery. No need to worry about having to buy batteries, just plug it in when you aren't brushing. The brush is extremely powerful. It produces up to 34,000 brush strokes per minute. The toothbrush even has a 2 mintute smart timer!
If you would like more information or if you would like to purchase the Soniclean Pro 5000, please visit the Brush Buddies Website. Be sure to stay up to date on all of the latest news and products from Brush Buddies by following their social media pages on Facebook, Instagram and Twitter. While you are there, be sure to follow Mom Blog Society on Facebook.