Did you know that the dirtiest things in your home are your towels? A study revealed this uncomfortable fact a few years ago.
Not only do your towels contain hundreds of times more bacteria than a toilet seat, but they are also home to bacteria that can make you and your family sick. Nearly 1 in 7 towels even contain E.coli!
Even worse, towels hang out in the bathroom near the toilet. One way that COVID-19 spreads is through fecal matter. It can easily contaminate everything in your bathroom if someone flushes without putting the seat down.
It's time to rethink the way we keep our bathrooms clean. And to do this, we have to start with our towels—they're full of germs, and we put them all over our bodies every day.
Switching to Soji towels is an easy way to eliminate the threat of towel germs like E.coli and COVID-19. Soji are infused with real silver, so they're 99.99% antimicrobial. Germs cannot survive on these towels no matter how damp or dirty they get.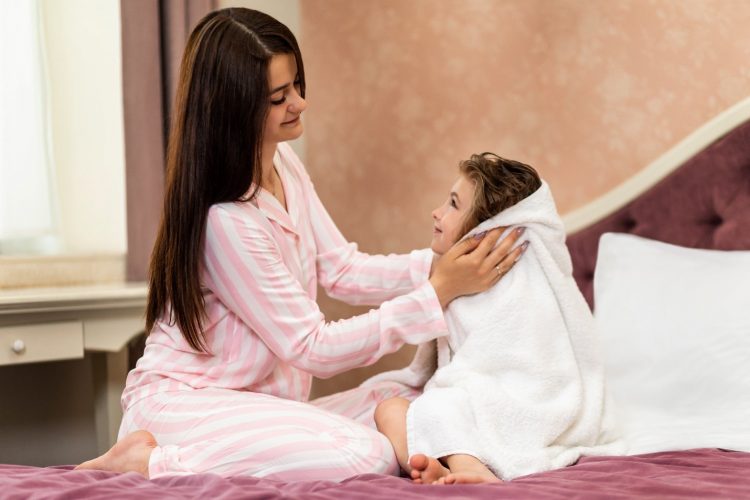 There's no better feeling than drying off with a truly clean towel after every shower—and, of course, knowing that your family is safe from harmful germs!
How Do Soji Towels Work?
Soji towels clean themselves through the 100% natural power of antimicrobial silver. Silver is an antimicrobial element. This means that germs die almost instantly when they come into contact with it.
The makers of Soji found a way to infuse every thread of their towels with real silver. So, any germs, including bacteria, viruses, mold, fungus, and allergens, that try to make a home on Soji are instantly destroyed. And it isn't just certain parts of Soji that kill germs. Every square inch of these towels contains real silver. It's like an invisible force-field protecting your towels for life.
You heard that right. For life! Silver is woven into the fabric of Soji, so it will never wash out or become less effective.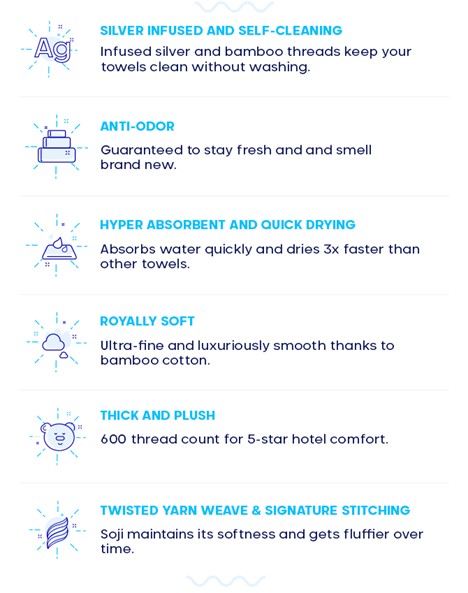 Soji is a natural solution to one of the biggest germ-spreaders in your bathroom. But, their self-cleaning power isn't the only reason Soji are such great towels. Here are a few more reasons that make Soji worth the switch.
No More Towel Odors
Those musty towel odors aren't caused by age or lack of care. They're caused by bacteria and mold growth.
When you use normal towels, you can literally smell the number of germs infesting them!
When you use Soji towels, odor-causing microbes can't spread, so your towels will always smell just like new.
Super Soft
Adding silver fibers to Soji doesn't make them itchy or course. In fact, Soji are made with extra-fine bamboo to rival the softness of towels found at 5-star spas and resorts. The fibers are so soft that drying off with Soji feels like cuddling with a litter of puppies! This also makes Soji towels ideal for sensitive skin and babies.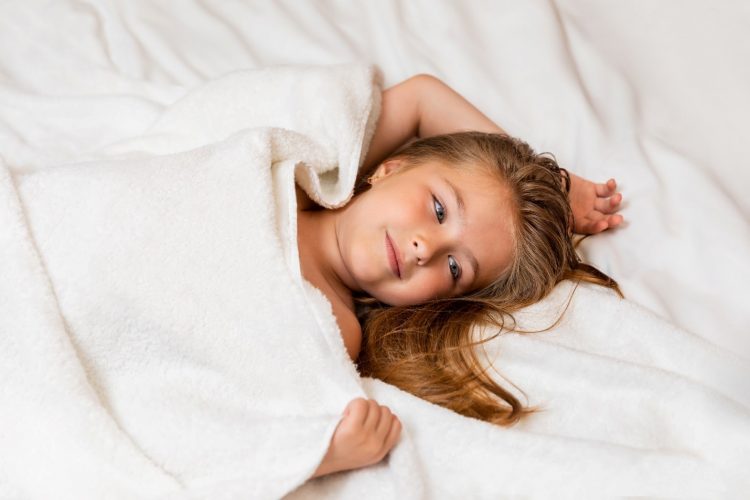 Soji are a bit heavier than normal towels, but that's because they're bigger and fluffier. Their extra-large size is perfect for snuggling and feels divine on those cold, winter mornings after a shower.
Soji are woven with a special twisted yarn weave that gives them a plush comfort that lasts. This unique weave is revitalized by washing and drying, so your towels actually get fluffier when you wash them.
Clear Skin
How do you know when you're using a bacteria-infested towel? You can often see the effects on your face. One of the most common ways for acne-causing bacteria to spread is through your towel.
Just think about it. After spending all that time washing your face and moisturizing to make sure your skin is healthy, you introduce millions of bacteria onto your skin via your towel. Because your face is so clean, these bacteria can spread rapidly with zero opposition, causing fast breakouts and inflammation.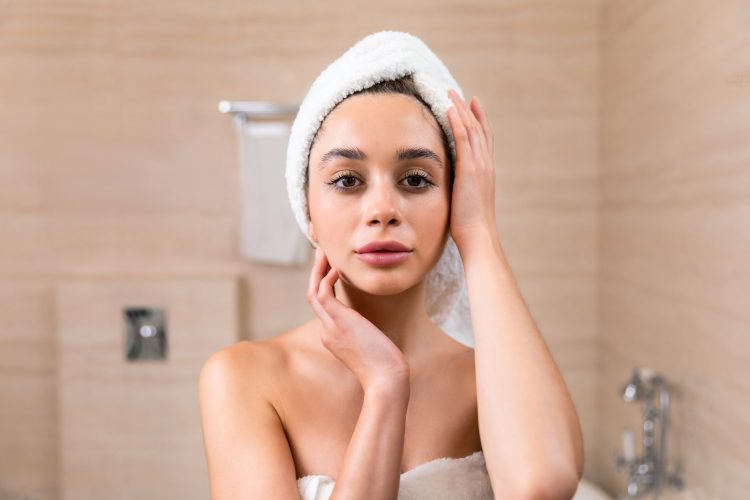 With Soji, you know that you're drying your face with a sterile towel every time. After just a few days, you'll likely notice clearer skin, tighter pores, and an overall healthier complexion.
Take Soji Anywhere
Soji are resistant to all types of germs, and they're also highly durable. This means you can take them anywhere. Soji can be your beach towel, your picnic blanket, your cuddle blanket—you can even snuggle with your pets with Soji. It will never spread germs!
Though, if you use it outdoors, you should still wash it often to rid it of any dirt or oil that sticks to its fibers.
Wash Less, Save More
Speaking of washing, you'll be seeing a lot less of your laundry room when you switch to Soji. These towels keep clean on their own, so you can wash them a lot less than normal towels.
Standard towels should go for a wash every 3 days or so. Soji can be washed just once every two weeks. And even then, it's just to get rid of any clinging hair, dirt, and grime. Even if you don't wash Soji towels, they will still remain free from germs forever.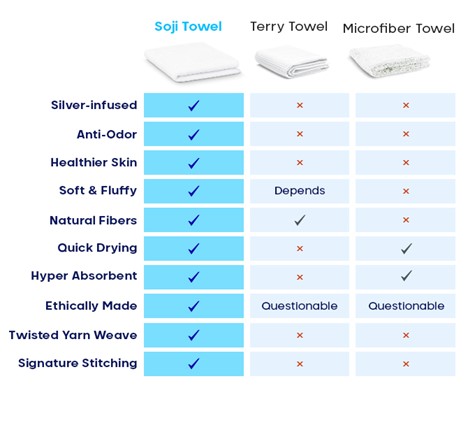 Washing less doesn't just save you time, either. It has a big impact on your bills. Using Soji can save you over $120 a year in water and electric bills. That more than covers the cost of the towels and continues to put money in your pocket as the years pass.
Switching to Soji just makes sense!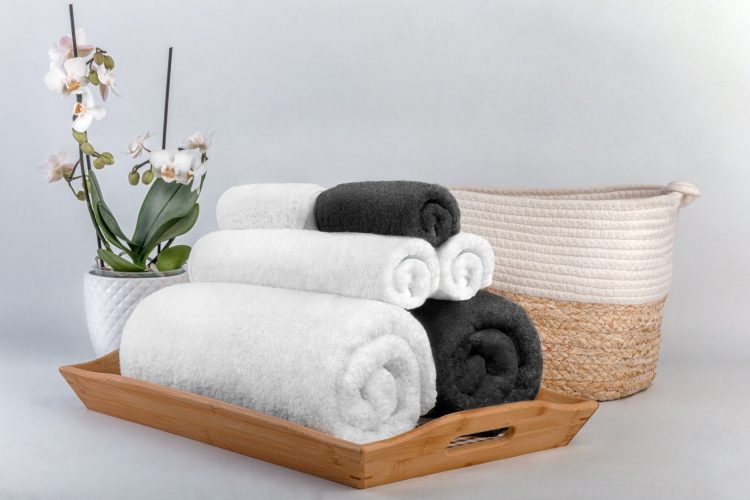 Get Soji Now for 40% Off
Soji towels haven't made their full debut just yet, but that's good news for you. If you pre-order Soji, you can get 40% off a set. That's just $60 for a set of Soji bath and hand towels. If you go for a family set and deck out every bathroom in your house, you'll save even more (over 50%!). But this offer only lasts while Soji is in its pre-order phase (for a couple more weeks).
Order your Soji towels now and protect your home, your family, and your skin from bacteria and viruses.
Visit sojitowel.com to learn more about Soji and order your set of towels today.