Every parent knows how hard it is to keep your house clean when there always seems to be little hands undoing any progress you make. Some people are naturally organized and their houses are picture perfect replicas of pages from a magazine. Maybe you want to be like those people. Maybe you're waiting for someone to tell you the magic formula for becoming one of those people. Well, Dana White is not one of those people and she's not going to give you a magic formula. Frustrated with the organizing advice available, she decided she needed to write a book that she, and others like her, could relate to. Whether you're a stay-at-home mom or juggle mom duties with a full-time job, you will be able to benefit from this book.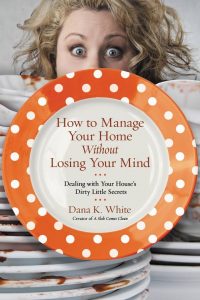 If you, like Dana, are lost, confused and don't know where to being, then this book is for you! She breaks it down in a realistic, easy to understand approach that won't leave you feeling overwhelmed. Each chapter gives you a funny, detailed understanding of the topic at hand. She will teach you many things:
The differences between cleaning, decluttering & organizing
How to form healthy, realistic habits and keep them
How to stop being a perfectionist
How to stop being a slave to all the projects that never get done
How to make better cleaning decisions
Where to start your cleaning process
How to have less STUFF
Some of her proven methods for battling the chaos
How to handle the ever present Sell vs. Donate debate
How to stop making excuses and start DOING
And most importantly, how to make it last!
One of my favorite quotes from Dana's book is, "Methods don't clean your house. You have to clean your house." It's so simple and common sense, I wish I had thought of it! All too often we take it for granted that reading all about how to fix a problem is enough, but Dana knows better and she's here to tell it like it is! Dana recognizes that each person and each family is different. She helps you break down your problem areas and gives you the motivation to get it done.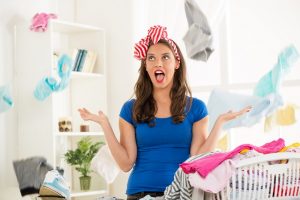 By the end of this book, Dana will start to feel like your best friend or sister, giving you amazing cleaning and organizing advice, packed with humor on every page. She includes an easy to follow, 28-day home organization plan to help you get started. Each step has been proven in Dana's very own Slob Lab, aka Her House. I'm on Day 6 of the challenge and I'm actually starting to get excited about cleaning! I'm ready to tackle my messy house and be clutter free. With her help, your whole house will be organized in no time, and your life will be a whole lot less stressful!
Dana's book A Slob Comes Clean is available on Amazon, Barnes & Noble, Books-a-Million, Christianbook.com and iBooks. Pick up your copy today!
Connect with A Slob Comes Clean: Website | Facebook | Twitter | Instagram | Pinterest