Picture this: you decide to buy a flat-screen HD TV that will look great in your living room. You can't wait to tell the kids about it and be the best mom ever. They'll be so excited to watch their favorite cartoons on a bigger, better, and sharper screen. You're also quite looking forward to better movie nights with your partner and your little ones! As you happily bring that new TV home, you are then faced with a decision: Should you mount it on the wall or simply get a new TV rack?
The best way forward is to have your TV mounted by a professional. Why? Here are six great reasons:
1. Mounting a TV Frees Up Space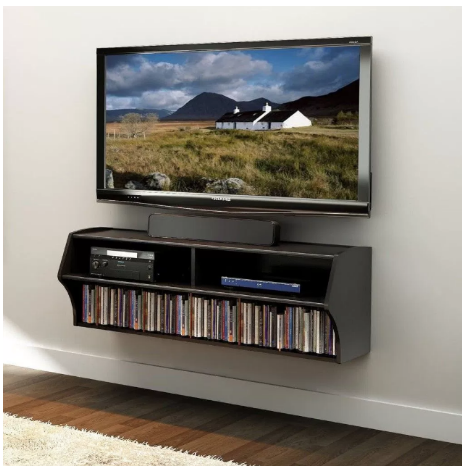 Having an unmounted TV will require you to get a separate TV stand or table for it. This will take up space and may make your entertainment room look cramped. Plus, you have to ensure that the table or stand you are buying is stable enough to support the television, which can mean a huge investment. However, if you mount your TV on the wall, you will be freeing up a lot of space. You can even save money since you don't have to buy any more furniture!
Mounting a TV Helps Keep Things Organized
By mounting your flat-screen on the wall, you will be able to keep wires and other TV paraphernalia under control. There will be no clutter to deal with. This is especially helpful if you have kids and/or pets in the house. There will be no loose TV bits and pieces or wires that your kids can trip over, or dogs can chew on. Mounting your TV and hiding the wires is a great way to keep your room safe and worry-free.
Mounting a TV Gives Your Room Some Style
A stylish, clean-looking room is simply a better place to relax in. Really, who would want to come home to a messy living space? So, if you want your living room, bedroom, or media room to look well-arranged, and stylish or chic – clutter won't help. Dangling wires and a messy TV stand are two things that you can't seem to look away from. So, have your TV mounted on the wall to achieve a sleek look in your room.
Improves Viewing Angle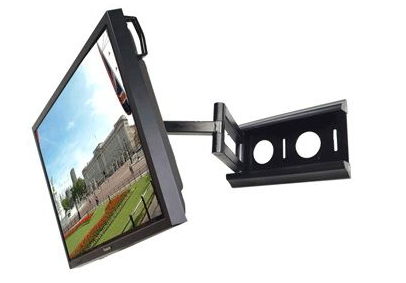 Image source: AskHomeDesign
If you simply place your TV on a stand or table, it makes the TV static and tough to maneuver to find the best viewing angle. After all, there are only so many ways you can position the TV stand in the room. The better approach is to have your TV mounted and then ditch the fixed mount. Instead, choose a tilting, articulating, or swivel bracket so you can adjust the viewing angle whenever needed. This will give you more flexibility and will especially work wonders in unconventionally shaped rooms.
Overcomes Room Limitations
As mentioned above, rooms aren't created equal. While many enjoy the typical rectangular or square living spaces with high ceilings, yours may not be as conventional. Say you've decided to convert the attic into your media room. Or what if you have less space to work within your apartment?
These shouldn't stop you from enjoying your flat-screen TV. That is why you should get it mounted. Again, you can choose swivel brackets so that however the room is designed, you will be able to watch your favorite shows without a hitch.
Keeps Your Television Safe
A television on a table or stand is more prone to falling and damage than mounted ones. Someone could trip and knock the table over during your house party. Or the kids could bump into it during a game of tag. Or your pet might decide to make the TV stand their playground. Whatever the case, it is best to take precautions. After all, your television (and your family!) is a big investment.
To better protect your flat-screen, it is best to have it mounted. This way, you can keep your TV safely flush on the wall. The best TV wall mounts provide guaranteed safety, as the TV cannot be knocked off.
Professional Assistance Can Make TV Mounting Easier
Having your flat-screen TV mounted on the wall is advisable. Of course, you need to make sure that the mounting process is done right. Otherwise, all the benefits highlighted above will be for naught. That is why I recommend hiring HelloTech, an affordable, nationwide, professional TV mounting service.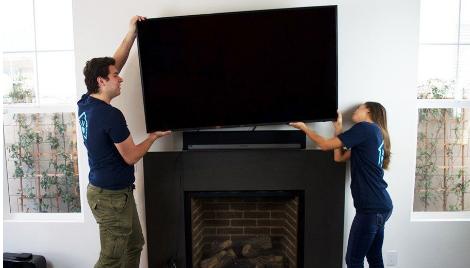 If you need assistance in successfully mounting your TV on the wall, then the tech support team from HelloTech are the people to call. They are highly knowledgeable at what they do and provide on-demand assistance for any technology concerns. They provide excellent TV mounting services and serve the whole US, and have an A+ rating with the Better Business Bureau. They also provide tech support for computers, smartphones, home theater setups, smart home devices, and WiFi.
The best part is that this tech support company operates with what they call the HelloTech guarantee. This means that if they cannot help you, or fail to mount your TV, you don't have to pay! Their customers have said a lot of good things about them, including how professional and knowledgeable their people are. They have thousands of techs available 24/7, and they can be reached at 1-800-770-1693.
Conclusion
Mounting your flat-screen TV on the wall is the right decision, especially if you want to keep your flat-panel safe and your media room looking spacious and less cluttered. The mounting process does have its difficulties and so it pays to know what you're doing and be prepared. Make sure to do some research before you take on the task. Alternatively, rely on professional assistance so you can enjoy the benefits without the hassle.